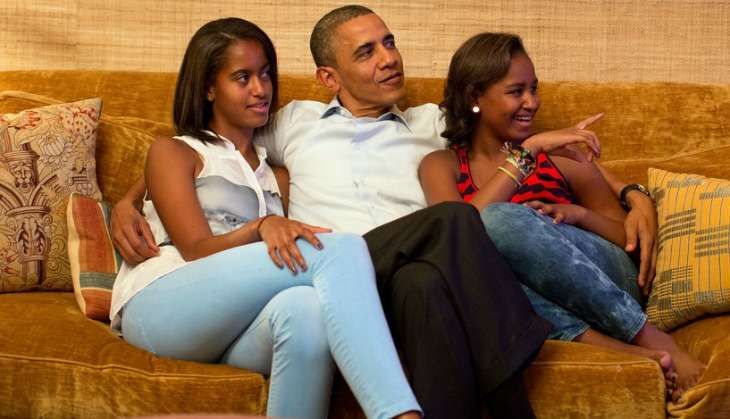 US President Barack Obama, his wife, and their daughters are universally acknowledged as #familygoals. You may not agree with his politics, but you're going to have nothing but love for Barack and Michelle's parenting. Effortlessly chic, effortlessly cool, effortlessly normal and so effortlessly covering up all the effort to keep it looking like that.
In the last leg of his Presidential term, Barack Obama has had a fun week when he hosted the Fourth of July party at the White House while simultaneously serenading his elder daughter Malia with a rather tuneless Happy Birthday and then later, at a Hillary Clinton rally, dropped the mic on a Twitter-sized bomb.
Looks like the youngest Obama, Sasha, is on Twitter. While taking a dig at presumably Donald Trump who has been allowed a Twitter account for some strange reason, Obama said: "Everybody can tweet, but nobody actually knows what it takes to do the job until you've sat behind the desk. I mean, Sasha tweets, but she doesn't think that she thereby ... should be sitting behind the desk."
Well, true that Obama, but Sasha tweets?
Social media, the media, and every other curious soul in between has since then been on the hunt to zero in on the as yet uncharted territory that is Sasha's Twitter account. Sadly, internet Sherlocks throughout the world have come up empty handed and cannot for the life of them find out her Twitter handle.
Which leads us to this:
1) Sasha's Twitter handle is probably fangirling and therefore lost in the haze of bots, trolls, and other fangirls. Is it @LuvYaRyanReynolds / @WhyIsRyanReynoldsMarriedFLM or some such, Sasha?
2) Her privacy setting is so on point, you cannot see it at all.
3) POTUS is trolling us.
The last one seems the most likely considering how protective the Obamas are about their daughters' privacy. Rather odd that he'd open her to worldwide scrutiny when he knew that's bound to follow.
--
Edited by Aishwarya Yerra