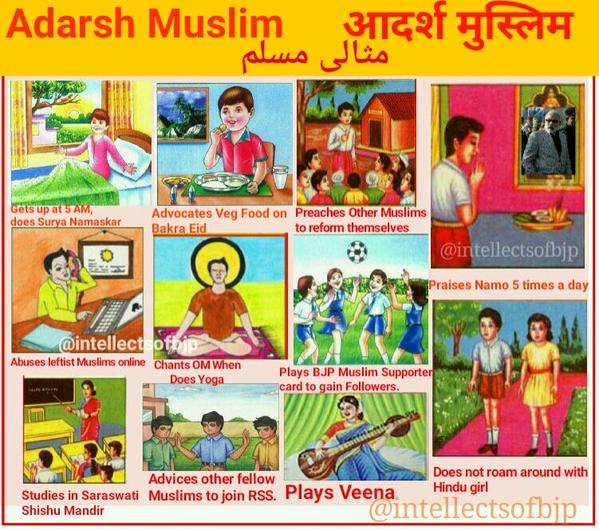 In the beginning of the year, Twitter believed that there were only two kinds of people on the internet - the Adarsh Liberals and the Adarsh Bhakts. They not only believed, but they also started a hashtag war and they both won in their own world of liberalism.
This satirical series now has a new kid on the block and his name is, Adarsh Muslim. Posted by the Twitter handle BJP/status/642339566947463168">@IntellectsOfBJP on 11th September, this poster is beginning to generate interest.
According to the meme, an Adarsh Muslim wakes up at 5 am and does surya namaskar. He also, praises Prime Minister Narendra Modi five times a day, studies in Saraswati Shishu Mandir, plays the veena and engages in other such liberal activities. The last illustration in the series though deserves the cake, nay, the entire bakery shop. An Adarsh Muslim apparently also does not 'roam round with a Hindu girl'.
Whether you love these politically incorrect 'adarsh' citizen posters or hate them, you just cannot exist in this world and avoid them.