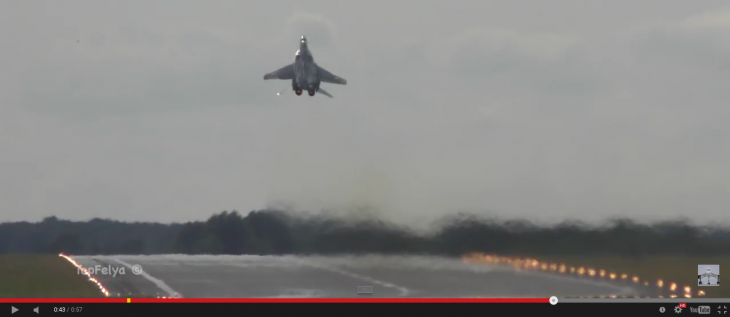 Two videos. One, a takeoff from this Russian fighter jet. The other, of a Boeing 777 pulling off an insane landing, during a 75 miles per hour windstorm. The former is fun, because well, it's a fighter jet. The latter, a passenger plane, is bound to startle even the most seasoned traveller.
In the first video, a military grade fighter jet, a MiG-29, starts off normally with a 45-degree angle but suddenly, goes mental and turns on the rockets and flies away, completely vertically. This may cause some stress but in the end, you'd be amazed by the pilot and plane's capabilities. What makes all this more impressive is the fact that it isn't a new aircraft. This specific Russian fighter jet was first introduced in 1983, but remains well in production and in use across a number of European countries.
A Boeing 777 is just regular passenger plane. Every time you enter one, you expect a normal smooth flight from point A to point B. But as some passengers found out this week, one shouldn't expect the ordinary. Turbulence is also something that is expected once in a while, and pilots skillfully master them. The plane was landing in the Netherlands in the middle of some harrowing conditions. The pilots were facing winds of up to 75 miles per hour, in what was the areas worst storm in a 100 years.
The plane was covering the final stretch of its descent at Amsterdam's Schiphol Airport. Upon its landing, you may end up thinking that the plane won't make it. Thankfully, the experienced pilots, who presumably kept a calm and cool head, made an impressive landing in some of the harshest conditions. A moment of silence for those inside the aircraft during the landing.