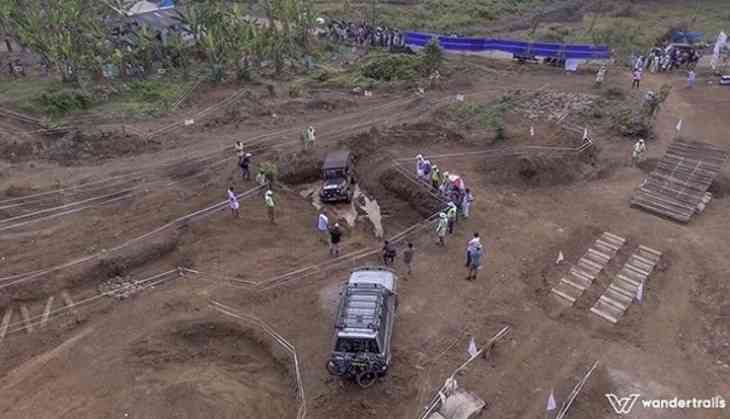 This summer, take some off and go off to a trip with your BFF to distract your mind from the regular sweaty days.
This World Best Friend Day, Wandertrails is sharing some amazing trails that you can embark on with your best buddies.
Laugh a lot, reminisce about the good times, catch up on stories and each other's lives as you go on an epic getaway which will strengthen that friendship and leave you all with memories to cherish. So here goes.
1) Teak Town - Nilambur: Hosting you and your friends in Nilambur will be an avid adventurer who will not only offer a homestay in sprawling carpets of green, but also a 4x4 off-road track with 15 obstacles laid out for the passionate riders of your group. The property's off-roading academy also welcomes beginners and enthusiasts who can return back home with certification. Don't forget to take a safari through the forests during your stay. A huddle by the camp fire and some yummy grills would be the perfect place to discuss your heroics of the day and to place some bets on who would be the next day's off-roading champ. This one is definitely an adrenalin rush and one for the BFF's.
2) Cafe Buransh - Uttarakhand: Bask in the colourful glow of rhododendron flowers that paint the surroundings of this property in March and April. Prepare for an unforgettable Himalayan adventure with your partners-in-crime during your stay. Spend your mornings watching the sun spill shades of orange across the Chandrashila Peak. From here, you can even set out on a soulful journey to the remarkable lake of Deoria Tal. Enjoy being in the hills as adventure and tranquility co-exist to form a heady mix to revel in. As winters set in, nature will set out a snowy white carpet to welcome you. Head to the hills with your BFF and feel the high.
3) Whispering Willows - Mudumalai: Green, green everywhere! Feel the tingle of excitement as you step into this jungle stay, planted on the peripheries of the Mudumalai Tiger Reserve. Savour those priceless moments in the company of your friends as you follow sweet birdsongs and trek through the wilderness. Challenge each other to some fishing and see whose line brings back the most prized catch of the day. This is a photographer's paradise and a haven of the feathered friends. Click away, not just selfies but also moments as nature stands still posing for you.
4) Nook and Cranny - Kotagiri: Nilgiris - the ideal host for inseparable friends. Reminisce those old childhood memories with your friends as you stroll through pear orchards and tea gardens. Take up pottery classes and create a little masterpiece to take back home. As the sun pulls away, huddle around a bonfire and relish some barbequed meats, prepared with delicious spices and cooked to absolute perfection. A planter's life beckons as you enjoy the warm hospitality sipping a hot brew while warding away the nip in the air. Biking up with your BFF could be a good option to get here. Now, don't you steal the clay turtle your buddy made! But nothing that a drink around the bonfire can't sort out.
5) Dare Nature Camp - Wayanad: Bring your backpacks, cameras and adrenaline-hungry friends with you to this nature camp in the forests of Wayanad. Enjoy a bit of archery, zip-lining, Burma Bridge and laddering. And don't let your friends chicken out of an adventurous trek to Chembra peak, where a gorgeous lake will welcome you at the top. Now, who said rope tricks aren't fun, eh? You can choose between two waterfalls to trek to, or hey, why not trek to both? Yes, give your BFF a nudge to do this or head to the view point from the highest stay in Wayanad for a cup of piping hot chai and some snacks.
6) Belavida- Goa: Ready for your DilChahta Haimoment in Goa? Grab your besties and start your days at this villa with a dip in the pool. And then stroll to the shores of Baga to soak up some sun. Take a leisurely walk from the villa and you will stumble upon some of the famed eateries of Goa such as Britto's, Cavalla and Titos. A cold one is in order for sure! Go on a fenny trail, throw a house party, get it swinging; it's all happening here in Goa. Did we tell you that you have a chef for yourself while staying here? Liven up that house party with a BBQ and a nice meal.
7) Adishakti Theatre Group - Pondicherry: Round up your art-loving friends and head to Pondicherry. The resident theater group will introduce you to a mix of performing arts, Kalaripayattu, Kudiyattam and Kathakali. Have hearty chats with the resident actors, musicians, dancers, writers and poets. And then splash around with your buddies in the luxurious pool. Saunter along the paths of Auroville during your stay and experience harmonious living in this unique town. Be sure to catch a practice session of this world renowned theatre group and they might just give you some theatre lessons. Good practice for when the lot of you want to act out your story as to why you were all missing office mid week.
8) Chetty's Homestay, Coorg: Escape the clash-boom-bang of the city and retreat to the hills of Coorg with your childhood friends. Do some catching up with a picnic on the banks of River Cauvery. Walk through the lush coffee plantations or chase after each other on bicycles through the green corridors. Take in the pleasures of fishing and river rafting, and end the day with some delicious Kodava flavours, served by the warmth of a bonfire. You get to chill with the host who is a marathoner and a long-distance cyclist. Try beating him on the trek or in a friendly competition of pedaling through the plantations. You would definitely need more than water to get over all the sweat that you shed on this one.
-ANI