The auspicious occasion of Janmashtmi, also known as Gokulashtami, has arrived and ardent devotees of Krishna are knee-deep in their preparations for the festival which falls on 25 August this year.
Traditionally, followers of Krishna observe a day fast on Janmashtami and mostly break the fast at midnight, which is believed to be the lord's birth time.
Said to be the incarnation of Lord Vishnu, Krishna was born in a prison cell to Vasudeva and Devaki. He killed his maternal uncle, Kansa, to free people of his atrocities. He also played a crucial role in 'the Mahabharata' (the Kurukshetra war held between Kauravas and Pandavas).
Other popular names for Krishna are Govinda, Mukunda, Madhusudhana, and Vasudev.
Here are three ways Janmashtami is celebrated across the country:
1. Dahi Handi
It is popular belief that Lord Krishna, during his childhood days, was extremely naughty and stealing butter was one of his favourite activities. He wasn't called 'makhan-chor' for nothing. In a bid to commemorate Krishna's birthday and celebrate Janmashtami, Krishna's followers organise an event called 'Dahi Handi' in various parts of the country. However, this event is most popular in Maharashtra.
People of different ages, mostly young men in their 20s, participate in the event and form human pyramids to reach the earthen pot filled with dahi which is hung from a height. The person at the top of the human pyramid is supposed to reach for this handi. Several dahi handi competitions are held across cities and towns.
Dahi handi is a fun-filled way for devotees to recreate Krishna's childhood.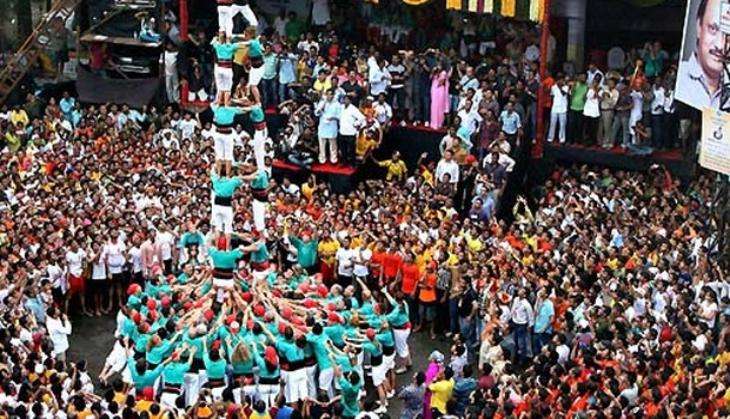 Photo: PTI
2. Tableaux (jhanki)
This is another charming way to celebrate Janmashtami. In various Krishna temples, tableaux are prepared well in advance for the occasion as the celebrations go on for days. Different statues and dolls are used to depict Krishna's life through the tableaux and it is beautifully decorated with flowers and lights. While the tableaux are arranged on a large scale in temples, several worshipers prepare smaller tableaux at their homes. They invite people over and sing devotional songs together.
3. Raas Leela (religious play based on Krishna's eternal love story with Radha)
Lord Krishna's tale is incomplete without a mention of Radha. While the duo never married according to legend, their eternal love is respected till date. Many Krishna idols are represented with the lord playing the flute with Radha by his side. Transcending boundaries and human connections, Krishna and Radha found love and peace with each other. Raas Leelas are organised at various places on Janmashtami and they depict the holy couple's exploits along with incidents from Krishna's life.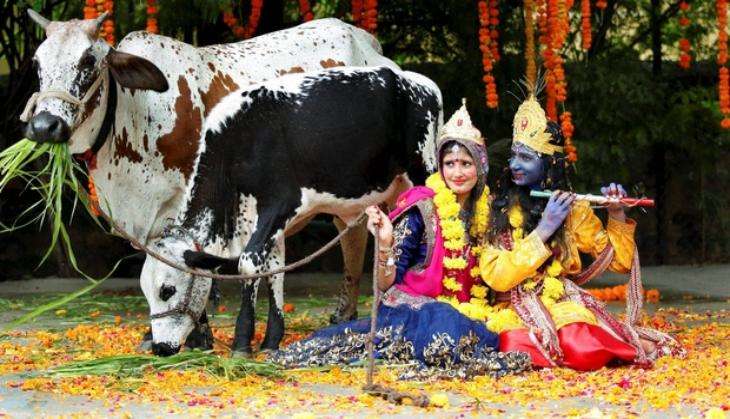 Photo: PTI
Celebrations in Mathura
Mathura, the birth place of Govinda, witnesses the arrival of a large number of people every year during the time of Janmashtami. The festival is celebrated with great fervour and enthusiasm in the city.
It holds great religious significance being the birth place of Krishna and therefore, the festival is celebrated with utmost zeal. Almost all the temples in the city are decorated beautifully and different programs are conducted at temples to commemorate the occasion.