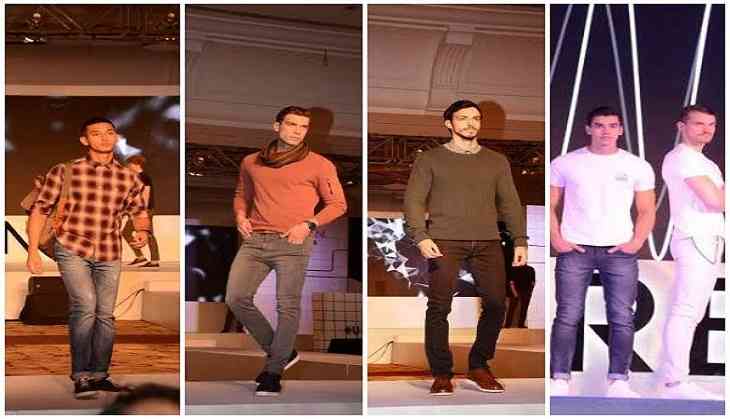 Blackberrys has been seen as a formal menswear brand, but now, it is venturing into the casual space.
The fashion brand unveiled its much-awaited Autumn-Winter 2017 and Spring-Summer 2018 collection for its brand URBAN at a recently-held event here.
With a passion to not play by the rule book, URBAN's purely niche collection is classified as high-street fashion that will give its patrons a brand new look and vibe.
This fresh range is inspired from the workmanship of creative individuals who are involved behind the scenes to transform the "probability of ideas" into the "possibility of a collection."
Highlighting the collection, Nikhil Mohan, founder and director of Blackberrys, told ANI, "While we are recognised as being there in the formal space, our washed cotton business is a very strong category and holds a leadership position in the industry. We have been doing this for many years, so we already have a foot in the door."
"It is not something which is completely new and the trade recognises us for the fits, the quality of fashion, cuts, fantastic value and also, our connect with the end consumer, based on the track record of many years, all this put together, makes a solid story for a casual wear launch which will be well received," he added.
Nikhil further mentioned that URBAN has been in the market for 3 years and it has been "creating waves and getting market shares," adding, "It was started as the line, now we feel it can venture out on its own and do the job."
The casual range, according to the owners, is designed for the well-travelled urban Indian consumer. Some of the highlights of this collection include pilot jackets with big pockets, cargo trousers, dropped trousers and knitted bombers.
Talking about the same, Nitin Mohan, founder and director of Blackberrys, told ANI, "URBAN is young fashion, inspired by the vibe of New York. There's a lot of inspiration from the denim - shirts, waist coats. Even the khakis we treat in URBAN are more crafted and worked upon, have more life in them, are dented and have very small detailing. It's as interesting on the inside as outside. It's a wandering mindset - not somebody who has settled, but somebody who's still looking out and is willing to explore, but is very strong about his individuality."
The URBAN is designed with three focal points: application of surface treatments like innovation in textiles, its unique silhouettes and attention to fine details that add freshness to the whole range.
The bold colour palette comprises of hues like staple blacks and whites, neutrals and other high-on- trend colours like indigo, foliage, lacquer, caramel, cobalt and azul. The prints are equally awe inspiring - from industrial to soft naturals - there is something for everyone.
Nitin explained, "Urban is a collection which is very true in its design concept. We don't do a lot of colours. There are two hits to the collection and each hit we do four colours. We celebrate white, black and various hues of blue. One hit will have only 4 colours that will run through the entire ensemble that could be a t-shirt, print on a jacket, a waist coat or inside of trousers. There are colours like lilac or a tang which may not be good for a trouser but we'll run it in the inside of the trouser and that's how we connect the entire collection."
"And similarly there's a second hit, which brings in freshness to the store and also new set of hues-slightly darker, richer tones. That's how we balance the colours of the collections for the entire season. Of course there's the denim - some part of it is raw, some part of it is whiskered and worked upon, but we don't do a lot of damage and patches. We keep the signature styling," he added.
Talking about the price points, Nikhil noted, "Going back to the DNA of Blackberrys, the relation between value and garment is well understood and accepted. So, we at most stretch we say that this brand is going to be built on price, but it is going to be built on transferring good solid value in the product at great price. So, this value is not for me to say it, the product should say it and customer should appreciate it."
He continued, "We also recognise that the customer is younger, so our entry points are going to be far more attractive so there'll be an entire play of pricing, where we'll encourage experimentation in first trials."
With the launch of this new collection, the brand is now all set to spread its wings over newer territories in terms of target groups.
-ANI