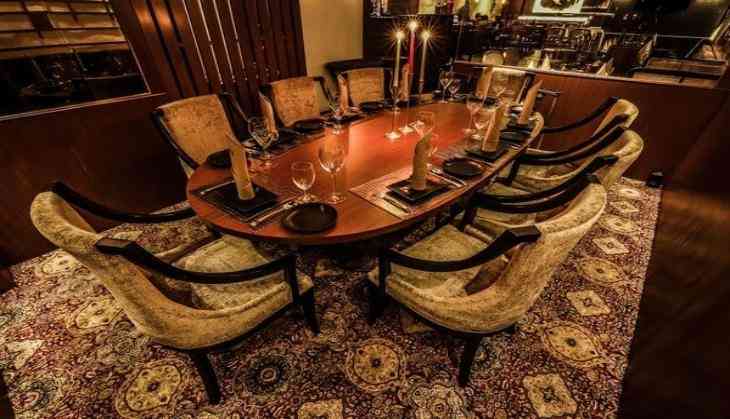 Since ancient times we have seen a tradition of eating food in copper vessels due to its multiple health benefits, but Kopper Kadai located in Rajouri Garden takes the belief a notch higher.
Brainchild of Chef, TV host and author Akshay Nayyar, Kopper Kadai is a fine dining restaurant that serves cuisines, which are not only rich in heritage, but also legacy.
The outlet specializes into North West frontier cuisine of India as it offers some delectable and signature dishes from Kashmir, Rajasthan, Punjab, Delhi and Uttar Pradesh.
Redefining the meaning of royal dining, Kopper Kadai boasts classic yet captivative interiors that perfectly define the place as a luxury cum subtle modern Indian restaurant.
"We serve cuisines, which not only contains a lot of heritage recipes in them, but also some legacy. Honestly, most of the recipes are actually passed on to me by my great grandmother and my mother from back to 1920s," said Akshay who is now on an expansion spree with his self-owned restaurant brands across Asia and Middle East.
Kopper Kadai has become a brand that never compromises on service. From its smiling staff to its manager Rakesh (perfect guide to a culinary journey), the entire staff of the outlet is welcoming, educated, polite, courteous, well-dressed and most importantly, they take their job seriously!
However, they make sure to give the customers utmost comfort and ensure that the service is quick and prompt.
Amongst starters, Ameeri Tawa Tarkari, Cachaca Chicken, Challi Kolmi Pasht, Pashmeena Nalli Gosh, Jwalamukhi Kebab, Gobi Mussallam Patties, Nawabi Mushroom Galouti, Amritsari Macchi, Spinach and Pea Kebabs are a few guilty pleasures that one must gorge in.
Coming onto the drinks, Kopper Kadai offers one of the most upbeat and smattering sippers that are high on presentations and excellent in taste.
One of the must haves' are Aam Gupshup, Jugal Bandi, Wake up Punjab and Smoked Chaach. The presentation of their sugarcane juice is nothing but authentic. Highly recommended!!
Now, be prepared for a tongue tickling main course. This outlets main offerings including Cooker Mein Kukkad, Keema Baati, Kiari Kebab, Daal-e-Dastan, Choor Choor Naan, Badshaahi paneer, Laal Maas and Mutton Mastana are just on point. From their presentation to their taste, they are nothing but just heavenly.
In terms of presentation, this place scores a deal. Its Cooker Mein Kukkad is actually served in a cooker, which is just so pleasantly soothing to the eyes. From Sil batta's to copper plates to small attractive balti's, this place is high on brilliance.
The best part about Kopper Kadai is that the food here is pretty good especially if one is looking for the typical North Indian affair that is very ethnic and old-style yet is presented in a modern style.
Most importantly, one must satisfy their guilty pleasures at this outlet with Nutella Dhodha LavaCake. Oh! it is sinful.
A relaxed yet pulsating vibe, Kopper Kadai is a perfect weekend getaway with quality food and drinks that fits the bills as the perfect venue for just about everyone.
Overall, the place is convincing enough and will score high on expectations and the bar of value for money.
Place: Kopper Kadai
Timings: 12 Noon to 12 Midnight
Cost for two: Rs. 1,400 for two people (approx.)
Address: J2/6B, 1st and 2nd Floor, B.K. Dutta Market, Rajouri Garden, New Delhi .
-ANI