Trial by fire: the grand old potters of Khurja will not mould for mass market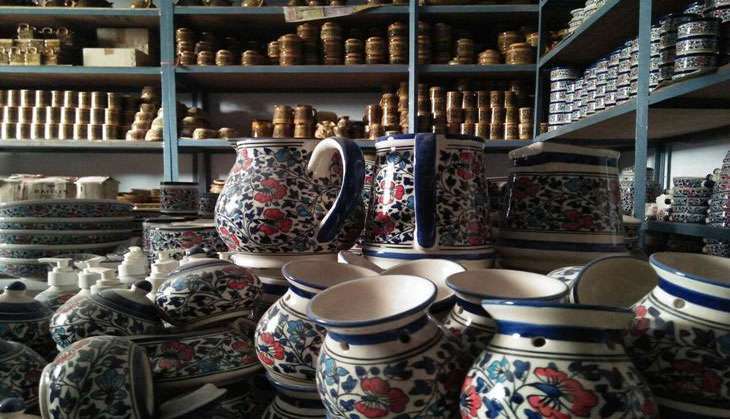 Clad in a sky blue Pathani suit, Zaheeruddin is sitting in a quiet corner with a handful of artisans, his fingers moving deftly to colour a vase cobalt green. This green will turn blue when the vase is fired in a gas kiln at 1200 degrees C for over half a day.
This has been Zaheeruddin's routine for the past 37 years. His father made sure all his five children, including two girls, attended school and then college. However, when his wife took ill in the early 1980s he was forced to sell a part of his house, and his sons had to take up whatever small jobs were available at the time in the small town of Khurja, around 100 km from Delhi.
The eldest, Zaheerduddin, learnt the art of making pottery. Khurja was famous for its blue pottery - much like Jaipur and Multan in Pakistan. Legend has it that Taimur Lane's potters settled in these three cities over 500 years ago.
Zaheeruddin's teacher was said to be from this family of potters, and Zaheeruddin learnt everything he could from him.
Over the decades, Zaheeruddin passed on the skill to his two younger brothers and their wives and hundreds of artisans.
His work stood out even in this very creative town and he started bagging one award after another. His brothers followed suit. So did their wives.
But the good times are almost over. The number of buyers is shrinking, and most buyers cannot distinguish between a good piece of art from one that is garish and mass-produced. Worst, none from the younger generations want to pursue this art.
But Zaheeruddin's routine will not change. He will faithfully continue churning out masterpiece after masterpiece.
Zaheeruddin at work
Raeesuddin receiving an award in 2005
A Potter's Paradise No More
A drive to Khurja is hardly cumbersome given the scenic view that one gets to behold. A row of brick kilns, mostly abandoned, are perfect landmarks to get to Nehrupur Chungi off the GT Road where most of the pottery industries are.
There are over a dozen in Nehrupur Chungi alone. Most desperately trying to replicate a model that has recently sold well. Others trying to work on more modern moulds - giving the blue in the traditional Khurja pottery a complete miss.
There are only two industries whose work stands out - one, Zaheeruddin's Maya Industries and another further down the road known as Rasheed Ahmed Pottery.
But Zaheeruddin's work excels - because he hasn't forgotten to experiment at the potter's wheel within the ambit of what defines Khurja pottery. And it is his respect for his craft that is seen reflected in his co-workers' eyes.
Raeesuddin, his youngest brother, tells Catch that only those who have an eye for detail and understand the craft have kept them going.
"We still get bulk orders from hotels and boutiques who appreciate our art and our hard work," says Raeesuddin.
Forty years ago, the brothers had no money to buy a brink kiln. They worked from home. All members of the family, including their wives, pitched in.
When they could afford a place they bought Maya Industries - a rundown premise which looked more like an abandoned shed. They couldn't even afford a name change because that would have meant additional expenditure.
"Whatever we earned we put it back in Maya. We put our individual needs aside to help it grow. We succeeded, but times are changing."
Raeesuddin says there is no one in line from the next generation to keep the fire burning at Maya Industries.
"None of our children are being groomed to practice this craft. These are not the best of times. There are frequent power cuts, and there is little value for handcrafted items. Earlier we would exhibit in Delhi, now even that is a remote possibility."
Ask him why and he says, "We would regularly display pottery at Dilli Haat and get selected through the draw of lots. But now very few potters go there and our chance of winning from the lots is next to nil."
Made in India: The eco-boom story no one is looking at
Zaheeruddin and his brothers have kept the old motifs alive
Artisans at Maya Industries
The Mass Market
The brothers buy clay from Chennai - the main raw material for making Khurja pottery.
"The clay is ground in a mill for around 10 hours. The clay dough is then dried and discs are cut out. Various moulds are carved out of the wet dough or the discs. The artists then work on these moulds - colour it, glaze it and finally fire it."
Most motifs that adorn traditional Khurja pottery are from the Mughal era. Additions such as Worli paintings on coffee mugs and plates are recent.
The mass market is brimming with ugly pieces which are being passed off as the famed Khurja pottery.
Coffee mugs embossed with smileys and glazed chimes greet buyers at the entrance of most shops. Of course, most buyers fall for the modern, sealing the fate of the masterpieces and the artists.
Traditional blue pottery of Khurja is hard to find. A pottery emporium on GT Road stocks it, but it is largely left unattended in an unlit corner. A salesman reluctantly dusts it to show it to a potential buyer.
But till the occasional orders keep coming - such as a family from Lucknow ordering plates with Dara Shikoh emblazoned on it - the fire will keep burning in Zaheeruddin, his kiln and his kitchen.