Survivor as Superhero: why this comic book matters in the battle against rape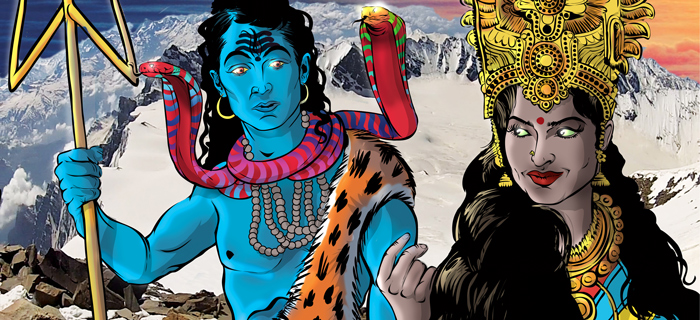 Ram Devineni, a New York-based filmmaker and publisher, was in Delhi on December 16, 2012 when the brutal gang rape of a student on a moving bus shocked India out of its stupor.
Horrified by what had happened, angered by the indifference exhibited by government authorities, he was moved to join the protests that followed.
At one of the protests, he got talking to a Delhi police officer and asked him what he felt about what had happened on the bus that night.
The response: "no good girl walks home at night", brutally brought home the point that the problem of sexual violence in India was not a legal one - it's heavily cultural.
Read: She's 13, female, Mizo - and Tinkle Comics' newest superhero
A year later, Priya's Shakti was created: a comic book to help create empathy and understanding for rape survivors. A comic book that challenges the deep-rooted cultural stigmas around rape.
"I began formulating a new mythological tale where a mortal woman and rape survivor would seek help from Goddess Parvati - only after she had nowhere else to turn," says Devineni.
"I wanted to create a new Indian 'superhero' - Priya, a rape survivor and through the power of persuasion she is able to motivate people to change."
Priya's Shakti received the 2014 Tribeca Film Institute New Media Fund from the Ford Foundation.
Edited excerpts from an interview with Devenini:
It's been a while since Priya's Shakti was launched. Has it in fact changed attitude towards rape?
We actually launched it a year ago at the Mumbai Film and Comic Book Convention. It's hard to assess the social impact in a short period of time but I think it is definitely part of a larger movement happening in India to educate and address gender-based violence issues.
What I believe Priya's Shakti has done is help create empathy and understanding for rape survivors, and challenge the deep-rooted cultural stigmas around rape. We plan to test the comic book in select schools in India in 2016 with our NGO partner - Apne Aap and others, and see if it can resonate in the educational sector.
For about a year after the Dec 16 gangrape I travelled across India talking with several rape survivors. I realised how difficult it was for them to seek justice and how much their lives were constantly under threat after they reported the crime.
Their family, local community, and even the police discouraged them from pursuing criminal action against their attackers. The burden of shame, as we're aware, was placed on the victim and not the perpetrators. This created a level of impunity among men to commit more rapes.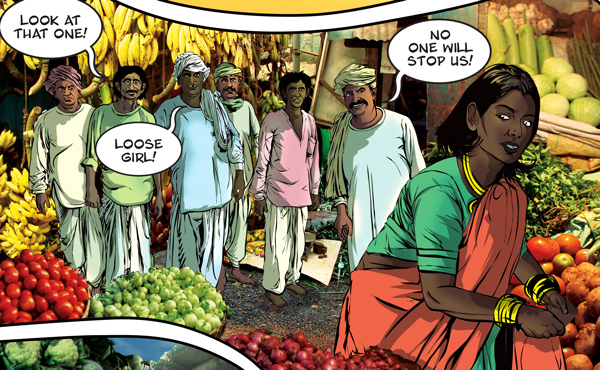 Why did you choose Hindu mythological characters to make your point? Wouldn't a contemporary theme have worked as well?
I grew up reading Amar Chitra Katha comic books and was hugely influenced by them. I think millions of children have read the series, and they've entered the collective consciousness of contemporary Indian culture.
Often, I first learned about Hindu mythology through their comic book series. It's a language we're intimately familiar with. And although our story is set in mythological times, it addresses contemporary issues.
Also, I began researching Hindu mythology and discovered the many rich stories involving regular people and the gods. Often a favourite disciple would call on the gods for help during dire situations. So, I began formulating a new mythological tale where a mortal woman and rape survivor would seek help from the Goddess Parvati - only after she had nowhere else to turn.
Although Lord Shiva and other gods get involved, eventually it is up to her to challenge people's perceptions. I wanted to create a new Indian 'superhero' - Priya, who is a rape survivor and through the power of persuasion is able to motivate people to change.
Also read: This weekend, this is what Delhi looked like. Inside #DelhiComicCon2015's fantastic Cosplay
Given the religious and cultural diversity we have, will the comic be lost on girls from minority communities if steeped in Hindu folklore?
I felt Priya's struggle resonates really well with audiences all over India - and even in other countries. Priya asks a universal question, which everyone, especially teenagers, go through - what is my role in the world?
In future issues of the comic book, we plan to address other problems and bring Priya into cities and other parts of India and the world.
There is a 'universality' to Priya that everyone can relate to, no matter what social or economic background you come from. We've already had readership from many different countries - so Priya clearly is relatable beyond culture, too. I think hers is the heroic quest in mythology.
Lastly, the comic book does not preach Hinduism, rather it uses Hindu mythological tales. I think that intent comes through clearly.
What is the reach of the comic? I know you've tied up with Blippar recently - do you really feel technology will help in promoting the comic in remote India - where people do not even have access to toilets?
The comic is free, and we've had over 500,000 downloads of the it worldwide, including in India. We have also printed copies to distribute through our NGO partners to reach rural communities who do not have access to technology. Apne Aap has been distributing the comic on ground from Delhi to Bihar and many other towns.
The technology is an added layer on top of what I believe is beautiful story telling. Augmented reality is a major part of our comic experience for those who do have access to tech, and by scanning the comic book with the popular augmented reality app - Blippar, you can view animation, real-life stories, and other interactive elements pop-out of the pages.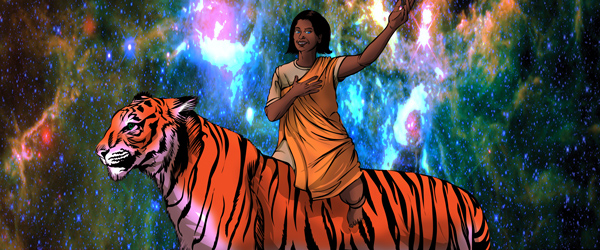 On a technological level, we believe the use of augmented reality will have a significant impact on readers in India who are not as familiar with this approach. There is a huge 'wow' factor when readers first experience augmented reality and that should help get people talking about the story.
Ours is one of the first publications to use augmented reality in India, and can help define the new frontiers of integrating books, exhibitions, and public art with augmented reality. Of course, this is available to readers with smart devices, but readers without them can still appreciate the story and message behind it.
Is this meant as part of a series?
This is the first of a series and we are working on the next chapter about acid attacks. That story is being written by Paromita Vohra, a feminist scholar living in Mumbai.
All of the stories intended in our series will involve Priya and will be about gender-based violence issues.
Is there a precedent of a comic being written under similar circumstances?
I am sure other comic books have come out about social issues soon after a major incident. Also, comic book stories such as Art Spiegelman's Maus address important historical events - the Holocaust. But, I believe we might be the first comics to address rape.
More in Catch:
Nirbhaya changed nothing. Delhi continues to be the rape Capital
Don't want death penalty for rapists, say women's progressive groups
Harming national interest, harmony, foreign ties: scope for abuse in new NGO rules
Lord of the Ridiculous: Erdogan commands Turkish court to probe Gollum