Future of blogging: Show me the money, and I will find you the words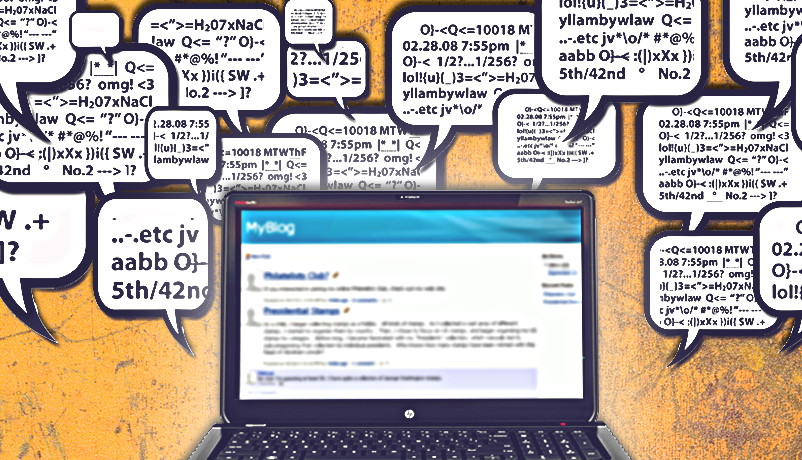 A decade ago, the Indian blogosphere was brimming with people who treasured the written word. The blogposts were lovingly written because bloggers cared. About prose. About verse. About food. About travelling.
Not any more.
The blogosphere is increasingly becoming corporate-driven with bloggers being roped in to launch products.
Read: India is free. Internet here is just partly so
Blogistan, a platform that connects brands and bloggers, just ranked India's top bloggers. Not surprisingly, the blogs that got shortlisted were tech or lifestyle blogs bending backwards to position brands and monetise.
Death of the blog
Is the death of the traditional blogs then imminent? How long before we write the obit of these blogs?
Meet Altamash Sid, who featured among the top five bloggers. Twenty-something Sid has blogged about "How to monetise your Twitter account?"
With a Twitter following of over a lakh, Sid thinks health, fitness and technology blogs do the best because the "huge market of top selling products and brands fall in this niche".
His biggest challenge as a blogger?
"Online markets are booming so fast, we have to keep ourselves constantly updated."
Akansha Redhu, a fashion and lifestyle blogger, also ranked high up in the list.
Redhu has been blogging full-time for around five years. One of her last posts is on her visit to "the DLF Promenade Mall to explore the new Holiday Season set-up created by Fossil" and on how to "win prizes and a curated holiday".
"Fashion blogging has picked up in the past couple of years and continues to draw attention at an insane speed," she says.
The original sinner
Blame it on Amit Agarwal. India's first professional tech blogger.
Agarwal, a computer engineer from IIT, Roorkee, quit his corporate job in 2004 to write "how-to-guides" of consumer software and mobile apps.
There are a hundred clones in the blogosphere trying to replicate Agarwal's success story.
"Long form blogging in India is rare, people have shifted to microblogs especially Twitter though some niches like food, travel, tech have flourished," says Agarwal.
He says corporates are pitching bloggers more than ever. He also sees big publishers and media houses launching blogs.
RIP Writers
Bhagwad Park didn't make it to the Blogistan list. His last post was - "Should the Hindu Right migrate to a new country?"
"Blogs are a lot less 'cool' than they used to be. The landscape has shifted more to social media and short postings instead of dedicated articles with images etc," says the Chennai-based blogger.
Also read: Why Amazon cares about reviews enough to sue 1000 fake reviewers
Park acknowledges that discussions have shifted to social media and blog comments have dropped significantly.
"The number of blogs is getting fewer and fewer as people shift to social media. However, blogs are still great for making nuanced arguments and having in-depth discussions that are not usually possible on Facebook and Google+."
Ranking the meaningful
Unlike Blogistan or IndiRank, Indian Top Blogs is a group of four friends who quietly rank blogs based on content and not hits.
Their list of "platinum blogs" is a pleasure to go through.
Prabhakar, who spoke on behalf of ITB, nails the dilemma of ranking blogs.
"Gauging a blog's success in terms of absolute numbers may not mean much. How do you compare a personal blog in Urdu with an English blog on earthquake geology or with a news blog?"
He argues that the numbers may not move in sync in views by visitors, comments, social shares, mentions, downloads, backlinks, PageRank.
Prabhakar and his friends manually check blogs for content, regularity, design and interactivity.
In 2010, they tried to use an algorithm to rank blogs into Platinum, Gold, Silver and Bronze but found the resources too meagre.
Read more- China's virtual purge: 15,000 arrested for cybercrime
They also found that ranking all types of blogs on a uniform scale did not do justice to the variety of subjects, and did not factor in limitations of different platforms and resources available to bloggers.
They eventually zeroed in on "content" with a care for design, navigation and updation.
No surprise then that Park features on their list of platinum blogs.
The Middle Ground
Amreen B. Shaikh "paints the world with words" on her blog. Her niche is poetry and her blog has been listed among the top five poetry blogs by Top Indian Blogs, a directory generated by IndiRank.
Not that it means much in numbers. She gets about 1,500 visitors a month. But she is moving with the times by treading the middle path.
Writing poetry. For herself. And at times to espouse a cause. Sorry, brand.
"Most people like me, began blogging with the idea to journal our thoughts. But over the years, the term has evolved and grown, as twitter (microblogging), facebook (social connect) and youtube (video influencer) came into the picture."
"For me, blogging has evolved likewise. My social pages and connects were born to compliment my blogging stature and now with the concept of blog monetisation, blogging has got a complete new dimension, giving bloggers an array of opportunities and exposure."
Shaikh's understanding of the blogosphere is endorsed by Prabhakar. Except that he is not willing to bend - yet.
"Blogging has grown in different directions. The concept itself. Blogging is no longer confined to writing a diary item on a free or even self-hosted blog."
Staying afloat
Priya Dabak blogs at Tabula Rasa, a book blog. The love for writing keeps her afloat.
"A blog is a wonderful platform to interact with like-minded folk and gives one the luxury to carve out a new virtual identity. The downside of this increased appeal of blogging is that it has become commercialised," says Dabak.
It's not a happy feeling for her to come across people who write simply to win contests and online giveaways, obsess over pageviews and subscribers.
"Mainstream blogs largely feature how-to articles, video blogs, listicles modelled after Buzzfeed. Quick, fluffy, entertaining," she laments.
However, Dabak is a believer that readers are looking for sincerity and engagement.
Also read: Indians lost $28 billion to cybercrime last year. You're not as safe as you think
"Bloggers who care about what they write - be it about their own personal lives, their pets, food or as in my case, books - will never go unnoticed. Advertisements and promotion can only get you so far," she says.
Dabak has no intention of monetising her blog.
The golden blogs then are tech, fashion, food and travel. Because they pay well.
According to Prabhakar, if personal and hobby blogging remain the mainstay of the blogosphere, business or highly monetised blogs have grown in influence because of the care and technical support they receive.
Blogging communities and blogging on media platforms have started stagnating.
"As a medium of feedback and interactivity, the importance of commenting has gone down in favour of quick comments and quick votes such as likes and diggs," adds Prabhakar.
Future tense
What if free platforms such as Blogger and Wordpress stop operations? Or decide to charge?
Prabhakar gives traditional blogging 5-7 years.
"As a platform for free expression and agenda setting, the influence of traditional blogging will keep diminishing but will remain fairly significant for at least 5-7 years."
And if free blogging platforms stop operations - the death is imminent.
In a blogpost dedicated to the future of blogging, ITB states that more and more Indian bloggers will experiment with making money through blogging.
"New technological developments relating to voice, language, localisation, search, design etc will dictate the direction of blogging."
No wonder then that full-time blogging is increasingly becoming a full-time profession.
The future of blogging is Harsh Agarwal, who started his first blog as a hobby and now makes millions of rupees. And transparently declares his blog income.
More in Catch:
Niloy Neel's murder: Bangladesh has left its bloggers to die
Being Muslim is not enough. One has to look it too.
Point Break review: 8% on Rotten Tomatoes. That says it all
#BengalElections: Mamata replaces Ma Maati Manush with Muslims