Facebook's Free Basics: don't go by the ads, it's bad news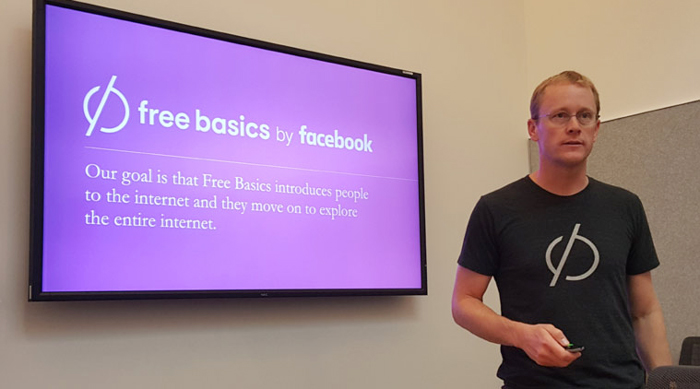 The claim
Facebook is aggressively advertising its Free Basics service across media platforms
It says its \"a service offered on mobile devices that provides free access to a set of useful websites on the internet\"
The reality
Net neutrality is the principle that internet service providers should enable access to all content, without favour to any particular source
Free Basics goes against the principle of net neutrality
Activists have issued a rejoinder to prove this
More in the story
What is Facebook hiding from the public?
Why you shouldn\'t fall prey to the Free Basics advertising campaign
For a generation that lives on the internet, it's difficult to miss Facebook's new 'Free Basics' service, essentially a rebrand of Internet.org.
From billboards to YouTube advertisements and two-page newspaper ads, Mark Zuckerberg & Co. are aggressively trying to get the message across to people.
Facebook calls Free Basics "a service offered on mobile devices that provides free access to a set of useful websites on the internet". It's obviously Facebook's prerogative to decide what 'useful websites' are.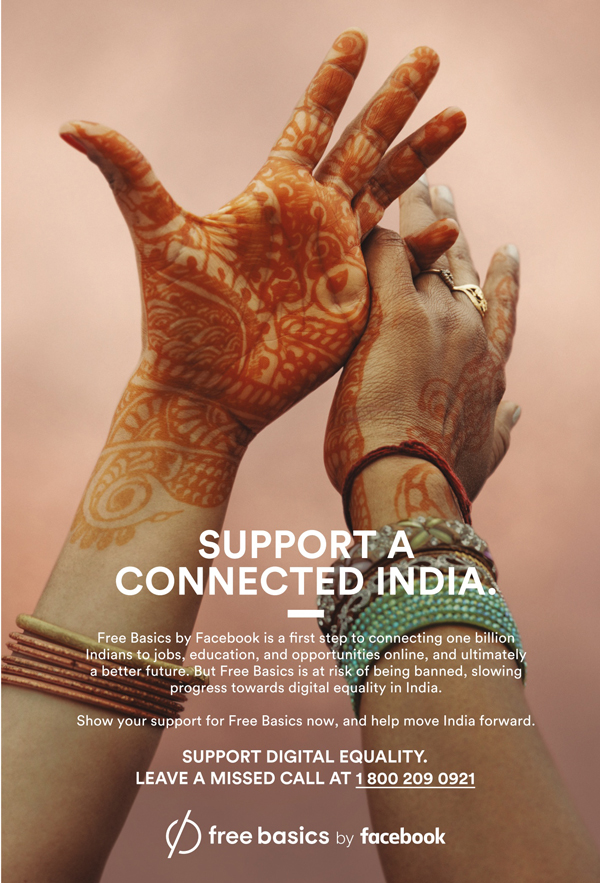 The question arises, can one trust Facebook's discretion? And more importantly, should one? After all, this would potentially decide what millions of users who get internet access for the first time will have access to.
Also read: Facebook shares 10 key facts about Free Basics. Here's what's wrong with all 10 of them
What is net neutrality?
Net neutrality is the principle that internet service providers should enable access to all content and applications regardless of the source, and without favoring or blocking particular products or websites.
Critics believe Facebook's service violates the principle of net neutrality. The fact that presently only Reliance offers the service, and anyone who wants to be a part of the service has to adhere to Facebook's guidelines and it is up to Facebook to decide whether they can be a part of the service, violates the principle of net neutrality.
'What net neutrality activists won't tell you'
On Wednesday, 23 December, Facebook's newspaper ads, titled "What Net Neutrality Activists won't tell you", caught the eye.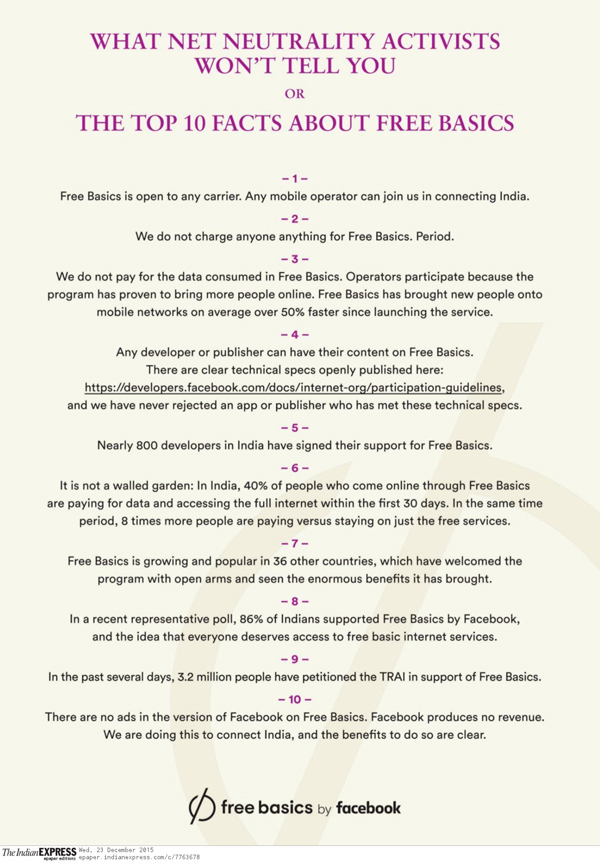 Now the ad might convince those who still struggle to understand the concept of net neutrality, or those who believe providing some services for free is not a bad idea.
And according to internet activists, that's exactly what Facebook is attempting to do.
This is why the activists have released a rejoinder. The team responsible for savetheinternet.in, a volunteer-led group that was able to mobilise over one million responses supporting net neutrality and sent them to telecom regulator TRAI, published a response.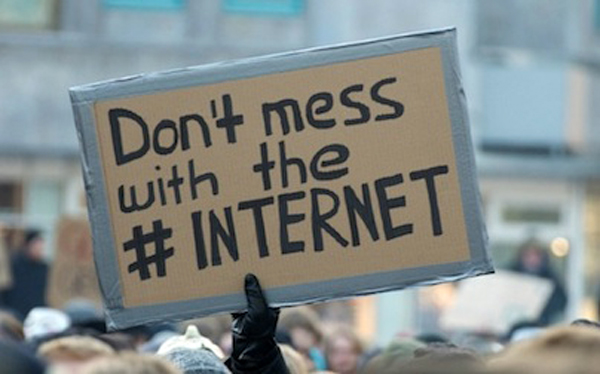 'What Facebook won't tell you'
The key objections to the Free Basics platform, according to savetheinternet.in include:
There are other successful models for providing free internet access to people, without giving a competitive advantage to Facebook. Free Basics is the worst of our options.
Facebook doesn't pay for Free Basics, telecom operators do. Where do they make money from? From users who pay. By encouraging people to choose Free Basics, Facebook reduces the propensity to bring down data costs for paid Internet access.
Free Basics isn't about bringing people online. It's about keeping Facebook and its partners free, while everything else remains paid. Users who pay for internet access can still access Free Basics for free, giving Facebook and its partners an advantage. Free Basics is a violation of net neutrality.
The only source of information on Free Basics is Facebook, and it misleads people. Facebook was criticised in Brazil for misleading advertising.

Brazilian Attorney General's Office: http://t.co/zdQjIx0Lqs is "misleading advertising and against net neutrality". https://t.co/P9Smrs4IYa

- Guy Hoskins (@walmartyr) September 10, 2015

Their communication in India is misleading. People find the "Free" part of Free Basics advertising from Facebook (or FreeNet free internet) from Reliance misleading.
5. Facebook gets access to all the usage data and usage patterns of all the sites on Free Basics. Facebook gives data to the National Security Agency and this is a security issue for India.
Misrepresenting 'facts'
One of the 'facts' about Free Basic that Facebook mentions is that 'In the past several days, 3.2 million have petitioned the TRAI in support of Free Basics'.
What it does not mention is the fact that not all of the 3.2 million people behind these petitions were Indians.
Also read: Net Result: what DoT's net neutrality report gets right, and where it messes up
But how could a citizen of a foreign country write to India's telecom regulator?
US citizens on various social networking sites reported that they were encouraged to send a pre-written ambiguous email to TRAI supporting Free Basics.
On social networking site Reddit, users from Canada also posted screenshots of the same.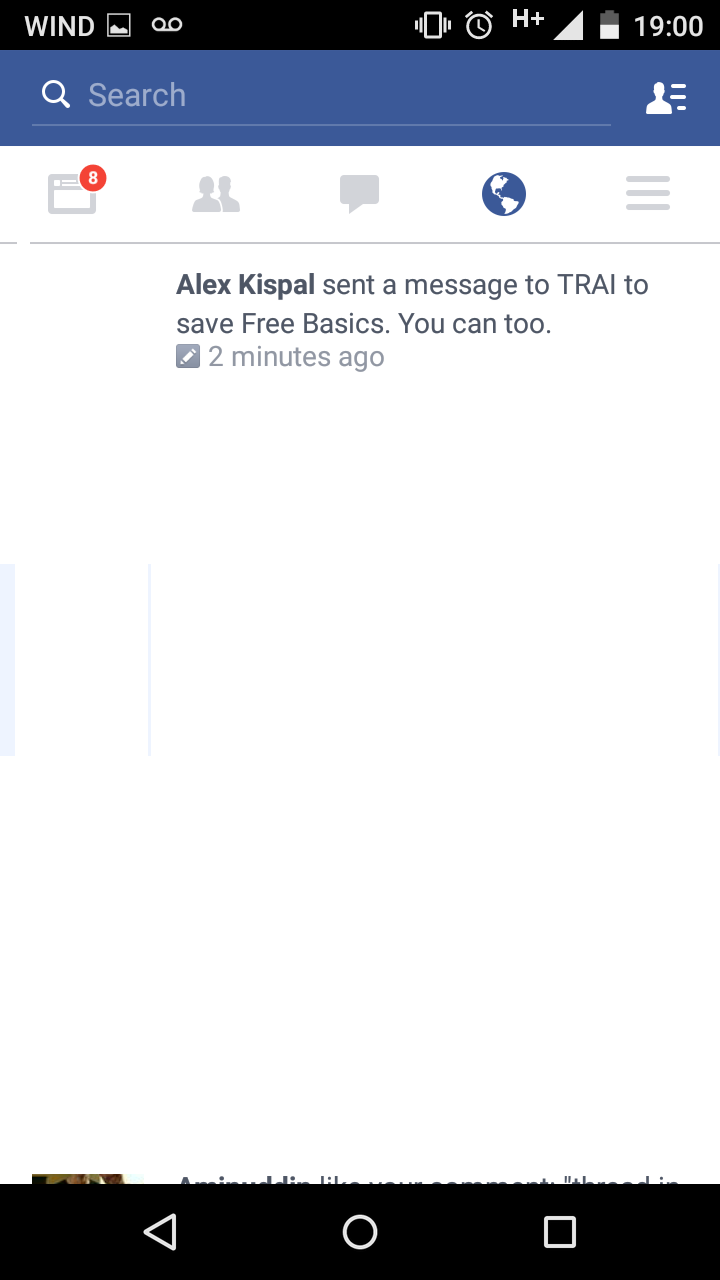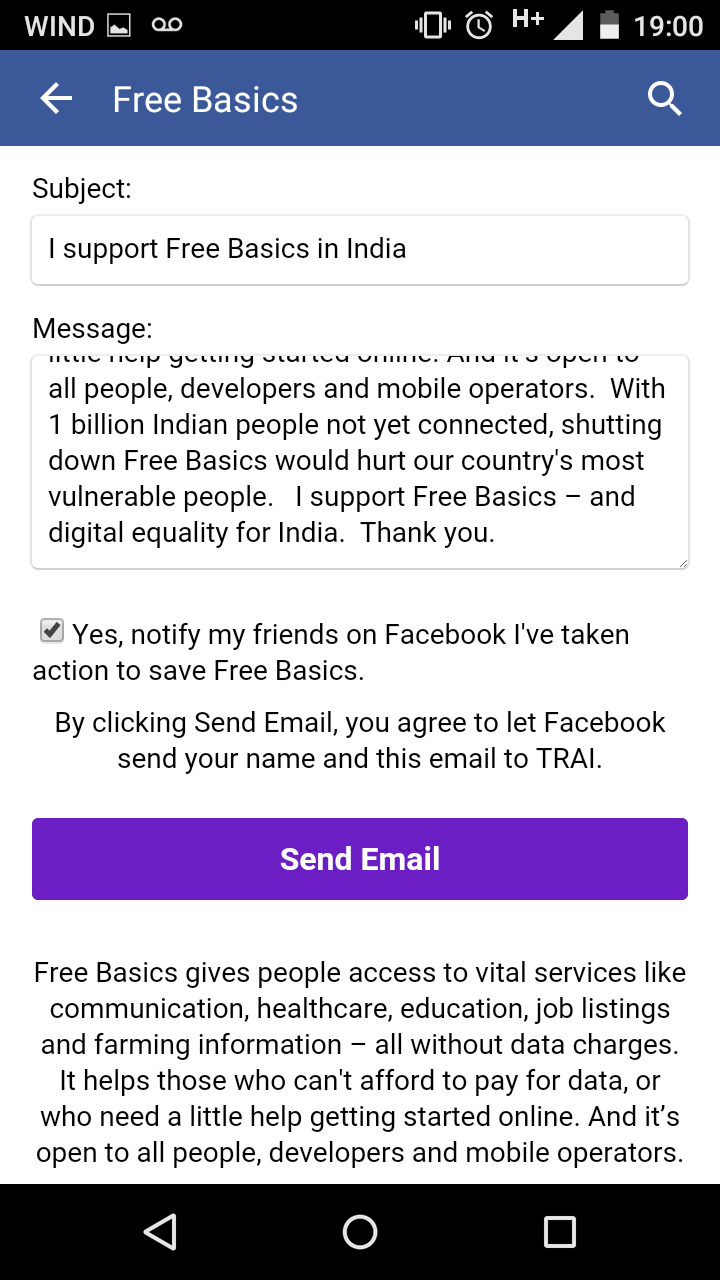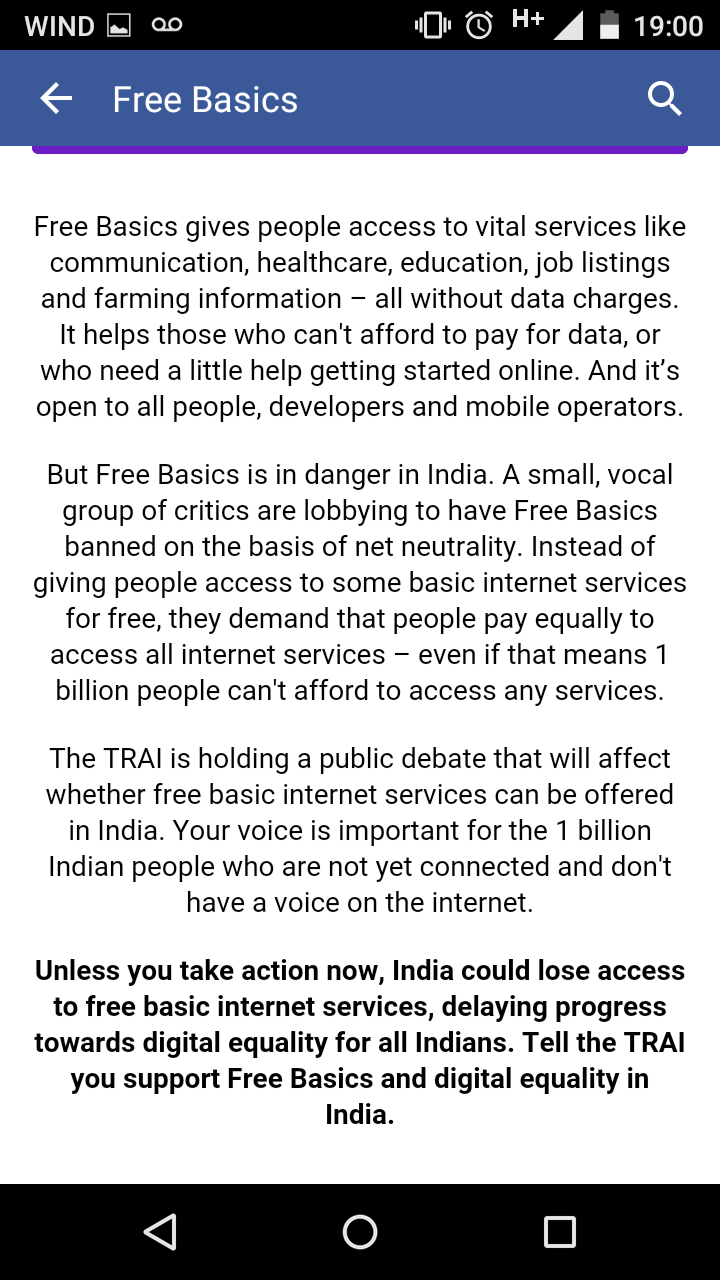 Facing criticism, Facebook responded quickly and released a statement: "We accidentally turned on this notification for some people outside India this evening for a short period of time - it's been on for English-speakers in India for several days now."
Another 'fact' the ad mentions is that of a 'representative poll'. "In a recent representative poll, 86% of Indians supported FreeBasics by Facebook, and the idea that everyone deserves access to free basic internet services." But what Facebook does not mention is that the poll was commissioned by Facebook itself.
Additionally, 34% of respondents agreed that "Free Basics blocks access to most of the Internet for poor people". About 37% of respondents also believed in the claim that "Free Basics does not protect its users (many of whom are new to the internet) and will be exploited by the service."
Also read: There's no middle path on net neutrality: Rajeev Chandrasekhar
It is hard to believe the corporate giant when it withheld such crucial information about its own poll.
Activists' view
Nikhil Pahwa, the founder of Medianama, is an integral part of savetheinternet.in. He played an integral role in bringing the campaign for net neutrality to the fore.
Pahwa told Catch: "Such deceptive methods are used to influence people into believing there is a lot of support for Free Basics."
Smarika Kumar, core member of the Alternate Law Forum founded by lawyer-activist Lawrence Liang, adds: "If Free Basics is available for all mobile providers, why is Facebook not approaching other service providers and asking them to carry Free Basics for free on their networks? Why is only one mobile service provider, Reliance, chosen to provide access to Internet.org in India? Why not every telecom/mobile operator?"
Pahwa agrees. "Internet penetration has never been problem. One-fourth of India's internet users have joined in the last one year alone. Our problem is that someone like Facebook is trying to capture all future users from the country, and compromise on the openness and freedom that the internet provides."
More in Catch:
A for Award Wapsi, B for beef... 2015 will go down as the Year of Intolerance
Jang carried an ad featuring Nargis Fakhri. Then all hell broke loose
EXCLUSIVE: Inside a Hindutva hostel: how RSS is rewiring the tribal mind
Female and want insurance? LIC wants to know when you had your period
Facebook's new 'breakup tools' will hide your ex's new life from your feed