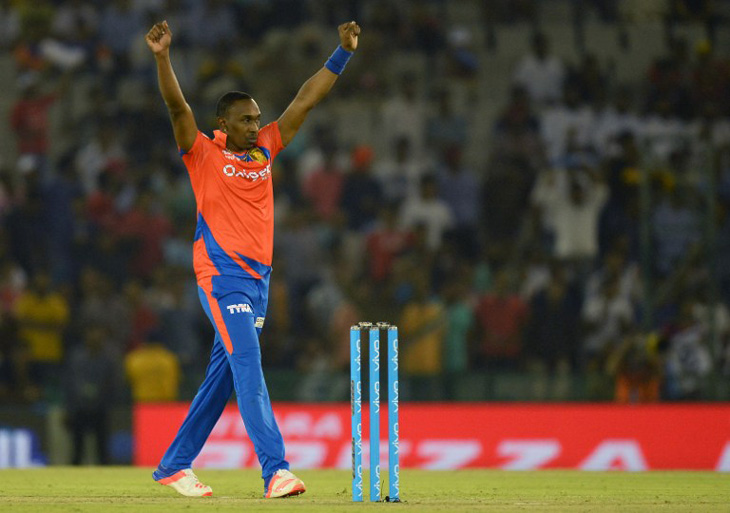 After a successful World T20 outing with the champions West Indies, Dwayne Bravo continued to prove his dominance in limited-overs cricket when he notched his 300th wicket in the shortest format during the clash between Gujarat Lions and Kings XI Punjab in the Indian Premier League (IPL) on 11 April.
Also read: Kohli's RCB face stern test against Warner-led Hyderabad
The Windies' all-rounder became the first bowler in T20 history to cross the 300-mark in the shortest version of the game. South African big-gun David Miller (15) became his 300th scalp when he was bowled by the deceiving loopy and slow yorker of Bravo.
Here you go!!!! #ChaampyaanChaampyaan @DJBravo47 #IPLhttps://t.co/YZvvKRXG4U

— IndianPremierLeague (@IPL) April 11, 2016
He also got the better of swashbuckling Glenn Maxwell (2), Wriddhiman Saha (20) and Marcus Stoinis (33) to script Gujarat's five-wicket win over Punjab. In the process, the 32-year-old became the only player in the IPL history to achieve the unique combo of 1,000 runs and 100 wickets.
Here's a look at the statistical achievements by 'the champion' Dwayne Bravo:
Bravo is the first bowler to pick up 300 wickets in Twenty20s when he picked up 4/22 against Kings XI Punjab - which marks Bravo's 292nd match. Lasith Malinga is not too far behind, with 299 wickets in 221 games.
Bravo's 292 Twenty20 matches is the second-most by any player in the format. His West Indies and Trinidad and Tobago team-mate, Kieron Pollard, has played 300 matches.
Of the bowlers who have taken more than 250 wickets in T20s, Bravo has the lowest average, with 24.04. Malinga has the best average with 18.08.
Bravo picked up his seventh four-wicket hauls in Twenty20s, the sixth-best among all bowlers. Sunil Narine and Yasir Arafat have the most four-wicket hauls with 10 each, while Umar Gul and Lasith Malinga have taken four-wicket hauls eight times. Bravo is now on par with Australia's Dirk Nannes.
Bravo is only the second pace bowler in Indian Premier League history to take over 100 wickets. In 92 games, he has picked up 109 wickets at an average of 20.94. Malinga leads the pack with 143 wickets from 98 games at an average of 17.80.