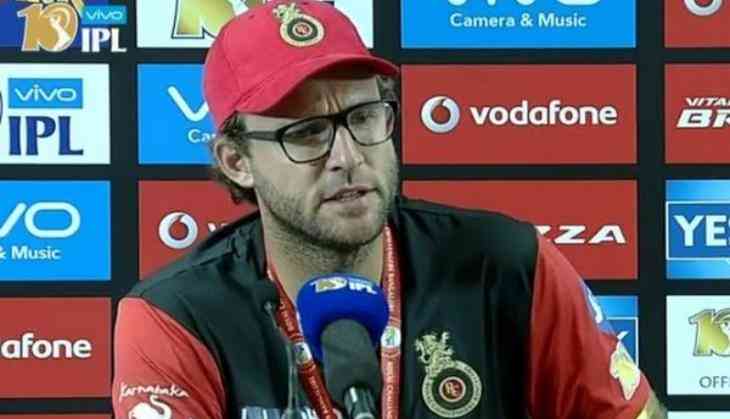 IPL 10: RCB need to more proactive, says Daniel Vettori (ANI)
Royal Challengers Bangalore (RCB) coach Daniel Vettori has admitted that his side needs to me more proactive in the remaining games of the Indian Premier League (IPL). RCB slumped to the bottom of the points table after their after a 27-run loss against Rising Pune Supergiant on Sunday at the Chinnaswamy Stadium.
RCB slumped to the bottom of the points table after their after a 27-run loss against Rising Pune Supergiant on Sunday at the Chinnaswamy Stadium.
Chasing 162 for victory, RCB were left stranded at 134 for 9; the third time in five completed innings that they have failed to go past the 150-run mark.
The Virat Kohli-led side are not far from the point of no-return on the league table. They have won just one game out of the five they have played so far which leaves them with the prospect of having to win at least seven of the remaining nine games to have a chance of securing a play-off berth.
'The thing is, in the IPL we're constantly searching for the right balance,' ESPNcricinfo quoted Vettori as saying in the post-match press conference.
Vettori also defended his decision of dropping Chris Gayle, who needed just three runs to complete 10,000 runs in Twenty20s and replacing him with Shane Watson.
'In the Mumbai game, we were down a bowler. Shane has been such a successful allrounder in T20 cricket for a long period of time. So we made the decision to back Shane because of his all-round contribution,' he said.
'It's tough for everyone in T20 cricket. A lot of domestic players have had to step in and perform after missing a few games or not being in their best form. We know Chris Gayle is a very good performer and we know if he can get on a roll than we can utilize Chris in a positive manner. At this stage we are just trying to find the right balance,' he added.
During the run-chase, RCB did not hit a single four and struck only one six between the fourth and 15th overs, which according to Vettori, added to the pressure.
'We are probably creating pressure on ourselves through dot balls, striking at below 100,' he said.
'Trying to catch that up in the back end on a slow wicket is incredibly difficult. I think in a lot of ways we need to be more proactive,' he added.
The New Zealander also admitted that his team cannot only depend on the likes of Kohli and AB de Villiers to perform and win matches.
'We saw what the likes of KL (Rahul), Sachin Baby, all those roles players from last year performed,' he said. 'The expectation is on AB and Virat to excel, but we need the likes of Mandeep (Singh), Kedhar (Jadhav), Shane (Watson) and Stuart Binny to complement their performances,' he said.
'We haven't made it easy on Mandeep by chopping and changing the line-up. We are trying to find the right combination. Once we find the right combination we can get on a roll,' he added.
The head coach also said that no drastic changes are required to change the fortunes in the remaining games.
'I won't say drastic changes are required. We back the quality of our performance on our day and we know that we haven't had enough of those when we need consistent performances across the board,' he said.
'We need more of those performances, we can't rely on one or two people and that's why we did so well last year. We need more performances from more people,' he added. RCB will now travel to Rajkot where they will take on Gujarat Lions on Tuesday.
-ANI