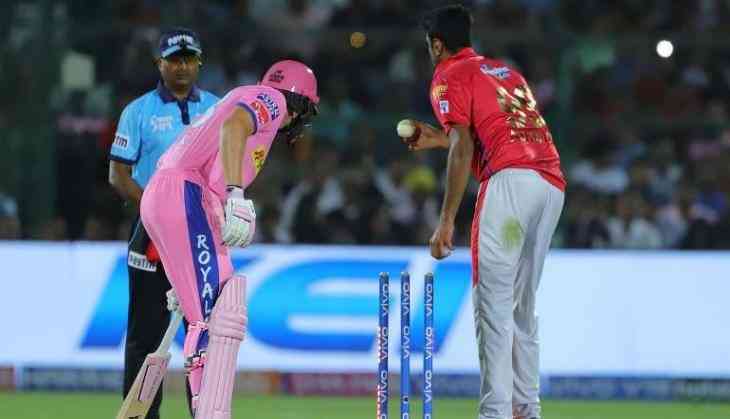 Kings XI Punjab captain Ravichandran Ashwin executed an unexpected run-out against Rajasthan Royals' opener Jos Buttler. The run-out sparked a lot of outrage amongst cricket fraternity and they were all giving their opinions on the controversial incident.
It all happened in the 13th over when Ashwin 'mankaded' Jos Buttler to inflict a massive blow on Rajasthan Royals. Buttler was on 43-ball 69 and was looking in good form to take his team to the finishing lines but his amazing innings was cut short by Ashwin.
Speaking to IANS, a senior BCCI official said that only cricketing skills should be used on the pitch to dismiss batsmen and that gives out the correct message to those watching and learning.
The match officials have failed in their duty with the handling of this issue. Buttler ought to have been adjudged not out if the laws were applied squarely to the situation. Ashwin also must understand that laws and the spirit of the game both have to be kept in mind.
"A player is supposed to deceive the other with his cricketing skills and not with shady skills. If the batsman is taking advantage, deal with it in the right way - as a gentleman. Competitiveness is all very well but a standard of decorum ought to be maintained," the official said.
"This mode of dismissal is akin to back-stabbing. That is why it will always be criticized. It gets you the result, but you surely won't win a popularity contest this way," he said.
"Buttler not shaking hands with Ashwin after the game was also against the spirit of the game. Both these things are inexcusable where the spirit of the game is concerned," the official added.
Kings XI Punjab went on to restrict Rajasthan Royals to 170 for nine in the chase to register a 14-run win at Sawai Mansingh Stadium. This was also the first time that KXIP won a match against Rajsthan at Sawai Mansingh.
Also read: Shane Warne accuses Harsha Bhogle of 'bias' and slams him for backing his 'own' in Mankad controversy