Toronto mass shooting: Gunman dead after killing one, injuring 13 in shooting outside restaurant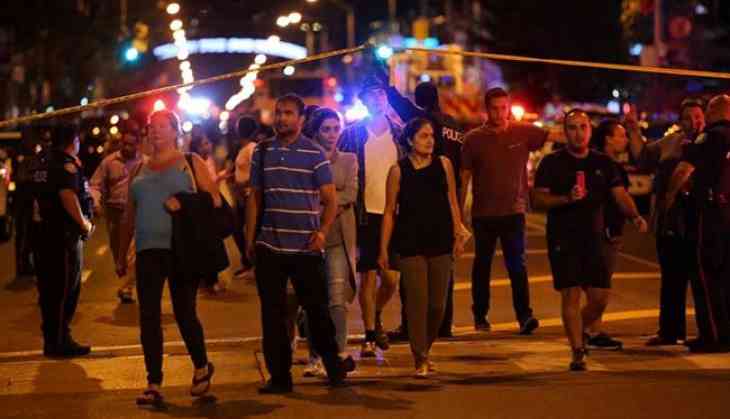 In a mass shooting outside restaurant, a gunman killed one and 13 others were injured Danforth and Logan Aves in Toronto, Canada. According to Toronto Police, the shooter is also dead. It is unclear whether the suspect shot himself or has been neutralised by police. Toronto Police spokesman Mark Pugash said it's too early to say whether the shooting is linked to terrorism.
Injured victims have been transported to various hospitals, American news network CNN reported.
A young girl injured in the shooting is in critical condition, Toronto Police chief Mark Saunders told reporters.
Toronto Star, quoting eyewitnesses, described a man dressed in black firing somewhere between 15 and 20 shots.
Also Read: Imran Khan says marrying Reham Khan was 'biggest mistake of my life'
Toronto Police Homicide are lead investigators in Danforth Av shooting.14 victims shot. 1 female died. Young girl is critical. Witnesses call police directly during night Sunday-Monday at 416-808-5504. Daytime Homicide 416-808-7400. Anonymous tips 1-800-222-8477 #GO1341286

— Homicide Squad (@TPSHomicide) July 23, 2018
Entry and exit points to the shooting spot have been cordoned off as emergency crews respond to the situation. The police have appealed to witnesses in the area to come forward and assist in investigations.
Ontario premier Doug Ford said his heart goes out to the victims of the "horrific act of gun violence".
"My heart goes out to the victims and loved ones of the horrific act of gun violence in Toronto. Thank you to all the first responders for acting quickly to help everyone affected," he tweeted.
Also Read: Teen jailed in Indonesia over abortion after being raped by brother