Refugees Welcome: Photos that prove humanity still has humanity left
Catch Team
| Updated on: 10 February 2017, 1:49 IST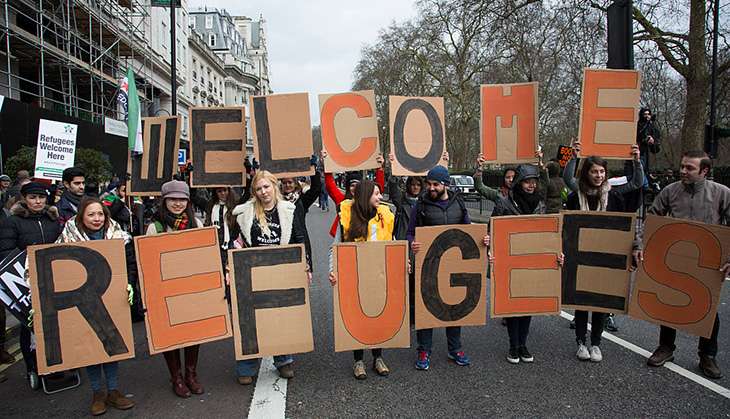 About 65.3 million - that's how many displaced persons we have in this world.
According to the United Nations High Commissioner for Refugees (UNHCR), this is a huge jump from the 59.5 million displaced people there were in 2014. Today, one in every 113 people around the world is either a refugee, or displaced in their own motherland.
There has been a shocking 50% rise in people who have lost their homes since 2011, a rise that ties in with the start of the Syrian conflict.
Also read -
World Refugee Day: For Myanmar's refugees, India a bleak house, not home
"Two thirds are internally displaced people, the most difficult to reach, one third are refugees, 90 percent are in middle income countries or in poor countries, 50 percent of the refugees are children," said the High Commissioner Filippo Grandi.
It's a massive humanitarian crisis; one that will only get worse as various factors, from climate change to war, only continue to get worse. The global response, while great in patches, still has a long way to go to effectively ensure that refugees are rehabilitated, even if they aren't repatriated.
Also read - Why the first Olympic refugee team may not be the last
While the suffering of refugees is there for all to see, a mix of vicious pragmatism and bigotry has seen leaders from around the world rail against allowing refugees asylum. From Donald Trump in the US to Nigel Farage in the UK and various others worldwide, refugees have been vilified and, in some cases, been left at the mercy of the very regimes and forces they are fleeing.However, humanity still has some, well, humanity left. Here's a collection of photos that show that no matter what, refugees can always harbour some hope in their darkest days, because there will always be people around who can see past constructs of race, creed, religion and geography.
Photo curation: Priyata Brajabasi
Also read -Good refugee policy needs social justice, empathy: Ranabir Samaddar
Australian police in front of a write "Refugees Welcome to EU" during a protest for Open the border, in Brenner, near Italy Australia border. (Photo: Mauro Ujetto/NurPhoto via Getty Images)
Demonstrators with smoke bombs and a banner reading Refugees Are Welcome Here at Anti-racism Day demonstration led by Stand Up To Racism in London. (Photo: Mike Kemp/In Pictures via Getty Images)
Demonstrators at Anti-racism Day demonstration led by Stand Up To Racism in London. (Photo: Mike Kemp/In Pictures via Getty Images)
A placard reading "refugees welcome" is held by a demonstrator against the El-Khomri bill on labour reforms in Toulouse, France. (Photo: Alain Pitton/NurPhoto via Getty Images)
A group of protesters gathered in Shibuya ward, Tokyo. (Photo: Alessandro Di Ciommo/NurPhoto via Getty Images)
Refugees walk at the Port of Piraeus in front of a graffiti on a container that reads "Refugees welcome to Piraeus". (Photo: Nicolas Koutsokostas/Corbis via Getty Images)
Migrants march in central Athens for open borders holding a banner that reads "Refugees welcome. Neo nazis to jail". (Photo: Nicolas Koutsokostas/Corbis via Getty Images)
Graffiti on a building says 'All refugees welcome,' in Vienna, Austria. (Photo: Melanie Stetson Freeman/The Christian Science Monitor via Getty Images)
A shield in form of a heart is placed at the entrance of the harbour of Mongla, Bangladesh. (Photo: Thomas Trutschel/Photothek via Getty Images)
Tens of thousands took part in an anti racism and refugees welcome demonstration and march through central London. (Photo: Geovien So/Pacific Press/LightRocket via Getty Images)
Demonstrators with Refugees Welcome placards at Anti-racism Day demonstration led by Stand Up To Racism in London. (Photo: Mike Kemp/In Pictures via Getty Images)
An Instagram user welcomes refugees. (Photo: Instagram/@RefugeesWelcomeAustralia)
An Instagram post welcoming refugees. (Photo: Instagram/@danilic)