Good refugee policy needs social justice, empathy: Ranabir Samaddar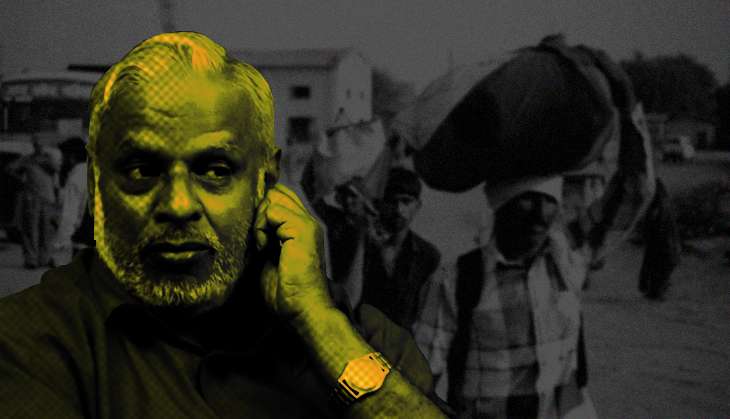 What are the problems
India is sympathetic towards Tibetan refugees, but the same does not extend to Bangladesh, Sri Lanka or Iran
Internal labour mobility cannot be stopped, the states must brace for it
What can be done
India should have a more open-door policy for refugee as it serves as a labour market
States and the Centre should work together to handle the internal migration crisis
More in the story
What are the different kinds of migration?
What are the real issues involved in the migration and refugee crisis?
On world Refugee Day Catch talks to Professor Ranabir Samaddar, Distinguished Chair, Migration and Forced-migration Studies, Calcutta Research Group. He is also the author of The Marginal Nations written about the India's transnational migrants.
Samaddar spoke to Catch about the real issue today that needs collective addressing - large scale massive internal migration.
Also read:You never really stop being a refugee: Sulaiman Addonia
He also spoke about how one can provide safeguards and fix responsibility for climate refugees who are facing human suffering on a scale of mid-19th century colonial India. Here are excerpts:
What are the big ticket issues India is facing in accepting transnational refugees?
I do not think 2016 will be very different from the refugee policy India has held in previous years - which is basically ad hoc, but on the whole, kind.
Having said that, there is an underlying clever play of protecting India's foreign policy interests. We have the Tibetan refugees, for instance. In some sense, after three generations, they are almost naturalised.
The Tibetan refugees, people say, are the most pampered refugees. While I don't hold that view, it is true that the Indian government has been kind and considerate towards them.
We must remember that the existence of Tibetan refugees has also paid India dividends in terms of foreign policy. I wish India had been this kind towards other groups of refugees such as Sri Lankan or Iranian or Bangladeshi.
The big question is not just rights to a camp life but certain other rights that refugees should enjoy - like right to move, right to education, right to pursue their vocations, etc.
India does not have a national refugee asylum policy. India has not signed the 1961 convention or the 1967 protocol. But it would have perhaps been better if it had signed one with due emphasis on human rights and justice towards refugees.
Today's migration is massive and mixed. You can't say that these reasons are purely political or economic or connected to human trafficking.
India has increasingly been very security-centric which has clouded its hospitality. We should have a more considerate policy towards migrants.
In your book The Marginal Nations, you argue about going beyond the idea of a national frontier, for an open door policy and a south Asian protocol that holds up the rights of migrants. How feasible is this solution? Can India afford to share its resources when it doesn't have enough for its own poor?
What I argued in that book is that people are moving in any case. What we see is only the tip of a gigantic iceberg - meaning that the figures we know of are only those which are officially documented.
Since people are moving either way, we should create a situation, some kind of a soft border policy where they get travel permits and basic rights.
If you ask about employment opportunities, I will tell you about the Bangladeshi migrants working at our homes in Delhi, the Bengali migrants in Trivandrum and Chennai working as construction labour. Do you think they are are waiting for official permission?
Do not look at the border as some kind of a strict demarcating line. After globalisation, with modern forms of mobility and communication it's not just a border it's border land which can provide giant labour markets. But we have our security blinkers on.
But this is a valid concern. How do you ignore the growing threats of terrorism entirely?
Did you see what happened in Orlando? The President had to clarify that the terrorist was homegrown. In other words to fix problems of terrorism we need to address root causes. Are we addressing deprivation, disenfranchisement, dispossession, discrimination and injustice which actually give rise to these feelings?
Internal migration is taking place at a massive scale in India. Whether they are climate refugees or drought refugees, who is responsible? How should states like Delhi be responding to the huge influx of migrants each day?
This is the most significant question to discuss today. There are three principal forms in which internal displacement takes place.
One is conflict induced displacement, which the UN acknowledges.
The government of India had an Act under UPA-I where you had a calamity fund and the displaced people were considered to be a part of the cost of calamity to calculate a financial imprint of whatever is happening.
We had protested back then that it was an inhuman policy.
It is wrong to monetise displacement in that way and measure loss and victimisation, anticipating it like insurance funds do. Ultimately you will say you don't have funds and therefore cannot properly rehabilitate.
Riots have become much more decentralised and routine today. Their shock value is over. So, our internal displacement policy is inadequate.
The second is displacement caused due to development work - razing forests, damming a river, unearthing mines and minerals.
India is witnessing a mad development frenzy. Sadly this will not make us China. China's story is one of massive industrialisation in small towns and rise of small companies and employment in those areas.
In India small businesses have perished. Also during Nehru's time each department, whether it was public works or steel, had a clear-cut compensation policy. Today that doesn't exist.
The third part is most important. I'd like to call this ecological refugees or environmental refugees.
Also read:The Andaman Sea refugee crisis a year on: what happened and how did the region respond?
Mike Davis wrote a book on the massive El Nino famines of the 1880s in Brazil, India, Eqypt and China. He had found that those farmers who had greater access to the market could survive the climate change. Others cashed out and died.
Think of the tragedy of floods in Assam or those in north Bihar floods year after year. The perverse side of that is the drought in Maharashtra and Bundelkhand.
Where is the legal and administrative framework that can protect people from the vicious effects of climate change? Where is the responsibility in Maharashtra, to ensure that a basic amount of water is kept aside for the poor and marginal farmers from the sugar lobbies?
First it is the Maharashtra government, then it is the central government, then it is the other states where people are taking shelter.
Presently Maharastra government, UP and MP governments would be quite happy if people flock to Delhi. In refugee literature this is called allowing for the mice to exit - which means a policy of letting people go.
Would you suggest for a similar open-door policy between states?
On one hand, nobody can stop labour mobility. In one generation, half of the drought-hit migrants settling down in Delhi will die as destitute and some others will be forced into begging and child labour.
Delhi has to feed the migrants, as of now. I think the Delhi government should demand relief money from the central government and say, "Now they are our guests. We cannot turn them away."
If yours is a poor house and a guest arrives you would do whatever little you can. Most social hospitality is done on a community basis anyway.
The responsibility of drought migrants should be divided three ways. Let the governments of Maharashtra and Bundelkhand give Delhi 40 per cent of the money that is required to care for these migrants.
The Centre should give 40 per cent because it could not prevent the mess in the first place. Finally 20 per cent of the cost can be borne by the host state.
These policies don't require much theory. To deal with migrants all we need is a sense of social justice and empathy.
Mobile labour is like a massive army on foot moving exactly like they did in the mid-19th century. In the sense of human suffering, we are witnessing a return of the late 19th century colonial India.
Edited by Jhinuk Sen
Also read: Wikileaks reveal EU okayed plan to use warships to tackle refugee crisis