Black money: Modi deserves credit for amending India-Mauritius DTAC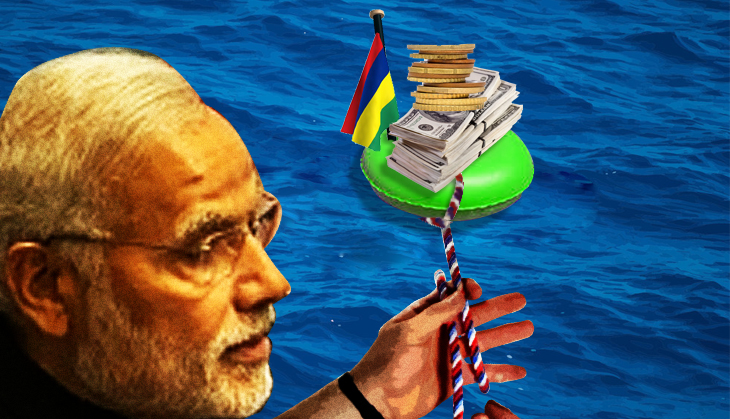 The protocol to amend the India-Mauritius Double Taxation Avoidance Convention (DTAC) marks the conclusion of a process that began 20 years ago. Why did it take so long? Why has Prime Minister Narendra Modi succeeded where his predecessors failed? Strategic, foreign policy, economic and financial considerations have to be examined to answer these important questions.
Background
The DTAC itself was signed in 1983 when President Pranab Mukherjee was the finance minister. The Convention was no doubt part of the legal infrastructure to encourage Indian small scale investments into the island country. At that time the scope of foreign financial investments into India was severely limited and that it would be used to push dubious financial flows into India, simply could not be envisaged.
Read: Govt modifies tax treaty with Mauritius, but will it curb black money?
As the economy opened up from 1991 foreign funds were welcomed in its different areas and the "Mauritius route" began to be used for foreign investments to avoid capital gains in India. It was also used to bring back funds that had been illegally taken out of India. Estimates are that around 33% of all direct foreign investment came to India through Mauritius in the past fifteen years.
Mauritius is strategically located in the Indian Ocean. It is dominated by the Indian Diaspora, descendents of indentured labour taken there from the early decades of the 19th century to work in the sugarcane plantations. It gained independence from Britain in 1968 and the leaders of the Indian community led by Sir Seewoosagur Ramgoolam, who gained political control, looked up to India for all round support. The economy of Mauritius continued to be largely in the hands of its people of European extraction.
Prime Minister Indira Gandhi responded positively and India-Mauritius bilateral ties developed comprehensively, including in the security sector. Indeed there has been abiding goodwill in India for Mauritius a feeling articulated by Prime Minister Narendra Modi during his visit in March 2015. "One country that has full claims on us is Mauritius," he said in his address to the Mauritius National Assembly.
Amendments to DTAC
Over the years as amendments to DTAC were under consideration, India remained mindful of Mauritius' concerns. For the Mauritius leadership, the development of the offshore financial services sector was of great significance to the overall economy but it was particularly important for the financial empowerment of the Indian elite.
Also read: Modi govt's black money amnesty scheme a spectacular flop
This factor had to be considered as the Indian Ocean gained increasing strategic importance for the country. Mauritius is an anchor for India's maritime security. This aspect was an important consideration in taking measures that may have disturbed the Mauritius political elite.
While India took Mauritius' concerns into account, the government of Navin Ramgoolam - Prime Minister from 2005 to 2014 and earlier from 1995 to 2000 - displayed elements of a lack of reciprocity. Navin Ramgoolam's role model became Singapore. He visualised Mauritius as a trading and financial centre serving especially Africa. In this vision China had a significant economic role.
This drift from India coincided with the evolution of some sections of the Indian community elite. They looked to Europe and the US for inspiration. The emotional bond with India weakened but interest dictated that the DTAC advantages continued to flow and hence India was kept engaged in many areas, including on the issue of amendments to the DTAC, but without the past intensity or seriousness. Vested interests in India no doubt also continuously urged the Mauritius government to essentially ensure that it did not agree to amend the DTAC.
There was a desire in Delhi to amend the DTAC, plug the loopholes, and get Mauritius to positively and speedily respond to requests for information on transactions of a suspicious nature. However, the predominant and genuine interest in Delhi, particularly after the global financial crisis of 2008 was to ensure that foreign financial flows, were not impeded. Gradually Mauritius began to cooperate in the sharing of information.
2014 witnessed changes in both the Indian and the Mauritius governments. Modi came in power with an expressed seriousness to tackle black money. In Mauritius, Navin Ramgoolam was completely routed in the December 2014 elections and the 84 year old veteran Anerood Jugnauth became Prime Minister for the sixth time.
Read more: How much black money is stashed away in tax havens? The govt doesn't know
Jugnauth values the Indian connection and is a devout Hindu. This was thus a propitious time to proceed with the DTAC amendment negotiations. By this time Mauritius also realised that the international climate was getting more difficult to credibly sell the idea that it was taking effective action to combat the abuses of DTAC.
In his address to the Mauritius National Assembly, Modi made it clear that amendments to DTAC had to be made. He said, "We understand the importance of the off-shore banking sector for your economy. We are conscious of its dependence on India. We will work together for our shared objective to avoid the abuse of our Double Taxation Avoidance Convention. I thank you for your support. But I also assure you that we will do nothing to harm this vibrant sector of one of our closest partners".
Never had India sent such a direct message and at the highest level. It obviously showed that Modi meant business and prevarication would be of no help.
The amendment protocol is imaginative. It provides time to both the Indian and the Mauritius economies to make adjustments to cushion its impact. Modi deserves credit for staying the course and achieving a long term Indian objective.
Edited by Aditya Menon
More in Catch:
Buddha in a diplomatic jam: Nepal-China take on India over Buddhist heritage
Tension: the Great Indian Diagnosis (and what it's got to do with Kangana Ranaut)
Jammu & Kashmir: Mehbooba proposes amnesty for militants. Will it work?
Telecom operators to benefit from SC's verdict on call drops; Digital India hurt