Ashraf Ghani visit: India should not shy away from selling arms to Afghanistan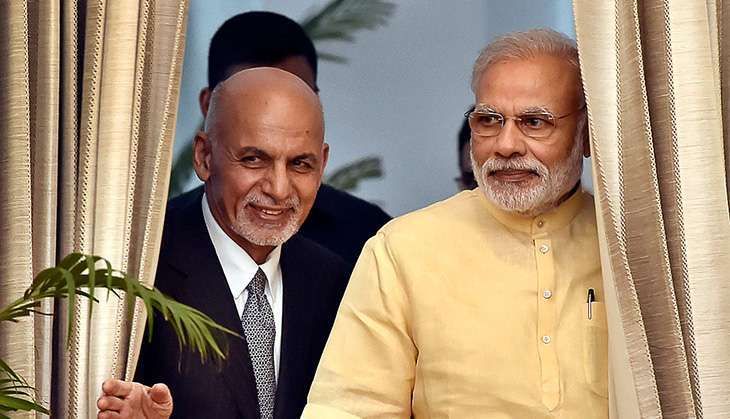 Afghan President Ashraf Ghani's working visit on 14-15 September was at his initiative and accepted by India at short notice. In Delhi, Ghani made all the right noises on issues of major concern to India, including terrorism and connectivity.
He even ventured into an area he could have avoided without risking Indian disappointment. Responding to a question on the Balochistan situation after his speech to an Indian think tank, Ghani compared it to "war" and advised (obviously Pakistan) that "forces do not keep people together." He also noted that the media was not adequately covering Baluchistan.
Is the present avatar of Ghani all about tactics or has he reached the firm strategic conclusion, as some Afghan political forces did many years ago, that Pakistan's interference in Afghanistan's affairs will not end because it wants to control Kabul's India policy, something that no Afghan government can ever permit? If it is the former, then Ghani will easily change his stance if Pakistan positively responds to its 2014 overtures for restraining the Taliban.
Also Read: PM Modi signs historic India-Iran-Afghanistan land transit trade pact
Even as India's security managers rightly welcome Ghani's shift in approach to security and defence cooperation with India - even if it is temporary - the real issue is to assess if the Afghan president's India policy is tactical or strategic. This is notwithstanding the ongoing bitter exchanges between Ghani and Islamabad as seen in his remarks on Pakistan, which he made in Delhi, and Pakistan's response.
Islamabad expressed disappointment at the "unhelpful statement of the Afghan leadership" which disregarded Pakistan's efforts at promoting stability in Afghanistan. It also alleged that Afghanistan's soil was being increasingly used by "a neighbour" (obviously the reference is to India) for "subversive activities and terror financing".
Ghani's initial policy was to keep India at an arm's length in the security and defence sector. This marked a departure from his predecessor Hamid Karzai's approach. Karzai had pressed the Manmohan Singh government, especially after the signing of the India-Afghanistan Strategic Partnership Agreement in 2011, not to restrict the defence cooperation to training and non-lethal stores. He had, in fact, given India a long list of weapon systems needed by the Afghan Army. However, Manmohan, unwilling to upset Pakistan, did not positively or sufficiently respond to Karzai's request.
Ghani made a state visit to India in April 2015. At that time he was still reluctant to enhance the security relationship. This was reflected in the absence of a direct mention of defence and security cooperation in the joint statement that was issued after his talks with Prime Minister Narendra Modi.
Change of heart?
In July 2015, Ghani learnt that Pakistan had not disclosed Mullah Omar's death even while arranging a meeting between some Taliban and Afghan representatives under the Quadrilateral Process. He was furious and removed his hold on fuller defence cooperation. India sent three combat helicopters.
It is now clear that Ghani wants weapons from India. He told some confidantes before coming on this visit that he would ask India to expedite the supply of weapons. Earlier, the Afghan Army chief Qadam Shah Shahim visited India and reports indicate he asked for more combat helicopters, artillery and tanks.
Also Read: Indo-Pak peace roadmap: don't let security establishments dictate foreign policy
The joint statement issued after Ghani's latest meeting with Modi mentions that "the two leaders reaffirmed their resolve to counter terrorism and strengthen security and defence cooperation as envisaged in the India-Afghanistan Strategic Partnership Agreement".
Foreign Secretary S Jaishankar refused to go into details of Modi-Ghani discussions on defence cooperation. This is not surprising for such matters are not publically discussed. However, it is clear that there is no hesitation in principle to sending weapons to Kabul, otherwise the combat helicopters would not have been sent. Now, the army will have to assess what can be sent and will be properly maintained in Afghanistan.
It is good Modi announced that India will spend an additional $1 billion in economic assistance to Afghanistan. India's non-prescriptive assistance has till now earned it great goodwill among the Afghan people as has its policy of not interfering in the country's domestic processes.
A key motivation for Ghani to visit India at this stage was to show to the Afghan people, in particular the non-Pashtuns, that India has good relations with him. This is because his relationship with Chief Executive Abdullah Abdullah, who is almost an equal partner along with him in the National Unity Government, has been very rocky. Last month Abdullah publically and bitterly complained about Ghani's non-observance of their power sharing agreement, which made the unity government possible.
Abdullah and his supporters in the erstwhile Northern Alliance have had close ties with India for the past two decades hence, Ghani's desire to send a signal to them.
Modi and Ghani have met six times in India and abroad over the past two years. They are slated to meet again during this year. This is good in itself, but India should not ignore its traditional constituencies in Afghanistan, especially old allies such as Abdullah. India needs to keep reaching out to all sections of Afghan opinion.
Also Read: Iran's Chabahar port: India needs to side-step a few Pak-China landmines