Iran's Chabahar port: India needs to side-step a few Pak-China landmines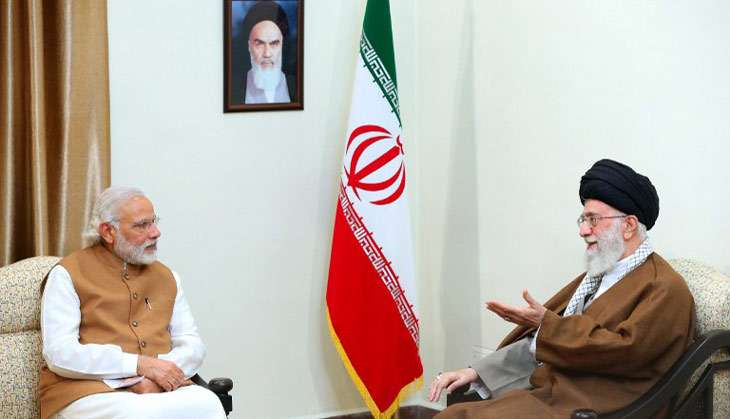 Pakistan is deeply concerned at the implications of the India-Iran-Afghanistan trilateral agreement that provides India access to Afghanistan via the strategically located Chabahar port in Iran. The agreement was signed during Prime Minister Narendra Modi's visit to Tehran last month. India and Iran also finalised an agreement to cooperate to develop the Chabahar port.
There is also the intention to build a railway to link the port to Iran's Zahedan province that is adjacent to Afghanistan. These agreements mark the culmination of a process that began around 15 years ago when Indian strategic experts concluded that Pakistan would not allow India overland access through the Punjab border to Afghanistan and beyond.
Pakistan's opposition
Speaking at a national security seminar on 30 May in Islamabad, former Defence Secretary and Corp Commander, Bahawalpur Lt Gen (retd) Naeem Lodhi called the agreement as an "encircling move". He and another retired Defence Secretary Lt Gen Yasin Malik construed the agreement as leading to an alliance between India, Iran and Afghanistan.
Lodhi considered it as forming a "formidable bloc" and called for reliance on the Chinese to erode what to Malik is a "strategic threat" to Pakistan. Lodhi also said that the agreement would have an impact on the China-Pakistan Economic Corridor; the development of the Gwadar Port by China is an integral part of the CPEC.
Also read: How Panama Papers exposed vulnerability of Pakistan's nukes
Lodhi and Malik are well regarded in the Pakistani military establishment which is close-knit community. Their views therefore represent those of the serving generals the final arbiters of the country's India policy. The Pakistani civilians and diplomats have, however, not expressed any alarm at the agreement.
Prime Minister Nawaz Sharif's Senior Foreign Policy Advisor Sartaj Aziz expressed the confidence that the Gwadar and Chabahar ports would cooperate. The Iranians too have soft pedalled the notion of competition between the two ports; China and Pakistan can access it, according to an Iranian diplomat. Malik was extremely critical of a "dysfunctional" Pakistan Foreign Ministry, obviously for not articulating the danger of the trilateral agreement. Ultimately the view of the generals would prevail on the "security threat" posed by the trilateral agreement.
Why are the generals displaying such paranoia at the trilateral agreement? It does not mark the formation of an alliance. It only provides connectivity which will benefit the India, Iran and Afghanistan as well as the region. Besides for India it is a way to bypass the obstruction put by Pakistan to its connectivity to Afghanistan, Central Asia and beyond. But for this fact India may not have shown continuing interest in the Chabahar connectivity project.
This has been noted by Pakistani commentator Harris Khalique who recently wrote, "Pakistan is not being isolated in the case of Chabahar. It is being bypassed on its own accord". Khalique pleaded for connectivity throughout South Asia including for India to Afghanistan via the Punjab border.
Also read: Abdul Basit's message is clear: Pakistan is on the offensive now
It is improbable though that the generals would relent and permit overland access to India. That would go against the fundamental negativity they have relentlessly pursued against India. An essential part of their policy is to obstruct India's rise and to confine it to South Asia. In this Pakistani and Chinese interests coincide.
China's great game
The CPEC which is an essential component of China's ambitious and long term One-Belt-One-Road Project is of great economic and strategic importance to both countries. It seeks to reduce the distance of the Western regions of China including Xinjiang to the sea. These regions which are the home of Uighur revolt are being developed economically and OBOR is designed to integrate the countries Central Asia and Afghanistan to them.
China is committed to spending US$ 46 billion in CPEC related projects. That will provide a major boost to Pakistan's struggling economy. Strategically it helps in denying India access to an important pathway. It is different matter that for valid legal reasons India has objected to the alignment of the CPEC as it passes through Pakistan-Occupied-Kashmir.
It is likely that China and Pakistan would seek to influence Iran to go slow on the project. For China it may appear as the beginning of an Indian move to undercut OBOR in the region. It is doubtful if Iran would heed Chinese and Pakistani advice on the project though there are Iranian lobbies that may wish to impede the project. It is therefore essential that India gives it all attention to overcome all obstructions to successfully and effectively implement a project which is vital for its connectivity to Afghanistan and Central Asia. Modi needs to appoint a special task force for this purpose for India's record of timely implementation of projects abroad is abysmal.
How should India react if China seeks a part of the action in Chabahar? It will have to play the game adroitly, keeping its focus on the ports and the roads and planned railways essential purpose -- to ensure connectivity.
Also read: Chabahar port pact inked. PM Modi speaks fondly of 'old dosti' between India and Iran