Catch Team
| Updated on: 13 February 2017, 21:44 IST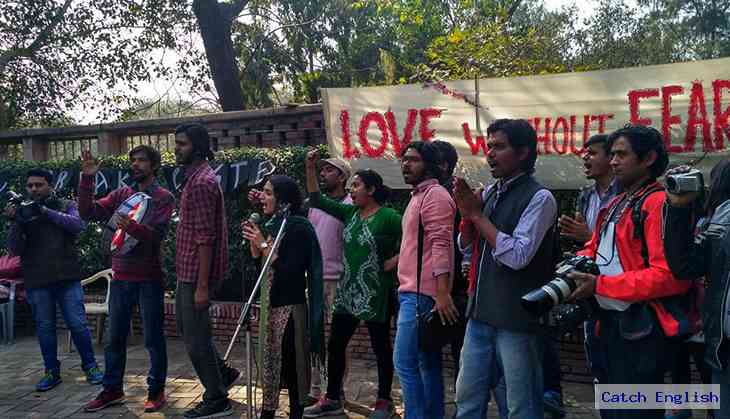 On the eve of Valentine's Day, the All India Students' Association held a public meeting titled 'Love Without Fear' at Delhi University, centering on women's autonomy and rejecting moral policing in all matters of sexual choices.
Around 500 students turned up Monday afternoon at the Arts Faculty on DU's north campus, amid heavy police deployment, to listen to professors, poets, writers and students talk about everything from "anti-Romeo squads" to inter-caste and homosexual relationships.
Also Read: The history of Valentine's Day, before Matri-Pitri Pujan Diwas
"We chose Valentine's Day as the backdrop, keeping in mind that the moral police claims this day is 'against our culture'. Every year, we see Bajrang Dal activists along with ABVP and other RSS outfits thrashing young couples who are out on that day," said Kawalpreet Kaur, president of the DU chapter of AISA, the student wing of the CPI(ML).
Last year, the Akhil Bharatiya Hindu Mahasabha had announced it would marry off young couples spotted coupling in public spaces on 14 February.
"Our aim was not to defend this day per se, but to assert the right to choose for everybody. Women especially live under a culture of institutionalised surveillance, whether it is discriminatory curfew timings in hostels or 'honour killings' by their own families. We wanted to highlight women's autonomy and the importance of consent," Kaur said.
Indeed, a recent survey shows that only 5% of Indian women have full autonomy in choosing their husbands.
Prof Apoorvanand of DU's Hindi Department spoke to the gathering about the disruptive power of inter-caste and inter-religious marriages. "One has to understand that love knows no boundaries and is known to break the boundaries of caste and patriarchy," he said, highlighting why the Hindutva brigade so desperately wants to clamp down on people's romantic choices.
Also Read: Eyewitness account of the mass molestation that took place in B'lore on NYE
Referring to BJP chief Amit Shah's announcement of "anti-Romeo squads" to "protect girls" in colleges across Uttar Pradesh if the party comes to power in the state, Apoorvanand said, "Our culture has its roots in love, anyone who has to protect Indian culture should not propose the idea of anti-Romeo squads but should speak about the freedom of men and women to love."
Poet and academic Akhil Katyal spoke about Section 377 of the Indian Penal Code, which criminalises homosexuality. He read out some of his popular poems on the subject, including "I want to 377 you so bad" and "Aligarh".
Others who addressed the public meeting were Prof Sapna Chamaria of Rajdhani College, Prof Nandini Chandra of DU's English department, and Prof Parnal Chirmuley from the JNU.
Speaking to Catch, Swali Prakash, a second year English (Hons) student from Dyal Singh College, recalled the case of 21-year-old Bhawna Yadav, a student of Venkateshwara College, who was killed by her parents in 2014 for marrying outside her community.
"We want to tell the right-wing goons, who beat up couples and trample on people's autonomy, that we are not afraid, no matter how much they try to scare us," he said.
Kaur referred to the New Year's Eve sexual assault in Bangalore, and asked, "How do we call ourselves modern when even our most liberal cities witness such heinous crimes as the mass molestation on New Year's Eve?"
Also Read: Heart Attack: inside the crazy, colossal $19 billion Valentine's Day industry