Eyewitness account of the mass molestation that took place in B'lore on NYE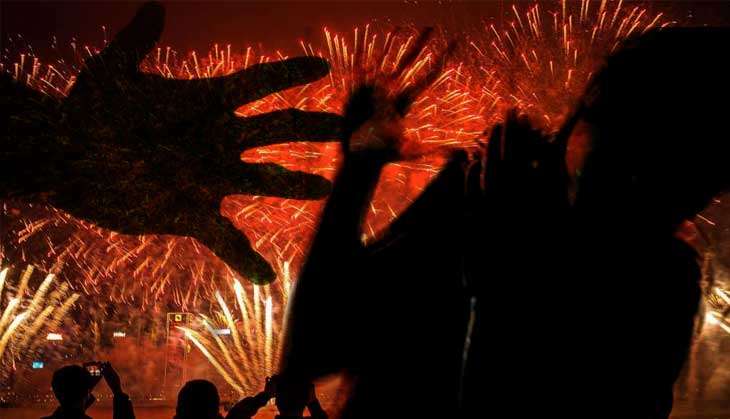 Bangalore's Church Street, the street that runs parallel to the city's famous MG road, is no stranger to celebrity visits. So, at around 12:20AM on 1 January, when Parikshit Murria and his friends saw a large mob moving briskly down Church street, near the iconic Empire restaurant, he figured that it was because people were thronging a celebrity. A closer inspection, though, horrified him.
Also read -Bangalore: 3 minor boys stripped, brutally beaten for 'theft'
As Murria looked closer, he saw something that he'd never seen in his three years working and living in Bangalore - screened by the raucous mob, and utterly helpless, were two young women.
Even as a reported 1,500 police were deployed on MG road and its surrounding areas, Murria saw these two women manhandled by the mob, thrown to the ground, and molested. If 2016 had established itself as annus horribilis, 2017 was starting off in the worst way possible.
High police presence, low action
Murria and his friends tried to make inroads into the mob to help the women, but their efforts proved futile. "There were just three of us, too few to stop this mob," he recounts to Catch. When asked where the cops were, Murria admits that there was indeed a sizable police presence. But, while he was willing to concede that the crowds in the area were way too huge for the police to effectively manage, he wasn't impressed by what he saw either.
"The police presence was quite good, but just being present doesn't help, you have to take action." In this case, he explains, the police were scarcely 100 metres away, close enough to notice a mob the size that Murria described. However, the young techie tells us, they didn't do anything. After a little while, having had their fun at the expense of the women, the mob dispersed. In the ensuing rush, Murria lost sight of the women as he and his friends were pushed back by the fleeing mob.
According to Murria, this wasn't even the only incident. "There were many. The crowd was fully drunk," he says, recalling that four women in front of them were almost groped by a lowlife but were spared when his friend intervened. What they'd seen was enough to ensure that they saw the women to a cab for good measure.
Also read - 3 year old girl allegedly sexually assaulted at school in Bangalore

So did the police just watch? No, concedes Murria, they did make an attempt. "In some places a few people were sitting and the police was covering them." Other reports have also indicated that police did try and help but were overwhelmed by the numbers.
The police's version
Amazingly, though, despite reports in the media and eyewitness accounts like that of Parikshit, there have been no cases filed yet.
When Catch contacted the police station under whose jurisdiction the area falls, a hassled police office picked up our call. "No cases have been reported, nothing happened like that is what we're telling," he said, with more than a hint of exasperation. "We were there the whole night, all of us, and nothing like what they are saying happened."
Surprised at the denial, we repeated the question, asking if he was really telling us that no serious incident occurred. "Not just serious, nothing happened. Serious bhi nahi hai, kuch bhi nahi hai."
When asked about the footage and photos being carried by sections of the media, he responded, "See, if they tell us the [phone] number [of the victims], we can contact them. We can reach them."
He did, however, inform us that the police were already screening the available CCTV footage to see if molestation and harassment did occur. This has since been backed up by Karnataka's Home Minister, G Parameshwar, who stated that the police are looking into the CCTV footage and will take suo moto cognisance, should they come across any evidence.
Bangalore's image ruined?
So where does this leave Bangalore? Media houses, ever ready to tar a whole city for the sake of a juicy headline, have all but declared the city the new Sodom and Gomorrah. The truth, however, is less drastic.
Were women misbehaved with? Almost certainly. But is this really anything new? Hardly. Anyone who's ever been on a night out drinking has probably encountered a situation where women were on the receiving end of unwanted attention. Usually it stays at a level where they aren't physically harmed, but that's down to the level of alcohol involved and the strength in numbers.
But this wasn't just a usual night of revelry. This was a major Indian metro on one of the biggest party nights of the year - New Year's Eve. On a night like this, with over 50,000 people thronging MG Road and its surrounding areas, such incidents are almost inevitable.
But do they point to the immediate corrosion of Bangalore? No, this isn't Bangalore suddenly losing its innocence, that has long been the case. When the comparison is made between Bangalore and Delhi, what is often missed is that this is a pan-India problem. It isn't about regional attitudes but about a much deeper problem with the Indian attitude towards women.
Also read -Racist, ignorant and perverted: Tanzanian student's incident exposes what ails Indian society
Should we allow ourselves to get carried away with shocking headlines and the police and politician-bashing that drives TRPs, we are likely to ignore the more serious issue - the deeply troubling way we treat women. And until we address that, expect to hear of more such cases.