Why 14-day custody for Kejriwal ink-thrower is a travesty of justice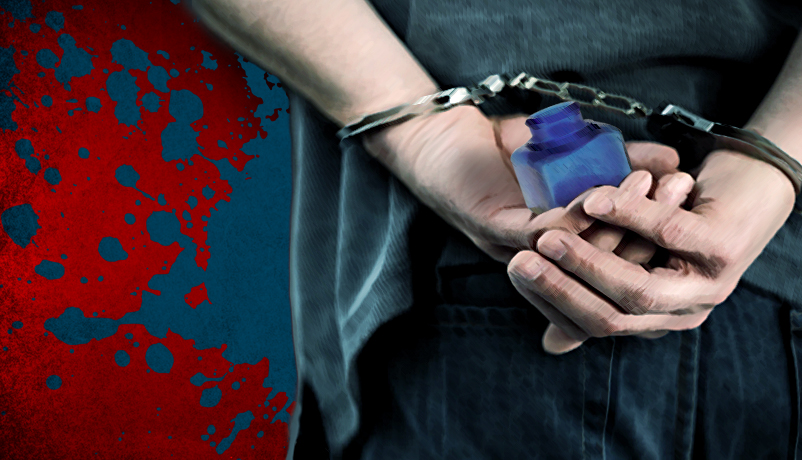 To what extent should a court bow to populist sentiments? To what extent should it apply the letter of the law but blindly ignore its spirit and remain myopic to the larger perspective? And, to what extent should leaders be allowed to get away with (mis)using people's stunts for political mileage?
These questions arise because of a Delhi magistrate's act of sending Bhavna Arora to 14 days' judicial custody. Arora threw ink at Delhi Chief Minister Arvind Kejriwal at a public event on Sunday, 17 January, and has alleged that the AAP leader and his colleagues have benefitted from a CNG scam.
Read: Ink attack on Arvind Kejriwal during Odd-Even success celebration
Arora professes to be a member of the AAP Sena, a splinter group, and that's probably why Deputy CM Manish Sisodia alleged she could be a part of other 'conspiracies' against Kejriwal and AAP.
Undemocratic means of protest
Ink-throwing, or blackening someone's face with paint, has never been, and should never be, considered a democratic means of protest.
However, does that in any way justify the judiciary's overbearing reaction against Arora? Especially because the provisions of the Indian Penal Code under which she has been booked - Sections 186, 353, and 355 - all deal with 'dishonouring' a person and preventing a public servant from discharging his official duties, and are all categorised as bailable offences under the law.
In no way can it be said that Arora came in Kejriwal's way of discharging his chief ministerial functions, because as a report testifies, the moment she threw the ink, she was dragged away by AAP volunteers and cops, and even Kejriwal has apparently appealed that she be treated with gentleness.
Bhavna Arora threw ink at Delhi Chief Minister Arvind Kejriwal at a public event on 17 January
It is not the first time that Kejriwal, or any politician for that matter, has been heckled. He has been slapped in public, has had eggs and slippers hurled at him, and so on and so forth. Then, why is a mountain being made of this particular molehill?
Sisodia has been screaming from the rooftops that there is a devious conspiracy against Kejriwal, and that Arora, of course, is part of that.
Sisodia forgets that his own's party has an MLA called Jarnail Singh, a former journalist who got away with hurling a shoe at Congress leader and then-Home Minister P Chidambaram.
Legal sustainability
The question to consider is - anyone can cry wolf, but should a court get carried away?
Metropolitan Magistrate Sunil Kumar presumes there is a 'larger conspiracy behind this attack on a democratically elected head of state', but is it legally sustainable?
Also read: Is Delhi's Odd-Even a big CNG scam? Woman who threw ink at Kejriwal claims it is
Legally speaking, it isn't. Politicians, to suit their own ends, indulge in all sorts of machinations, and if the courts start believing in their spiel, justice goes for a toss.
This is precisely what has happened here. The magistrate says Arora needs to be investigated to see if there are previous criminal charges against her, but gives no evidentiary basis.
It might be contemptuous to allege that the lower judiciary is subservient to the powers-that-be, but it can't be wished away altogether.
It's high time Kejriwal and the courts dispelled such startling apprehensions.
More in Catch:
Tired of conceding 350 and not defending 310? Solution: get rid of the bowlers
Samosa, the quintessential snack, scores a victory over Nitish govt
Who cares about Modi's model village scheme? Not even his ministers
In pictures, the magnificent Mrinalini Sarabhai: danseuse, poet, activist