Where is Najeeb Ahmed? ABVP & JNU under fire over missing student
It has been five days since Jawaharlal Nehru University (JNU) student Najeeb Ahmed went missing and the police are yet to find a substantial lead on his whereabouts.
Najeeb, who was staying at the Mani-Mandavi Hostel in JNU, has been missing since 15 October, leaving behind his belongings, including his keys, mobile phone and wallet.
Najeeb went missing the night after an altercation with some students who had visited his hostel, to distribute pamphlets for an upcoming hostel election. Some of the students were members of the ABVP
The police have been distributing fliers across the city and are taking the help of the JNU administration to figure out if anyone has spotted Najeeb. However, there still seems to be no clue as to where or why he has disappeared.
Notice issued by the police asking for information about Najeeb
The only information the police has is of someone informing them that he was seen leaving the campus in an auto-rickshaw.
Student outfits within the campus have taken up the matter as a political issue. Some argue that this is a case of abduction and are accusing ABVP activists of being behind it. Others believe that he fled out of fear after being threatened by the ABVP.
The Left-dominated Jawaharlal Nehru University Students' Union (JNUSU) held a protest on the 17 October and demanded that the police and JNU administration take steps to find him.
Nearly 700 students had marched from, JNU's Ganga Dhaba to the Vasant Kunj Police Station to demand a faster investigation and they also registered an FIR against the students who had allegedly thrashed Najeeb.
The JNU Teachers' Association has accused the administration of failing to 'safeguarding the interests of the University and its members" and it held a protest on 19 October, demanding Najeeb's safe return.
Kapil Mishra, senior Aam Aadmi Party leader and Delhi minister, has called the police to look into the matter with urgency.
Najeeb Ahmed of JNU still missing after clash with ABVP. JNU very tensed & vulnerable. Police need to find him urgently.

— Kapil Mishra (@KapilMishraAAP) October 18, 2016
The JNU administration, while issuing a notice on the disappearance of Najeeb, has portrayed him as the accused who started the brawl and states "the accused has gone missing," in its notice.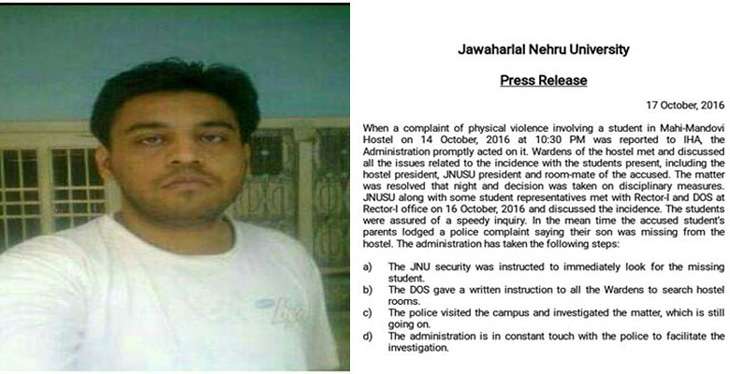 Press release issued by the JNU administration
The warden of the hostel has also blamed Najeeb even going to the extent of calling him "mentally unstable". This has since been denied by many students who know Najeeb.
Members of ABVP have subsequently issued pamphlets blaming Najeeb and accusing the JNUSU of politicising the matter.