What Professor Guru's arrest says about touchy politicians, Ram bhakts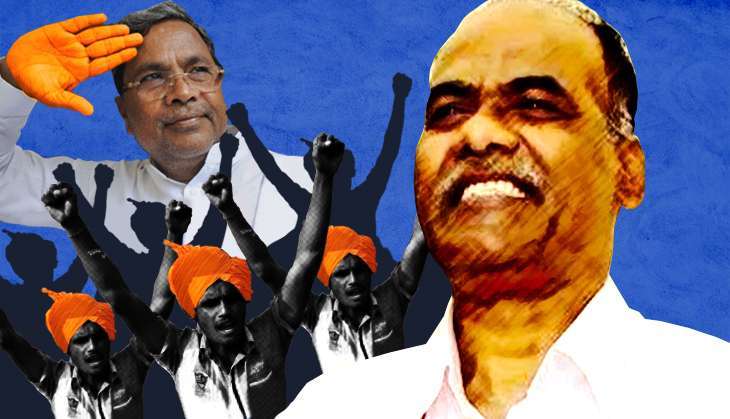 What happened
Mysuru professor Mahesh Chandra Guru was arrested on Friday night
Police acted on a case filed against him last year for insulting Lord Ram
What followed
Guru refused to pay bail and was sent to judicial custody
Arrest sparked outrage amongst intellectuals across India who condemned it
More in the story
What does Guru\'s arrest say about freedom of speech in the country?
Is Guru\'s arrest a stray case of the government coming down on an intellectual?
Dr Mahesh Chandra Guru, professor of media studies at the University of Mysore, was arrested last Friday. His arrest was followed by a lot of speculation in Bengaluru and Mysuru.
Was Guru arrested for allegedly insulting Lord Ram or the Ram Bhakts currently ruling the country?
Guru (59), one of the few Dalit professors in the country involved in media education for over three decades, has been an outspoken 'Ambedkarite'.
Also read:What killed Hyderabad university Dalit scholar Rohith Vemula?
He never misses an opportunity to criticise the 'Brahminical forces', which he feels have been dominating the historical, social and political discourses.
More than a year ago, on 3 January 2015, while speaking on 'media and human rights' at a workshop for teachers organised under the UGC at the University of Mysore, Guru had remarked: "Ram of Ramayana had violated human rights. He suspected Sita's fidelity and victimised her. I see this as a violation of human rights."
'Outrageous' comments
This comment was nothing new or outrageous given that many scholars in the past, with their own interpretations of Ramayana, have taken a similar stand.
But at the workshop, his comments were followed by some heated arguments and subsequently, a complaint was filed against Guru at the Jayalakshmipuram police station of Mysuru.
Nothing really happened after that, but in January this year, at a meeting in honour of Rohith Vemula, the Dalit student who allegedly committed suicide at Hyderabad University, Guru attacked Prime Minister Narendra Modi and Union Human Resources Development Minister Smriti Irani for their insensitive handling of the situation.
He was particularly harsh on Irani, calling her a "third rate film heroine" who was unfit to hold the position of HRD minister.
Immediately after that, Chi. Na. Ramu, general secretary of BJP's SC morcha, filed a complaint with the police for Guru's 'derogatory remarks' against BJP's national leaders and said it would "provoke the student community against the prime minister and the HRD minister" and "make them take law into their hands."
Now almost five months later, the Mysuru police activated the older complaint of 'hurting religious sentiments' against Lord Ram and approached the court to prosecute Guru.
What followed
After failing to attend two hearings earlier, Guru appeared before a first class judicial magistrate on Friday. As Guru refused to pay bail, he was sent to judicial custody.
As Karnataka is currently under Congress rule, it was all the more surprising that the police had shown eagerness to act on a frivolous complaint.
Guru's arrest has Chief Minister Siddaramaiah's critics wondering whether Siddaramaiah is really in charge of administration or does he actually have a soft corner for Hindutva forces.
Guru's plight has resulted in national outrage and intellectuals including Jayanti Ghosh, Shamshul Islam, Ram Puniyani, Anand Swaroop Verma and Rajesh Joshi have condemned the arrest.
At a time when alternative voices across the country are finding it difficult to express themselves, Mysoreans, who have a history of rebellion from the time of taking on the former royalty, do not hesitate to take contrary stands.
Last October at the time of Dasara, for instance, scores of intellectuals gathered at Chamundi Hills to celebrate Mahisha Habba.
Their contention was that Mahisha was a great ruler, who had lent his name to Mysore. In a cruel twist to history, he was made an 'asura' and allegedly killed by goddess Chamundi.
Guru, who was one of the speakers at the event, offered his own interpretation.
He said, "Mahisha was a Buddhist-Bahujan king, who ruled Mahisha mandal on the basis of human values and progressive ideologies. His rule was a symbol of equity and social justice. Brahminical forces are bent upon doing injustice to history and created a fictitious story of the killing of Mahishasura by Chamundeshwari."
Also read: Dalit worker alleges rape by IIMC clerk on campus
In fact, during the Dasara celebrations, the giant statue of Mahisha on top of Chamundi Hills became so popular that many people posed before the statue and posted them on social media.
Not a stray case
Coincidentally, another rationalist thinker, Professor KS Bhagwan who also hails from Mysuru had got into trouble as well with Hindutva elements over the last few months for his controversial remarks.
Bhagwan's claim that Ram was not monogamous, as generally believed, had got the traditionalists' goat.
He had claimed at a function organised by the Bahujan Vidyarthi Sangha at Davangere that, "...nowhere in epic Ramayana written by Valmiki, Rama is described as god. He was human. When Valmaki himself says that Rama enjoyed the company of women while consuming alcoholic drinks, how can he be called monogamous?"
Public demonstrations were held against Bhagwan in many parts of the state and he was accused of attacking Hindu gods for the sake of publicity.
Bhagwan being conferred the state Sahitya Akademi award shortly afterwards led to more protests and currently, he lives under round-the-clock police protection in Mysuru.
Professor Kancha Ilaiah is another Dalit intellectual who regularly offers alternative views on Hindu gods, scriptures, Indian democracy, political parties and so on. He's currently facing a police complaint in Hyderabad for writing an article with the title, 'Is god a democrat?'
The point is, should politicians go after a university professor for expressing his personal views about a minister's acting talents or leave it to the judgement of general public?
Edited by Jhinuk Sen
Also read: Caste equation: why 'Dalit thinkers', can't we just have thinkers?