We can change our friends but not our neighbours: Pak High Commissioner Abdul Basit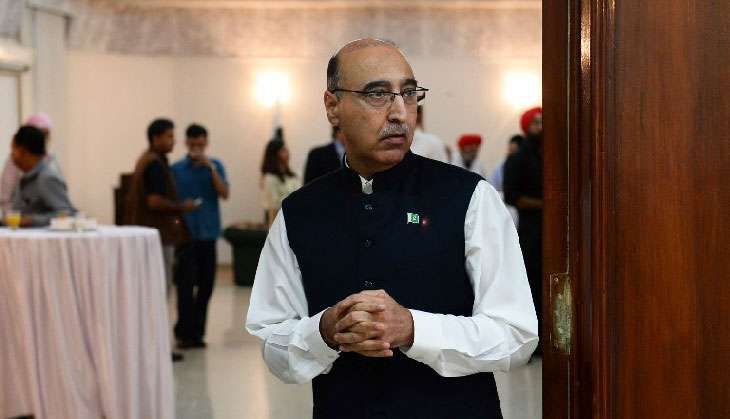 The Pakistan High Commissioner Abdul Basit was recently in Lucknow to participate in Patrika's 'Keynote' programme. In a candid conversation with Patrika, Basit defended his statement describing slain Hizbul Mujahideen commander Burhan Wani as "freedom movement leader."
Emphasising that both India and Pakistan have their strengths and weaknesses, the diplomat argued that his country was way ahead in several fields while India had advantages on some fronts.
Basit hailed his country's media as ferociously independent that does not refrain from "criticising the government day in and day out."
Here are the excerpts of the conversation:
What does serving in India mean for a Pakistani diplomat? Is it like visiting your friend's house or that of an enemy?
Abdul Basit (AB): A neighbour is a neighbour. You can change friends, but not neighbours. It is in the interest of both the countries to have amicable relations. There is no smaller or bigger partner in relations between two sovereign nations. Most of the difficulties in our mutual relations would be solved if we realise this fact.
You have also served as a diplomat in countries like Germany and Russia. How do you compare your present stint with these assignments?
AB: India is an important country for us. There is no doubt that relations between the two countries are not exactly cosy. There are obvious challenges involved in working here. However, a similar language and culture make this job somewhat easier.
The soured ties have increased challenges at the diplomatic level. Both the countries have cracked down on each other's diplomats. The Indian High Commissioner Gautam Bambawale was recently barred from speaking at a public function. How do you see this situation?
AB: I am not aware why Bambawale was not allowed to speak. I don't want to give the count, but, I was prevented from participating in several programmes during the two-and-a-half year tenure in India.
How many times you have met the Indian Foreign Minister during this period?
AB: It is not possible to give the exact number. We remain in regular touch with the senior officials of the Indian Foreign Ministry.
Pakistan could not host the 19th SAARC summit after India, Bangladesh and Bhutan decided to back out. Do you feel Pakistan is increasingly isolated in the region?
AB: The notion of Pakistan getting isolated in South Asia is not correct. The SAARC summit has only been postponed. We will host the 19th SAARC summit, whenever it takes place.
How do you compare the democracies and economies of India and Pakistan?
AB: Every country is unique in itself. Your country is facing a different set of problems that are not in Pakistan. It would be unfair to compare the two nations. You have not faced such grave internal challenges as Pakistan has. Unlike your country, we have suffered dictatorships for decades. Our Eastern and Western borders have remained hot for quite some time. Yet, we have made such strides in development during the past 15 years which you cannot even imagine.
Our civil society, as well as legal system, have done a great job. Our media is also better than that of yours. It is not shy of criticising the government day in and day out. India has its own strengths and weaknesses like us.
You have vehemently denied the surgical strikes. Although, some sections of your media, including the noted political commentator Ayesha Siddiqa, have questioned your government's stand on this issue. What do you think happened on 29 September?
AB: You see, even a section of the Indian media is questioning the surgical strikes. We believe Pakistan would have certainly responded in kind, had there been any strikes. There should be no ambiguity about this. The official statement released by your military's Director-General of Military Operations (DGMO) clearly states that strikes took place along the Line of Control (LoC) and not across it.
Will you make the first move to reinitiate the dialogue process or wait for the right opportunity?
AB: We are waiting. One cannot force India to the dialogue table. Yes, we are making efforts in this direction. We have always maintained that dialogue is the only way forward to resolve differences between the two countries. We will have to decide whether we want to improve the situation or prefer this status quo forever. It would be easier for us if the relations with India are normalised. Otherwise, the same situation will prevail in the near future.
Have you discussed the issue of surgical strikes with other political parties in India?
AB: We discuss all issues with political stakeholders on a regular basis. My counterpart Bambawale must also be in regular touch with all the political parties in Pakistan.
You had made a controversial statement on Burhan Wani and Kashmir's "Azadi" on the occasion of your country's Independence Day. Even Nawaz Sharif tried to portray the Hizbul militant as a hero in the United Nations?
AB: The issue of Jammu and Kashmir is a reality. Our two countries have fought wars over the issue. It still overshadows the state of relations between India and Pakistan. It would be preposterous for me to suggest that you are not sitting in front of me. The case of Kashmir is no different. There must be some reason for over two lakh people to turn up for Burhan Wani's last rites. You ask any Kashmiri, who was Burhan Wani? Ask his father.
There were great hopes of talks between the two countries when you had assumed office in 2014. However, your meeting with the Kashmiri separatist leader Shabbir Shah dashed this positive sentiment. In hindsight, was it a missed opportunity for Pakistan?
AB: We have been holding such meetings for a long time and will continue to do so in future. There was nothing new in this. We would have understood Indian government's reaction if it had never happened before. In reality, the same leaders have been recognised by the successive governments in Delhi for the past two decades. There were never banned from coming to the Pakistani High Commission. So, why this stand now?