#DroughtWatch: Is Hyderabad going the Latur way?
The situation
Hyderabad is facing an acute water shortage
Shortfall of drinking water is 45-47%
Lakes and reservoirs are also drying up
More in the story
How bad is the crisis?
Why corporates are worried
What steps is the govt taking?
As an acute water shortage hits Latur, there are alarm bells in Hyderabad, a city with population at 15 times that of Latur. The government also admits that it is an "emergency" situation.
Some bars and restaurants are displaying signboards outside restrooms in Hyderabad saying: "We regret the inconvenience. There is no water" though they are not preventing people from using them. Hygiene is not a major concern, for now, until it begins throwing serious health challenges this summer.
Read- Marathwada reservoirs at 3% of capacity, 11-year-old dies while fetching water
Though the administration is putting up a brave front, the water scarcity has attained alarming proportions, seriously impacting the lives of denizens of the twin cities of Hyderabad and Secunderabad. Large IT companies and major industries are already reeling under acute water shortage.
In some massive office complexes, even raw water supply is becoming a challenge and restrooms are being regulated to minimise flushing of water.
Telangana's minister for IT, municipal administration and Panchayati Raj K Taraka Rama Rao has indicated that it's indeed an emergency situation and the shortfall of drinking water is pegged at 45-47% in the city.
"The government is taking all measures to tide over the situation. We are building 2 reservoirs to meet the drinking water needs of the city, as part of the contingency plan. Immediately, there is no serious problem as such," KTR told Catch.
The minister said that the government is going to reserve 10% of water drawn as part of 'Mission Bhageeratha' - the ambitious water grid scheme of the Telangana government. This works out to about four tmc (thousand million cubic) feet.
"The government is planning to make it mandatory that only treated water is drawn for industrial use, wherever the facility is available."
"The government is working on a contingency plan. So there is nothing to worry," Commissioner of Greater Hyderabad Municipal Corporation B Janardhan Reddy told Catch.
Companies in panic
According to reports, honchos of over 45 companies, which have secured permissions for establishing their units in Ranga Reddy district, are now keeping their fingers crossed. Permissions were granted under accelerated process of Telangana State iPass (industrial project approval and self certification) to food processing, power projects, telecom, dairy and pharmaceutical companies. The large corporates, which are waiting to set up their units, include Amazon, Novartis, and Genesis Biologics.
Also read: Will the Bombay HC order really help drought-hit Maharashtra?
Some of these industries wanted to sink deep borewells to commence their projects. However, the groundwater department is holding them back, as it proposes conducting a survey.
The groundwater is estimated at 20 metres below the ground level in some mandals of Ranga Reddy district, which surrounds Hyderabad.
The dependency on groundwater in the areas from Hi-Tec City to Miyapur was actually the cause of severity of crisis.
Vanita Datla, Chairperson of Confederation of Indian Industry (CII), Telangana chapter, told Catch that manufacturing industries might face serious problems, as the utility of water would be more. However, that is not the case for IT and IT Services companies.
"I don't think the situation is that precarious as of now. If there is a good monsoon for 2-3 years, this problem can be addressed permanently," she said.
Datla felt that the situation would not impact the economy.
However if the monsoon doesn't arrive as expected in June, the situation will go from bad to worse.
Lifelines drying up
The Hyderabad Metro Water Supply & Sewerage Board (HMWS&SB) is making arrangements to pump in emergency supplies from Nagarjunasagar reservoir (Krishna water) and Yellampalli (Godavari water). The Board spent Rs 30 crore to build temporary pumping stations. Emergency pumping from Nagarjunasagar may commence from May-end.
Currently water is being supplied from three phases of the Krishna and Godavari. While 600 MGD is required for the city, 355 MGD is being supplied.
Read more: Water wars: tankers & wells are the battlefields on Holi eve in drought-hit Latur
The water levels in Nagarjunasagar and Yellampalli are also depleting fast due to scanty rainfall last year.
Apart from the depleting groundwater table, the parched beds of the dried up historic lifelines, Osman Sagar, Himayat Sagar and Singur-Manjeera, are making things worrisome.
The causes for the drying up of the tanks are largely man-made. The state government had issued a notification banning illegal constructions in the lake-bed catchment areas around a 10-km radius of Osman Sagar and Himayat Sagar.
A recent survey of 83 villages in the mandals encompassing the lake-bed revealed that there were 12,362 illegal structures in the prohibited area.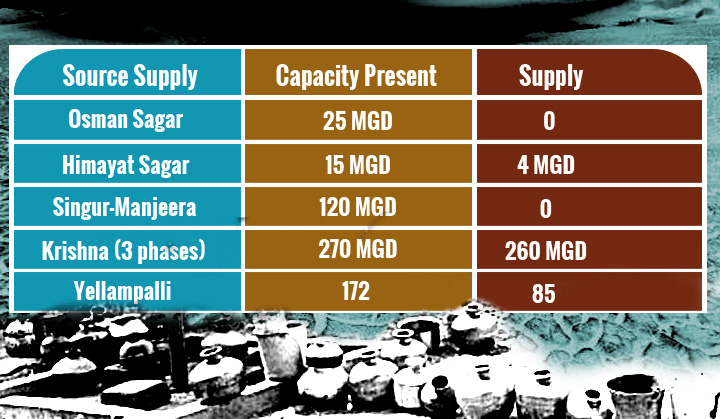 The water level in Nagarjunasagar plummeted to 507 feet (minimum draw down level is 510 ft). The irrigation department has asked the Water Board to be prepared for emergency pumping. Though the Yellampalli reservoir's capacity is 20 tmc feet of water, the available water there is just 4 tmc feet. Currently, 158 cusecs a day is being pumped to meet the needs of Hyderabad from a distance of 186 km. 
Administrative measures
Meanwhile, water tankers are in great demand in the city. However, there have been hundreds of complaints of corruption and diversion of water tankers.
With a view to monitoring these complaints, M Dana Kishore, Managing Director of HMWS&SB, launched a mobile app which has been given to all the personnel involved operation and maintenance. The hope is that it would help in monitoring the situation, uploading complaints area-wise, and also tracking the movement of tankers.
Laying emphasis on the importance of rainwater harvesting structures, KTR has asked the officials not to sanction building permissions and water connections if they did not make any provision for the structures. He wanted rainwater harvesting structures to be built in IT Parks, government and private office complexes, and establishments.
KTR has said that he wants the Water Board to be strict against illegal water connections. While asking the officials to plan for the rainy season, he wants non-revenue water supply should be reduced to 15%.
As far as the Indian Premier League matches are concerned, officials, say that the partially-treated raw water used to water the cricket grounds doesn't deprive anybody of their legitimate quota of water.
Edited by Aditya Menon
More in Catch:
The buzz in Murshidabad: the winner of Bengal will be Adhir Chowdhury
Say cheese: how 2 photojournalists took the profession to a new low
#SamjhautaBombing: NIA chief gives clean chit to Lt Col Purohit
The audio port on your phone Apple was threatening to kill? Chinese firm LeEco just did