Watch how Army dogs performed Yoga with ITBP jawans; visuals will leave you stunned!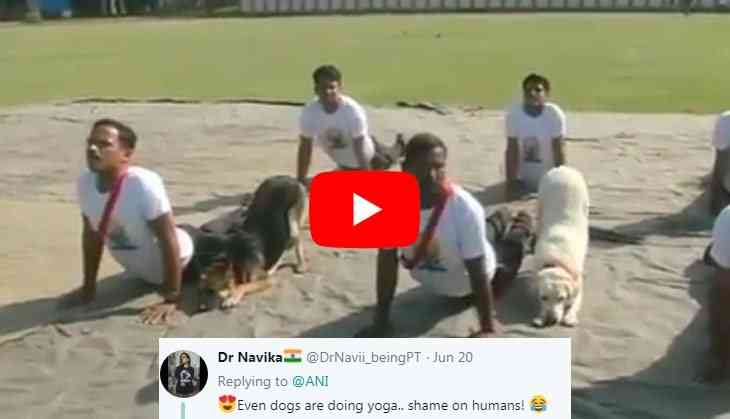 On 21st June, the world has celebrated International Yoga Day. The social media platform has been flooded with several photos and video of people performing Yoga at their places.
Amid such huge celebrations, an adorable video and pictures have come to light from Arunachal Pradesh where Indo-Tibetan Board Police troops of ATS Lohitpur performed Yoga along with their dogs and horses. The visuals have shared by the news agency ANI, in which some army jawans can be seen performing Bhujangasana while their dogs are following them in a perfect way.
While another picture showed how police personnel performing Padmasana on a horse.
Arunachal Pradesh: ITBP troops of ATS Lohitpur, perform yoga with their dogs and horses on #InternationalDayofYoga (Pic Source: ITBP) pic.twitter.com/nfgyWJgNUw

— ANI (@ANI) June 20, 2019
In Jammu too, dog squad did yoga with Border Security Force trainers on the occasion of Yoga Day. In the video, one dag can be seen lethargic while doing Yoga, but his master handled him very well and completed the asanas in a correct way.
See video:
#WATCH Dog squad of Border Security Force performs yoga along with their trainers on #YogaDay2019 in Jammu. pic.twitter.com/TTN2vAgbeS

— ANI (@ANI) June 21, 2019
After seeing these amazing posts, the Internet can't remain silent and soon, the visual garnered over 10,000 likes and several retweets.
Netizens applauded the dogs for their brilliant training.
Check out some amazing reactions of Twitterati:
June 21, 2019
AmAzInG #InternationalDayofYoga

— RSS.SiD💪 (@ImSid__) June 21, 2019
How cute. 😍

— Devika (@Dayweekaa) June 21, 2019
The litte white lab in the front is my favourite 😂

— Nikita Sethi (@nikstar_zzz) June 21, 2019
International day of Y̶o̶g̶a̶ Doga 🐶

— Sagar (@sagarcasm) June 21, 2019
ये भी देश के जांबाज सैनिक है! देश की रक्षा करने में इनका बहुत बड़ा योगदान है! पर ये बात कोई देशप्रेमी ही समझ सकता है राहुल गांधी जैसे मंद बुद्धि नही! इसलिए तो राहुल इन डॉग स्कवॉड पर उपहास का ट्वीट कर रहे है!

— 🇮🇳જ્યોતિ🇮🇳 (@_sujyoti1) June 21, 2019
Bestest video in the world today #YogaDay2019 #InternationalDayOfYoga

— Upneet (@upneet86) June 21, 2019
Cutest video on #yogaday 😀💛

— Asha Bisht (@AashaBisht) June 21, 2019
International Yoga Day is celebrated every year on June 21 since it was began from 2015.
Do you any video related to Yoga Day? share with us...
Also Read: Horrifying! Man finds cobra inside his washroom; rescue video of reptile will give you goosebumps!