Vishal Dadlani on [email protected]: it has done more in a year than others do in a lifetime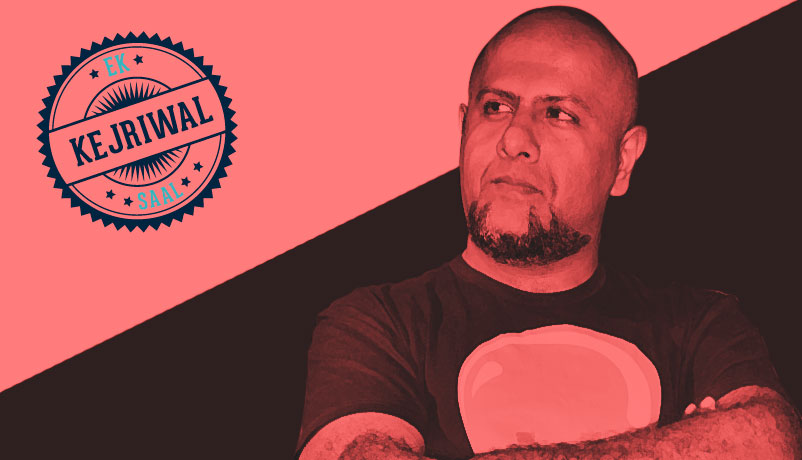 Vishal Dadlani is a rarity in today's India: a celebrity who is unabashedly political. The singer-composer-performer earned the political spotlight during Anna Hazare's anti-corruption movement, then joined the Aam Aadmi Party when it was floated.
In the past year or so, as the AAP graduated from being largely a social movement to a mainstream political force, it witnessed a cleaning out of activists, celebrities and other known faces that had lent their voices to its cause. Dadlani is one of the few such people who have stayed loyal to the party.
Also read - A year in power, has AAP-led by Kejriwal succeeded in bringing down corruption in Delhi?
In a conversation with Catch, he talks about his political journey, what AAP has done well in its first year in power and its mistakes. He also explains why the party's "pragmatic approach" to politics is for the better.
How has your association with AAP been so far. From the India Against Corruption movement to AAP, are you satisfied with the way things have turned out?
Party politics is not my concern. I still believe in the movement that I had pledged myself to and in the objectives and goals we had set out to achieve.
During the IAC days, various politicians entered the movement but then went back on their word, challenging us to prove our point in the political arena. As far as I am concerned, AAP is still a movement, but a movement that has teeth. It's a mission that has a point to prove.
Is it true that initially you did not support turning the IAC platform from a movement into a party?
At that point, my vote was against forming a party. But the arguments for it were too compelling. We were convinced that politicians who ran the show would not do anything to change the status quo and that we would have to step in.
Have you been following the performance of AAP's Delhi government over the past year? How would you rate it?
I have been following this very closely. As a citizen and as someone who has been involved in this campaign, it's my responsibility to stay in touch with what's going on.
To be frank, we have seen high-points as well as some disappointments. The Jitendra Tomar episode, for instance, was unfortunate. However, it's a reality that AAP has done more in one year than governments do in a lifetime.
Anyone devoted to India must fight graft & communalism. It isn't a matter of choice: @VishalDadlani
AAP has changed processes and mindsets in a way that one can expect only from a party that is truly pro-people. I think the overall performance in this past year has been spectacular. I hope it only gets better.
As we all know, the party has had severe confrontations with the Centre, which has been obstructing Delhi government's functioning. Despite that, AAP is working relentlessly to deliver on its promises.
Questions were raised over the integrity of some candidates that AAP fielded in the last election in Delhi. Have you had any differences with the party's leadership on such issues?
Such doubts over the party's credibility emerge from those sections that do not understand that this is a people's party. It's a party of young people, of activists - people who have gone out of their comfortable lives to make a difference.
If I take myself as an example, I have no particular love for any party or politician. I am doing this for me, for my family and for the people I love. I want to live in a country that is far more just, far more efficient. To that end, corruption and communalism become my natural enemy. Anyone with any devotion towards the country must fight these ills. It's not a matter of choice for this is our home. And so we stand up with those who are doing the right thing.
Also read - AAP experiment worked, but at the cost of the movement: Medha Patkar on #EkSaalKejriwal
Many people feel that AAP has abandoned ideology-based agenda for issue-based politics and, in the process, shunted out credible voices - of activists, intellectuals - who had lent support to its cause.
The difference between activism and politics must be underlined here. As a citizen, I will support Medha Patkar and Arvind Kejriwal all the way. But when you are running a government, you have to be pragmatic.
Look at AAP's first, 49-day government and the naivete with which it was ended - that is what activists do. Politicians must have a wider understanding of things. You can't have a knee-jerk reaction to everything - which is what activists are used to.
See how AAP's 49-day rule ended, that's what activists do. Politicians know better: @VishalDadlani
Ideological stoicism is wonderful in movements and among activists. But as far as running a state goes, I think the way AAP has evolved is wonderful. It's ahead of the learning curve in the sense that what it has achieved in the past year is hard for other parties to do in a lifetime.
Do you think Arvind Kejriwal's approach has changed from that of an activist to that of a pragmatic politician in the past year or so?
I can say from personal experience that Arvind is hundred percent committed to eliminating corruption.
On the matter of pragmatism, my view is that you can't run a city without generating employment, tourism etc., and incorporating a worldview that takes all of that into account. Arvind is doing just that.
Vishal Dadlani: Contrary to popular opinion, Kejriwal isn't against big business, only corruption
No doubt the common man's needs such as electricity and water are of paramount importance, but one must have an inclusive approach. Activism is the fire that drives us. But to effectively make change, you can't be closed to, say, capitalism. People are going to do business and make profits. The only thing you can demand is that the profits are clean. Contrary to popular opinion, Arvind isn't against big business. His stand is only against corruption.
In this shift towards pragmatism, we have seen a clearing out of voices that gave ideological credibility to the party. It can be argued that there is no end to this shift towards pragmatism.
My view is that if there are two sides that are antagonistic, let us not listen to either. Everybody must be free to choose their own path. I don't care whether you support the BJP, Congress or AAP. At the end of the day we all ostensibly want the same things for the country.
My support for AAP comes from two things - I believe they are not corrupt at all; I have seen temptation being resisted big time. I also believe they are pragmatic. I can't support someone who is not practical in approach. Running the national capital is not easy, a million different parameters have to be considered. If you fix yourself to a particular approach, it won't work.
AAP is not corrupt & it's pragmatic. I can't support someone who is not practical: @VishalDadlani
For instance, in Tomar's case, the party did everything they could. They checked his papers. But what can we do if somebody forges their papers?
Yes, I believe that processes should be tighter, especially since this is a young organisation. But we need to calm down and not react in a knee-jerk fashion.
On a larger issue, there's a polarisation taking place in our society. Some sections are saying communalism is on the rise and the country's secular fabric is being destroyed. Do you think AAP has the capability of acting against this?
Yes. That's the prime reason I support them. I strongly believe that AAP can be the force for good that we need in this country.
Will you be campaigning for AAP in Punjab and other states?
Absolutely.
Are we going to see you in a bigger political role in the coming days?
Absolutely not. I believe there's no larger role than that of a citizen.
More in Catch - [email protected]: How serious is Kejriwal about cleaning up Delhi's air?
AAP occupies exact space it promised to cleanse: Hegde on #EkSaalKejriwal
[email protected]: Has Kejriwal delivered on his 'bijli, paani and sadak' promise?