Una victims in RSS camp: how will it impact the Dalit movement and UP polls?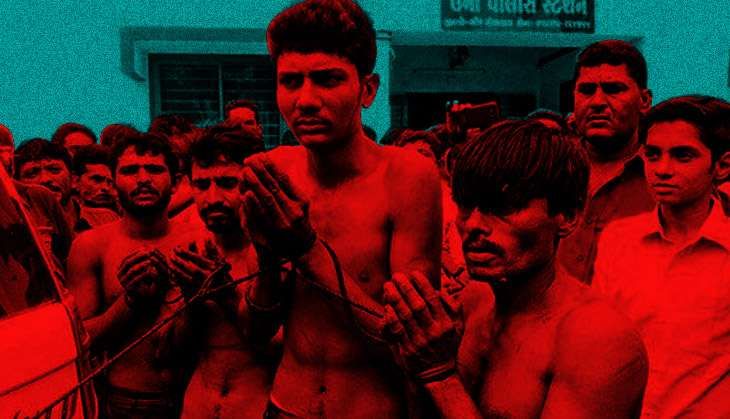 Soon after videos of the Una flogging incident went viral, a pro-Dalit social movement quickly built up in Gujarat - the likes of which had not been seen in the past 30 years.
So immediate, emotional and impactful was the movement that Prime Minister Narendra Modi, who did not utter a word on Mohammad Akhlaq's murder on the unproven charge of possessing beef in Dadri, Uttar Pradesh, was forced to speak against cow vigilantes.
Some went as far as to say that the fortunes of the BJP, which was gaining momentum in UP, reversed thanks the outrage that the photos and videos of the Una incident engendered across the country.
The movement that started from southern tip of Gujarat in July seemed to have the potential to become a pan-India reformist movement.
Dalits, who account for just 6.8% of the population of Gujarat, were making their presence felt, and even dominating the public discourse and public sympathy for the first time.
But now, the boys whose photos and videos sparked the uprising have themselves decided to become part of RSS's UP campaign, seeking votes for the BJP, as Catch reported earlier.
Must read-Una victims' story: flogged by Gau Rakshaks, turned into exhibits by RSS
How does this affect the pro-Dalit movements, seeking the right to own land, an end to discrimination and to merciless violence by upper castes? Surely, this must have been at least a symbolic setback?
Most of the Dalit activists and ideologues that Catch spoke to said that the Una victims switching sides will not impede the social justice movement. Some said that their movement precedes Una, and will continue, with or without these boys. And if anything, electorally, it will go against the BJP in Uttar Pradesh.
Mevani & Co. think it's just a gimmick
The crime committed by gau rakshaks against four innocent and defenceless boys seemed to have united Dalits and other socially-disadvantaged classes in Gujarat.
Jignesh Mevani was leading this movement for change. He is still busy working in the state, for the land rights of Dalits, while the media has moved on. He says that the Dalit struggle will go on, and these political 'gimmicks' will come to nothing.
"Several more movements inspired from the Chalo Una movement have spread across the country. We're conducting a pad yatra in Surendra Nagar in Gujarat. There's now a Chalo Trivandrum movement in Kerala, and a Chalo Udupi movement in Karnataka. The struggle is very much on, and has picked up great momentum already. Land is our core issue. These political gimmicks will come to nothing," he said.
Mevani said the boys joining RSS's campaign in UP will not change the realities of Rohith Vemula's suicide, of what happened to the Ambedkar Periyar Study Circle, and of the Dalit rapes that have gone up from 24 in 2004 to 74 in 2015 in the state of Gujarat alone.
Pratik Sinha, a software engineer based in Ahmedabad, who runs the website truthofgujarat.com and was an active participant in Mevani's movement, thinks it's wrong to accuse the Una victims of double standards.
"The BJP received a big setback after Una. Naturally, the victims of the flogging incident must have come under a lot of pressure. You cannot really blame them, this is what happened in the Rubabuddin case, in the Zaheera Sheikh case. So leave them aside. What is happening in Gujarat is an elongated Dalit struggle. Dalits are grouping across the state and beginning to raise a collective voice, which is much more significant," Sinha said.
Is the movement strong enough on the ground?
According to Rajeev Solanki, founder of Gujarat's Pratirodh, a social justice movement, many significant changes are happening quietly on the ground. He insists that the movement doesn't need the Una boys on its side to prove it.
"People from different villages are uniting in struggle for the first time. There are several people from 10 villages camping in Gandhinagar for several days now. One of them is the mother of a dead Dalit soldier who was killed in broad daylight for raising his voice against gambling. There are several other examples of this. And it's happening in various villages and towns across Gujarat," Solanki said.
These little fires were lit in Gujarat much before Una, he added, and the movement doesn't need anyone to fan them now.
However, people who've worked on rural issues say that on the ground, the reformist movement against Dalit atrocities hasn't picked up too well. A journalist who has covered the Dalit reformist struggle in Gujarat for a long time was skeptical about the movement, because of which he said that the Una boys' switching sides did not amount to much.
"There are stratifications not just within the four major varnas, but within Dalits as well, and those are comparatively much stronger. Rohits will skin bovines but won't touch dead cats or dogs, that is left to Valmikis. Then again, the Bunkar community within the Dalits avails all benefits and lives in relative comfort. A reformist movement will have to break many boundaries like these, and all this will take a lot of time. Let us not draw presumptive optimistic conclusions," the journalist, who did not wish to be named, told Catch.
Impact in UP and beyond
Noted academic and Dalit rights activist Kancha Ilaiah Shepherd thinks that the parading of the Dalit victims of flogging in Uttar Pradesh will be counter-productive to the BJP, and will only strengthen Mayawati's campaign.
"They don't know what they're doing. The only message that BJP will give to the Dalits of Uttar Pradesh is that if you don't vote for us, this is what will happen to you. You will be beaten up and paraded like this. Let them do this and see how it benefits Mayawati. The fact is that Rohith Vemula is in every house, they can't take him out. The images of Una are etched in every mind, they cannot take them out," he said.
Another noted Dalit rights activist, Dilip Mandal, thinks that the act of conscripting the Una victims shows the desperation that the BJP is feeling in UP - it knows it is at a disadvantage among the backward classes.
"The issue has become stronger than any individual. Whatever happens, nobody will be able to forget the images of Una. You cannot take that away. Now there is no going back. And the RSS is clearly feeling the heat, which is why it has been forced to resort to this."
Edited by Shreyas Sharma
More in Catch
Dalit coup? How RSS outfit managed to get Una victims on its platform
Irony: As Bhagwat defends cow vigilantes, 200 Gujarat Dalits quit Hinduism
Una effect: Dalit rage forces Modi to take Gau Rakshaks by their horns