TMC to hold a football tournament to mark note ban deaths. Yes it's true.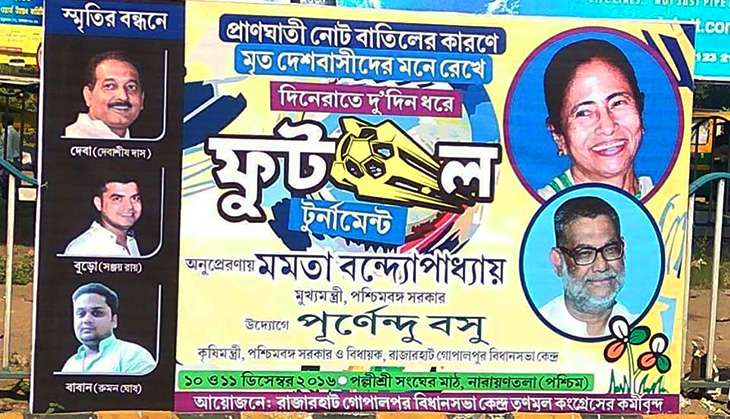 Trinamool Congress supremo Mamata Banerjee is undoubtedly one of the most vocal opponents of the BJP, especially since the demonetisation policy was announced. Her courageous verbal attacks are aimed directly at Prime Minister Narendra Modi. She organised public meetings in Lucknow, Patna and Delhi and plans to take the protest to other cities.
While critics say she is angry because her party is stuck with the millions it allegedly made through the Sarada scam, there is no doubt that Mamata Banerjee is gaining national prominence though this. This might help her in her attempts at becoming the queen bee for the 2019 general elections.
Mamata is perhaps justified in being livid at the adverse effect of demonetisation on West Bengal's economy as well as the scores of deaths it has caused.
However, her party and government - which have often been accused of wasting taxpayers money on celebrations - have found a shocking way to commemorate those who died in bank lines due to demonetisation: a football match.
TMC workers of the Rajarhat-Gopalpur Assembly constituency (close to the Kolkata metropolitan region) has decided to organise a two-day football tournament to mark these deaths.
The banner of the tournament roughly translates to something like this - "To commemorate those who died due to the killer notebandi, a two day long day and night football tournament is being organised on December 10-11, at the Pallisree Sangha ground at Narayantala. The tournament is inspired by Mamata Banerjee, chief minister, West Bengal and is being organised by Purnendu Bose, agriculture minister and local MLA. .
The smiling faces of some local leaders also appear on the poster - Debashis Das aka Deba, Sanjay Ray aka Buro and Rumon Ghosh aka Baban. A snapshot of the banner is also doing the rounds on social media and has been tweeted by Babul Supriyo, Union minister of state for heavy industries and public enterprises.
This is TRUE!Can U believe this?The 2nd pix on the left is that of BURO•He was murdered b4 elections&is known 2 all pic.twitter.com/ssDOvYN9Et

— Babul Supriyo (@SuPriyoBabul) December 9, 2016
TMC is a one woman party, where decisions at the top often do not translate to the grassroots level. The area concerned has always been a pain for the TMC because of its uncontrolled real estate syndicates. There are frequent shootouts between them and the crime graph is also high. All this is happening under the eyes of the local TMC leadership.
There are allegations that these syndicates are suffering because the note ban has hit their cash-dependent sector.
Therefore, it is not a surprise that the local TMC unit is using the demonetisation related deaths to organise an event, which helps in terms of political mobilisation. However, this also raises another question - is Mamata playing a political game by highlighting the plight of the poor masses?
Holding a football tournament when people are suffering, is obnoxious and may not go well with the culturally refined Bengalis. But then the public is known to have great tolerance, be it with Modi or Mamata.