They keep Mumbai safe. But who will save cops from law-breakers' assaults?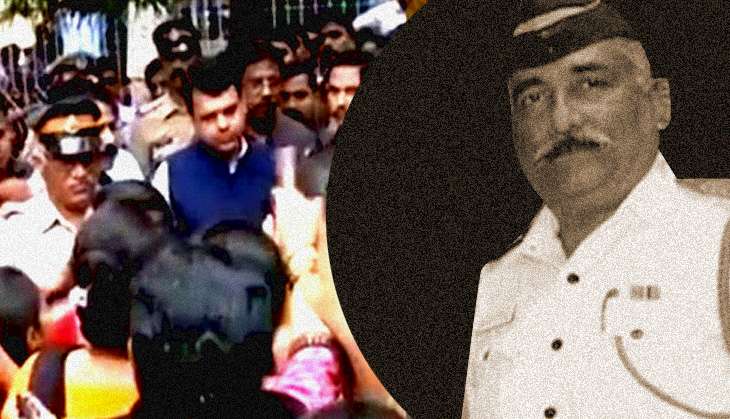 Among Indian metropolises, Mumbai has had a reputation for being relatively 'safe', and for having a police force that could keep crime under control. But the most decorated police force in the country is rapidly losing its hold on the city. There have been many recent instances of anti-social elements, traffic violators in particular, who have assaulted police personnel.
On 23 August, Vilas Shinde, head constable with the Mumbai traffic police, was posted at a petrol pump in Bandra. He stopped a minor boy, who was riding a two-wheeler without a helmet. The boy called his elder brother, Ahmed Mohammad Qureshi, to the spot, who assaulted Shinde with rod. Shinde sustained grievous head injuries and succumbed to them at Lilavati Hospital a week later.
Following the incident, the issue of the safety of police personnel came to the fore. Wives of police personnel even called on Maharashtra Navnirman Sena chief Raj Thackeray and Shiv Sena chief Uddhav Thackeray, pleading that they do something to ensure their safety. Responding to the pleas, Uddhav gave an assurance that he would take a delegation of aggrieved police wives to Chief Minister Devendra Fadnavis.
Though CM Fadnavis and several other political leaders have taken up the issue of police safety in Mumbai, and assured stern action against those who assault, it has not had any impact.
Growing number of incidents
Several such incidents have taken place in Mumbai, Thane and Kalyan over the last few weeks and months.
Constable Uttam Adsul, a resident of Kalyan, was assaulted while walking his dog on the evening of Sunday, 11 September. The police have arrested one Sachin Shedge for the assault. Investigations are on to ascertain the reason.
ASI Suresh Chapte sustained serious injuries after being hit by a two-wheeler at Pimpri Chinchwad. Chapte tried to stop a rider who had two pillion riders on Sunday, 11 September.
A group of four youth tried to drown a police inspector in a Ganpati immersion pool in Kalyan. The reason? The inspector, Nitin Dagle, asked the four youth, who were loitering near the immersion site on 6 September, to leave the place. Irked, the youth assaulted Dagle and threw him in the pool and tried to drown him. Though the case has been registered against the youth, no one has been arrested so far due to political pressure.
Police constables Vaishali Phadale and Deepmala Sonawane, attached with Shivaji Park Police Station, were posted at Meenatai Thackeray Square, Shivaji Park, Dadar, on 5 September. They noticed a woman lying unconscious on the road. Phadale, who went to fetch a water bottle, sustained injuries when a speeding two wheeler hit her while returning. She shouted at the lady rider, who was not wearing a helmet and had two pillion riders. When confronted, the accused, identified as Tejashree Akre, a resident of Mahim, abused the policewomen and fled the scene, and also tried to run over Sonawane.
Police constable Mahadev Kumbhar sustained serious injuries and was rushed to the ICU after being hit by a speeding two-wheeler on 1 September. Kumbhar tried to intercept a speeding motorcycle rider, who had jumped a signal at Dockyard Road.
Nausheen Sheikh, a constable attached with the Railway Protection Force, along with four of her colleagues, was deployed at an encroachment eviction drive on 5 August. The squatters entered into an argument with the officials, and a group of 40 people assaulted Sheikh and her four colleagues.
Constable Ganpat Chavan, posted at Shivaji Park Police Station, sustained injuries while trying to resolve a quarrel between a group of youth and taxi drivers on 10 May. The youth, who were in an inebriated condition, assaulted Chavan and hit him with bamboo sticks. Ironically, neither the taxi drivers nor passersby came to his help.
It is not just errant traffic violators or inebriated youth who have assaulted policemen. Raj K Purohit, the BJP MLA from Colaba in south Mumbai, wasn't far behind either. His altercation with the police on 3 September over a car parking spot was a glaring example of growing disregard for the law and the police. Purohit had gone to the Hanuman Temple near his office at Mumbadevi when his driver tried to park his car in front of the LT Marg Police Station gate. When the constables on duty objected, Purohit allegedly picked up arguments with them and dared them to show courage to act against errant people in Bhendi Bazar.
Fadnavis's claims and the truth
Interestingly, CM Fadnavis, on 6 September, had boasted of a phenomenal increase in the conviction rate in the state in the last 20 months. According to the CM, the rate of conviction had gone up by 139.55% in the state. He claimed this had been achieved due to police modernisation and implementation of state-of-the-art technology.
However, former police officials do not agree with the CM, who also holds the Home portfolio.
"There is tremendous political interference in the police department. It is the root cause of all the problems faced by police personnel. If they had powers to take stern and immediate action against law breakers, no one would ever dare to even think of assaulting policemen," said a former IPS officer, who did not wish to be named.
Former police inspector Sanjiv Kokil agreed. "Corrupt politicians always keep the police department under their control, and do not let it function freely. If political interference in the police department is eliminated completely, the situation would be different," he said.
Edited by Shreyas Sharma
More in Catch
Pallonji firm that built Imperial Towers allegedly duped Mumbai Police
Opt for theatre not terrorism: Thane Police to vulnerable Mumbai youths
Sassy and witty, Mumbai Police Twitter account is pure genius