Sorry state of affairs: every farming household in India owes Rs 50,000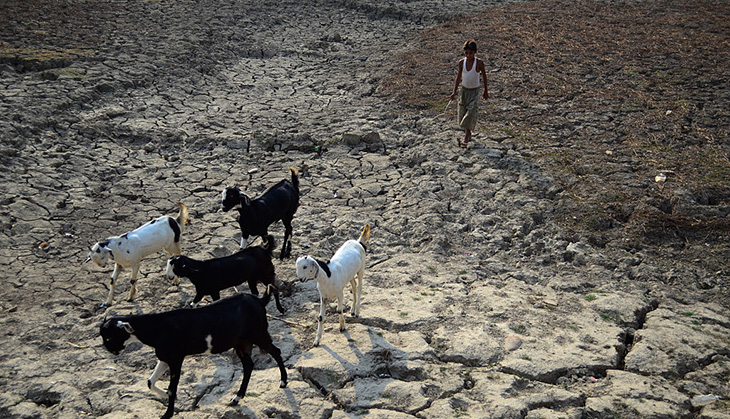 Amid the gala celebration of Prime Minister Narendra Modi's two years in power, two significant challenges that India is facing - drought and farmer suicides - have been shoved into the background.
Agriculture is still India's backbone, employing about 56% of the workforce, according to Census 2011. Unfortunately, agricultural productivity is low, irrigation facilities are poor, and storage and marketing facilities are also broken.
Let us look at a few numbers that illustrate the current state of Indian agriculture.
The average outstanding loan per agricultural household, based on a National Sample Survey Organisation study.
One-fourth of the loans were taken from 'agricultural/professional' money lenders.
The average monthly income of farmers was estimated at Rs 6,426, and their consumption expenditure was Rs 6,423 per month.
Land area that is degraded, and thus, possibly leads to fall in agricultural productivity.
This is approximately four times the size of Germany.
Of this, 82.6 million ha is degraded due to water erosion, followed by 24 million ha due to chemical causes, 12 million ha due to wind erosion and 1 million ha due to physical degradation.
If there was no soil erosion, India would have been able to produce an additional 13.4 million tonnes of agricultural produce.
Also read-
Growing economy, failing agriculture: why this is a disastrous mix for India
The total amount of Central assistance given to states under the National Disaster Response Fund from 2012-15.
States like Maharashtra, Madhya Pradesh, Karnataka, Chhattisgarh, Uttar Pradesh and Odisha have suffered from deficient rainfall for the past few years, resulting in crop damage, poor yield and low income of farmers.
Of the total of 688 districts in India, about 572 are vulnerable to climate change.
The estimated contribution of agriculture and allied services in the Gross Domestic Product (GDP) of the country for 2015-16.
Contribution to GDP was 18.5% in 2011-12 and decreased gradually to 17.4% in 2014-15.
"The decline in contribution of agriculture and allied sector in the overall GDP is mainly due to shift from traditional agrarian economy to industry and service-dominated one," according to a written reply in the Rajya Sabha in February 2016.
Share of un-irrigated area among the net area sown as of 2012-13, as per a report by Land Use Statistics, 2012-13.
In total, 73,829 thousand hectare of agricultural land remain un-irrigated.
In order to strengthen irrigation, the Modi government has launched the Pradhan Mantri Krishi Sinchayee Yojana (PMKSY), the focus of which is the creation of new water resources, restoration of water reservoirs, ground water development etc.
However, the fund utilisation in 2015-16 remained bleak: of the Rs 4,300 crore allocated, only Rs 2,094 crore was released.
Edited by Shreyas Sharma
More in Catch:
Centre's new wetland protection rules are a joke
You think this Budget was for farmers? Think again
#EconomicSurvey calls for changes in agriculture-sector, bats for GM crops