RSS farmers unit not too gung-ho about note ban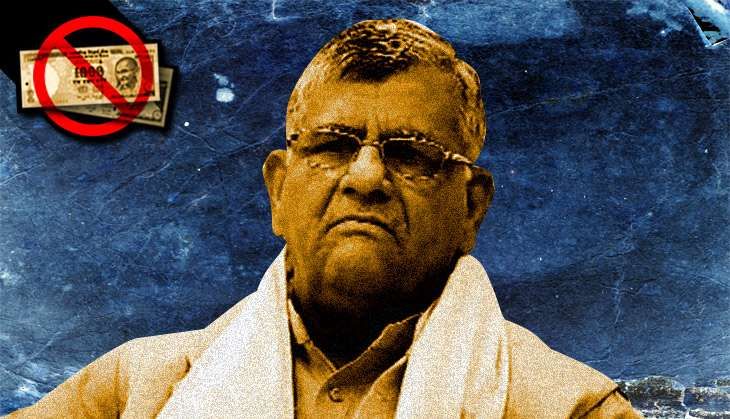 Amid reports of dissent within the ruling Bharatiya Janata Party and Rashtriya Swayamsevak Sangh over the government's demonetisation move, Prabhakar Kelkar, general secretary of RSS-backed Bharatiya Kisan Sangh spoke to Catch about what's troubling farmers in demonetised rural India and why the 'master stroke' really has "nothing in it for them".
Excerpts from the interview:
You've said demonetisation will hurt farmers. Could you tell me why?
I was misquoted. I feel that it will benefit and hurt them half and half. There is no denying that it is a difficult patch for them. This is the time they need cash to by seeds and fertilisers for rabi sowing and also in some parts for selling their produce.
There are some issues though. Traders are compelling farmers to accept old currency to make a sale. Or to supply on credit. We must devise ways to keep a watch on traders so that they don't default and exploit the desperation of farmers. They must be asked to pay using the new currency.
Also read - Farm to factories, brick kilns to cane crushers. Demonetisation pinches all
There is the other important issue of cooperative bankers. Most of our farmers have accounts in cooperative banks, which are completely shut post demonetisation. You can't deposit your money nor exchange cash. You can only withdraw using a cheque. This is making farmers run to nationalised banks to create accounts.
They are also being exploited by being made to take people's black cash and convert it into white. Because of the KYC norms, they are bound to get trapped by the corrupt on one end, and the Income-Tax department on the other. They must be properly guided.
The other issue is that farmers keep some security deposits with themselves for an emergency. Housewives and women keep their savings in a pot for most of their lives. Many save all their lives in cash. They should be spared from a tax enquiry if they have more than Rs 2.5 lakh and be given relief.
Wedding season is also incredibly tough in rural India. Most families are pushing weddings to post February till when the situation eases.
Despite all of this it is fair to say that for the most part farmers support the move.
You said it was a 50:50 deal for farmers. Given the dire situation, how is demonetisation beneficial for the ordinary farmer in any way?
It really makes no sense for the farmer. There is nothing really in it for them.
Is demonetisation making informal credit shut down completely? Will farmers be able to manage without?
Old practices and traditions that include barter and exchange act as a big support structure during such times. Demonetisation has impacted the trust levels that have existed for long at a village level. But people are helping each other.
Will this impact the rabi sowing?
It won't impact the rabi sowing. Farmers seldom leave their land fallow. They have old grains; they borrow some and get some on credit. The large farmers will pay by cheque and purchase the required inputs anyway.
Monsoon ended in October. Countrywide channa has just begun to sprout and germinate. Lots of states don't do rabi because the seasons are different and there is only one seasonal sowing. Other states don't do sow due to a lack of water such as Chhattisgarh. Sowing is already underway in some states.
There may be short-term difficulty faced by a few states that are very fertile such as Punjab and Haryana and Karnataka, Andhra Pradesh and Telangana.
Will there be food inflation due to this next year due to a grain shortage?
Food inflation can happen only when there is a lesser production of food grains. Our food grain banks are always full. However, we might face a small dip in food production to the estimate of 1-2%. This is short term and our grain stocks will help us tide over the rough patch in the long run. I don't foresee any food price inflation.
Do you think they government could've timed this better keeping in mind the farm cycle?
Yes, if such a move were announced after rabi sowing it would have hurt lesser farmers.
Edited by Aleesha Matharu
More in Catch - Agenda driving Modi govt's demonetisation move is clear: activist Bezwada Wilson
'Exasperated by impractical currency ban': Thomas Franco, bankers' union