Criminal defamation: what are Rahul, Swamy & Arvind cooking together?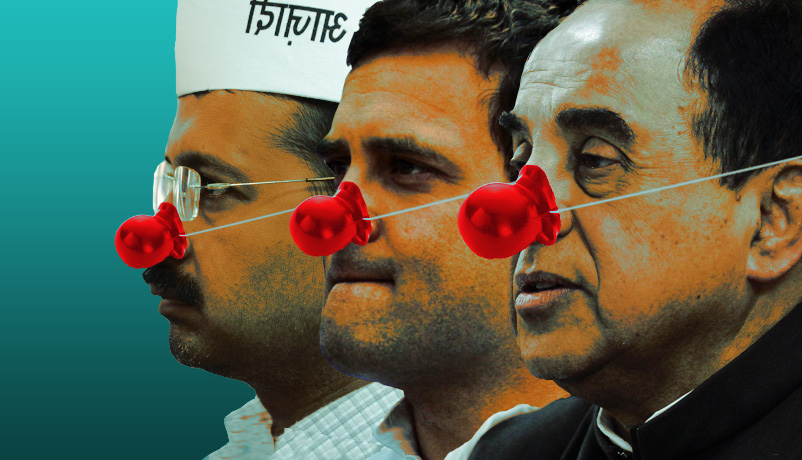 The case
A batch of petitions want the Supreme Court to strike down criminal defamation
The petitioners include Rahul Gandhi, Subramanian Swamy, Arvind Kejriwal
Their case: criminal defamation is anathema to freedom of speech
The law
Criminal defamation was introduced by Lord Macaulay in 1860
It\'s purpose: to crush dissent against the empire
IPC section 499 declares it a criminal offence
Section 500 makes it punishable by imprisonment and/or fine
CrPC section 199(2) deals with defamation of a public servant
The criticism
Critics say criminal defamation doesn\'t belong in a democracy
It infringes on the freedom of speech and expression
It gives the state wide scope to abuse it
It can be used to chill free speech by encouraging self-censorship
The defence
Criminal defamation ensures free speech isn\'t used as a licence to slander
It\'s consistent with restrictions on freedom of speech under Article 19(2)
Without criminal defamation, a person can sue only in a civil court
This is not enough as getting a civil suit determined could take years
Written defamation, and its damage, is permanent, so must be a crime
Subramanian Swamy once tweeted about J Jayalalitha and an LTTE meeting in Tamil Nadu. Rahul Gandhi made a speech alleging RSS involvement in the assassination of Mahatma Gandhi. Arvind Kejriwal once accused Nitin Gadkari of being corrupt.
All three are now facing charges of criminal defamation in what has come to be the most high-profile free speech case in recent times.
It's rare in India that three politicians of very different ideological leanings are joined in the same fight for the same reason. Yet, that's exactly what BJP's Swamy, Congress' Rahul and Aam Aadmi Party's Kejriwal are doing.
Their cause celebre to rid India of criminal defamation.
The Supreme Court heard the petitions filed by them, and some others, to quash criminal defamation on 14 July. Pitched against the Union of India, they said theirs is a battle to let free speech breathe.
Does criminal defamation belong in a democracy?
Like many other Indian laws, criminal defamation was inherited from the British. It was introduced by Lord Macaulay in 1860. It's purpose: to crush dissent against the empire.
But while the British have done away with the law - a defamation case in the UK can now only be brought through a civil suit - India has clung on.
Today, more than 150 years after it was adopted into the Indian Penal Code, the law's raison d'etre is being challenged. It's surprising it took so long.
India has two kinds of defamation, civil and criminal. If an individual feels slandered by someone's speech, she can pursue civil defamation, whereby she can claim monetary compensation.
Civil defamation doesn't fall under any specific legislation. To sue, one has to file a suit for damages in a civil court.
If an individual pursues criminal defamation, the perpetrator would be imprisoned and/or fined. Criminal defamation is governed by Sections 499 and 500 of the IPC, the former declares it a criminal offence while the latter prescribes the punishment.
It's the constitutional validity of these sections that is being contested right now. Along with Section 199(2) of the Criminal Procedure Code, which states that if a public servant feels slandered, it's the responsibilty of the state, using taxpayer money, to initiate defamation charges.
A key difference between civil and criminal defamation is in the weight they give to the truth.
In civil defamation, upholding the truth of one's statement can be put forward as the complete defence. In criminal defamation, the truth is not sufficient; it must be proved that the statement was made in public interest.
The British introduced criminal defamation in 1860 to crush dissent against the empire
So, if a statement has harmed someone's reputation without serving any public good, it can be termed criminally defamatory.
In Tamil Nadu, governments, whether of the AIADMK or the DMK, are known for liberally slapping criminal defamation charges against the media and rival politicians.
Just this month, Rediff was sued for publishing an allegedly imprecise report on Chief Minister Jayalalitha's health, eventually forcing the web portal to pull the piece down.
The BJP too seems adept at it; the party's website lists many defamation cases its leaders have filed against others.
Does protecting reputation trump free speech?
Recently, Outlook magazine carried an article titled 'No Boring Babu' in its gossip column 'Deep Throat'. It referred to Smita Sabharwal, an award-winning civil servant who is now Additional Secretary to Telangana CM K Chandrasekhar Rao, as 'eye candy' and made other insinuations. It threw in a caricature of a woman in jeans and a top attending a fashion show for good measure.
An outraged Sabharwal slammed the report as "yellow journalism", and demanded an apology. If it wasn't tendered, she threatened to pursue civil and criminal defamation.
The row, expectedly, called into focus the debate on free speech and public interest. What public interest did the article serve by focusing on the personal life and appearance of a bureaucrat rather than on her service? If it didn't, was it still covered under free speech? Most probably, not.
Sabharwal's case isn't a rare case. Many others have had to put up with worse.
Mohammed Amir Khan was arrested when he was 19, accused of being involved in bombings in Delhi and neighbouring states in 1996-97.
He was charged in 17 terrorism cases, including for waging war against the nation. He was acquitted in all cases and freed in 2012.
But by then, he had lost 14 years of his life to prison.
In interviews sometime after his release, Khan said he and his family were finding it difficult to get jobs because the stigma of being labelled a terrorist, even if falsely, does not go away easily.
Can the harm to him be undone?
In this case, the state could argue that they acted in the public interest but they would be missing out on an even more important aspect - the truth.
In India, the falsely accused have no recourse to seek compensation, so the state has turned its back on them.
Last year, the home ministry said it would not rehabilitate the youth who have been falsely accused of terrorism; they could approach the courts. Khan did.
The National Human Rights Commission stepped in and sent notices to the home ministry and the police on his behalf.
The state wronged Khan but did nothing to right the wrong.
Is criminal defamation an attack on free speech?
Indian citizens are guaranteed some fundamental rights. Article 19(1) of the Constitution guarantees freedom of speech and expression.
But Article 19(2) places "reasonable restrictions" on this freedom; speech that harms national security, constitutes contempt of court or defames isn't allowed.
However, given the open-endedness of the term "reasonable", a degree of proportionality serves as an essential parameter of reasonableness, even vis-a-vis defamation.
Allowing it free rein will have a chilling effect on free speech: since the burden of proof for defamation is with the accused, it will encourage self-censorship.
Last year, soon after the BJP government came to power, a college principal in Kerala and some of his students were arrested for slandering Modi.
Their crime: they had featured Modi alongside Adolf Hitler, Osama Bin Laden and George W. Bush in a list called 'Negative Faces' published in a campus magazine.
They were jailed, but later bailed out. But did their arrest for criminal defamation not violate the freedom of speech and expression?
The debate has been going on for a while, and the petitions of Swamy, Rahul and Kejriwal have only fuelled it.
And it's a debate that divides Indians.
DMDK chief Vijayakanth, the leader of opposition in Tamil Nadu, who was the fourth petitioner in front of the Supreme Court on 14 July, believes that if criminal defamation is meant to chill free speech, it rather be gone.
Vijayakanth has been slapped with criminal defamation charges by the state for criticising its and the chief minister's actions. And you thought, democracy allowed room for political dissent.
Should it be struck down, or not?
To get a sense of arguments for and against defamation, Catch spoke to two senior advocates, on either side of the debate. Both spoke on the condition of anonymity.
The advocate in favour said decriminalising defamation would leave an individual the recourse only to civil defamation. That is not enough, for getting a civil suit determined in this country could take years, and in the meantime, the damage would be done. Written defamation, and its damage, is permanent.
Freedom of speech, the advocate argued, is not absolute. The reasonable restrictions under Article 19(2) have to be read with the right offered to protect one's reputation, guaranteed under Article 21.
As much as a person has the freedom to express oneself, the subject of the speech too has rights. So, there needs to be a balance. And in their current form, the two sections on defamation have enough safeguards built in.
DMDK's Vijayakanth is facing criminal defamation for criticising the CM. Political dissent, anyone?
The advocate on the other side disagreed. If a whistleblower reveals information knowing it is true and in the public interest, the state can easily punish him. It just has to assign a different meaning to the term.
So, who is to determine what public good is? he asked.
He, however, agreed with the other advocate that civil defamation is not an effective process. But he disagreed on the solution: just because civil suits take long does not mean we should criminalise defamation.
And because civil suits cost, it does not mean a person should be arrested if she does not have the money to compensate.
We should reform the civil suit processes than imprison individuals for their speech, he said.
If for all criminal cases, truth is the complete defence, why is it not sufficient for defamation?
Given the stigma that comes with a criminal case, the process itself becomes punishment. The advocate suggests that only a crime should be penalised, and since speech isn't a crime, it should not be penalised. There should censures instead.
Every law comes with the possibility of abuse. However, cases of the abuse of free speech are not sufficient to challenge fundamental rights; they are sacrosanct.
Will the SC weigh in on the side of free speech, again?
Swamy has argued as much in the Supreme Court: that protection of one's reputation and freedom of speech cannot be balanced as though they are equal.
Speaking to Catch, Swamy said the moot point is that the criminal defamation sections have never actually been put to test, to check for constitutional validity. Now is the time.
Swamy said he has based his case on two premises. One, if for all criminal cases, truth is the complete defence, why is it not sufficient in case of defamation?
Two, India is a signatory to the International Covenant on Civil and Political Rights, or ICCPR, which says decriminalisation of defamation is essential, and India needs to abide by this.
India has signed the Covenant on Civil and Political Rights, or ICCPR, which wants defamation decriminalised
Supporting Swamy's stand, one of the advocates said the world is veering towards decriminalisation: besides UK, Zimbabwe, among others, has done away with it and the European Court of Human Rights has strongly suggested it.
Arguing on behalf of Rahul, advocate P P Rao furthered Swamy's point by saying that the fundamental right to speech is conferred in public interest and cannot be waived, whereas the right to reputation is conferred in individual interest and can be waived. However, a case by case reading may not be so binary.
But even the naysayers feel that even if criminal defamation stays, Section 199(2) of the CrPC needs a relook. While recourse may be civil or criminal, but overall defamation is a private battle. Why then should the state protect any individual, a public servant, using taxpayer money?
The petitions before it have put the Supreme Court in the middle of yet another discussion on free speech.
Earlier this year, it struck down Section 66A of the Information Technology Act, allowing more freedom to voices in the virtual world.
This time, the concepts of positive liberty and negative liberty are at odds. And it would be interesting to see which way the court sways.
But, perhaps, this battle may not be as much about striking criminal defamation down as reading it down.