Rajasthan cop in charge of civil rights jailed for beating up three men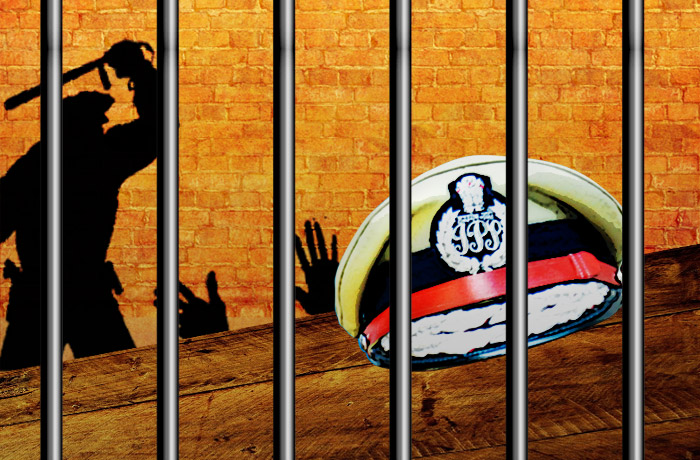 The Vasundhara Raje government in Rajasthan has egg on its face. The police officer it appointed as the DIG of Civil Rights in the state has been sentenced to two years' imprisonment by a Rajsamand district court.
The man in question is Satya Narayan Khinchi, who beat up three men at a police station in Rajsamand 16 years ago.
At the time, Khinchi was posted as the Additional Superintendent of Police in the district.
Also read: #ArunaRoyYatra attack exposes Vasundhara Raje's doublespeak
Torture confirmed
As per the case, a flimsy complaint was made against three men, Ramesh Chandra Tank, Ramesh Chaplot and Bhagwati Lal. The complaint related to a local folk dance programme, and as the three were in the organising committee, they were brought to the Rajnagar Police Station in Rajsamand on 2 October 2000.
Ostensibly, they were brought to discuss the matter, but Khinchi personally beat them up severely. The SHO of the Rajnagar police station repeatedly object to the torture, but Khinchi didn't pay any heed.
The three men were booked under section 151 of the CrPC for breach of peace, and produced before a court that sent them to judicial custody. They were released on bail the next day.
The men attempted to register a case against Khinchi with the Rajnagar police station, but failed. Instead, they lodged a complaint through the court against Khinchi, following which an FIR was registered against him under sections 355 (assault or using criminal force on any person) and 342 (wrongful confinement) of the Indian Penal Code.
Also read: Writing on the wall: is Vasundhara Raje staring at the exit?
A medical examination by a board of three doctors constituted by the court confirmed the torture.
Khinchi deposed before the court in response to a warrant, and was granted bail on 17 February 2004, according to the complainants' counsel, Sampat Laddha.
Man with a lot of clout
While he was pending trial, Khinchi was promoted from a Rajasthan Police Service officer to a full-fledged IPS officer in 2010, when Ashok Gehlot's Congress government was in power. That's when he became the SP, Railways, at Jodhpur.
His clout in the corridors of power then grew further, and in January 2014, the Raje government posted him as SP, CID (Crime Branch) in Jaipur.
Also read: By the RSS book: Raje govt starts purging textbooks of 'foreigners'
It got even more ironic on 24 June 2015, when Khinchi, under trial for violating civil rights, was made the DIG for civil rights.
After pronouncing Khinchi guilty and sentencing him to two years' imprisonment, additional chief judicial magistrate Bhanu Kumar Meena suspended the sentence for a month, to enable him file an appeal in the district court. This was following a request from his counsel.
And so, Khinchi once against had to seek bail to avoid imprisonment.
Also read: Why did Vasundhara Raje drop Anish Kapoor from Rajasthan's cultural panel?