By the RSS book: Raje govt starts purging textbooks of 'foreigners'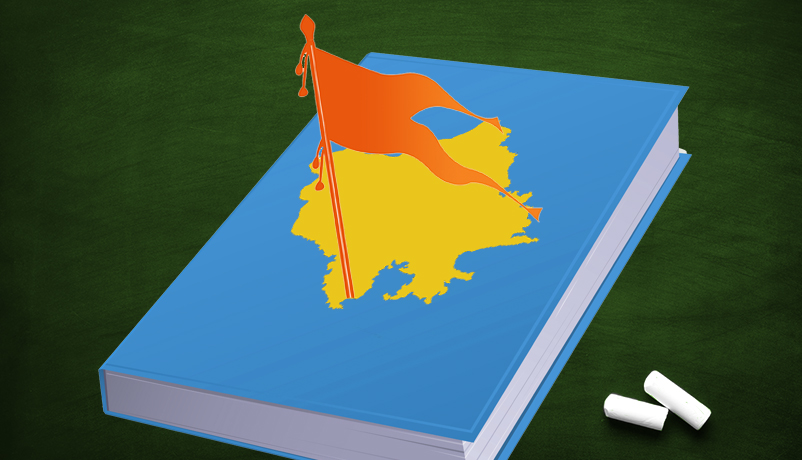 The plan
Vasudev Devnani, Raje\'s RSS minister, is rewriting textbooks
In: More of Vedic aircraft, ancient scholars, Hindu warlords
Out: Akbar, Mandela; works of Newton, WWE Ross, Wordsworth
The aim
To rid the textbooks of \'misplaced emphasis on foreigners\'
To instil patriotism and value in the young minds
The new books will be introduced from the next session
Textbooks in Rajasthan are in for a major overhaul. From the next session, the state is revising the entire syllabus for classes I through XII. History, social sciences and literature will get special attention.
The exercise is led by Minister of State for Education Vasudev Devnani, RSS' nominee to the Vasundhara Raje ministry.
The objective: to rid the books of "misplaced emphasis" on "foreigners" such as Emperor Akbar and Isaac Newton, and instead give prominence to "sons of the soil" like Maharana Pratap, Aryabhata and Bhaskaracharya.
Aryabhata is believed to have discovered 'zero' while Bhaskaracharya's work on calculus is said to predate Newton by 500 years.
The idea "is to instil Deshbhakti and Sanskar", or patriotism and values, in young minds, Devnani has said.
Ominous sign
The first hint of what was coming was dropped by Devnani himself when, soon after taking over the ministry last year, he launched a sustained tirade against Akbar.
"We keep calling Akbar 'The Great'. Why is he The Great? Let me tell you, he is not The Great," he said, adding that if anyone deserved that epithet it was Maharana Pratap.
"Akbar was merely a ruler. If there is a chapter on the Mughals, may be he can have a mention in that, but not a separate detailed chapter on him. Yeh sab baahar se aye hai (They had all come from outside)," the minister told The Indian Express in April.
"We learn about the invention of aeroplane by foreigners. Why should we not tell our children about Pushpak Vimaan?" Devnani asked, referring to the mythological aircraft supposedly built by the Vedic Indians.
We are rewriting books to instil patriotism and values in young minds: Vasudev Devnani
His comments drew sharp reactions from academics and opposition leaders, but Devnani doesn't seem to have been deterred.
His rulings on history and, in particular, the "greatness" of medieval rulers is likely to be reflected in the revised books, sources said. Devnani is a graduate in electrical engineering.
He, however, insists the rewriting is being done by "expert committees" that he has formed - at the Rajasthan Board of Secondary Education for classes IX-XIII and at the State Institute of Educational Research and Training for classes I-VIII.
So, what will students be reading next year, or rather not reading?
Foreign mind
The chapters on foreign personalities and poems written by foreign authors are likely to be removed from English textbooks, to be replaced by works of Indians. "Jitna avashyak hoga videshi utna padhaya jayega (Only what is necessary of the foreign content will be taught)," Devnani told PTI.
Consequently, a chapter on Nelson Mandela for class X students will reportedly be replaced by an extensive chapter on 'Tribals in Rajasthan'. A poem of Canadian WWE Ross is likely to be dropped, and a discussion is on whether William Wordsworth's verses should be omitted or replaced.
Vasudev Devnani: We learn about the invention of aeroplane by foreigners. Why not Pushpak Vimaan?
Talking to PTI, Devnani denied the chapter on Mandela was removed on his direction. He said the syllabus is decided by SIERT and RBSE, and the government doesn't interfere in their work.
PC Dugar, tasked by the RBSE to revise the English textbooks for class XI, told Catch that all rewritten books would be reviewed at two or three levels before they go to print. He was, however, not aware who the reviewer would be for his work.
Devnani, meanwhile, is planning to introduce pre-primary classes in order to "tap students earlier and get them into the government schooling system right from the beginning". What he intends to teach them isn't hard to guess.