Punjab's Dalits are fighting for land rights, and they are winning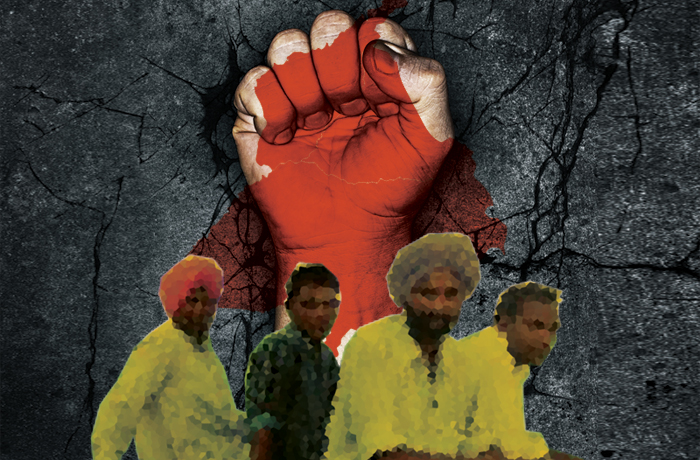 A social movement is brewing in Punjab's Malwa region: the Dalits are asserting their right to cultivate common lands. Citing the law, they are asking the panchayats to hand over a third of village common lands to Scheduled Castes for tilling.
Although the Punjab Village Common Land Act, 1961 provides for renting 33% of the village farmland to Dalits, this has rarely been practiced. But in the last few years, the Dalits have gained access to their share of the land in Sangrur-Patiala-Bathinda area of Malwa. In about a dozen villages, they are even experimenting with cooperative farming. Now they want to expand the movement to other areas.
Also read - Lot of promise: how parties are trying to win over Punjab's Dalit voters
For now though, their focus is on Malwa as the common lands of Doaba and Majha regions are comparatively less, undulating and riverine.
Land of opportunity
A few days ago, the Dalits held a convention in Karakon village of Sangrur, where nearly 4,000 members of the community from 102 villages reiterated the demand for cultivation rights to common lands.
"Punjab's Dalits must be given one-third of the 1.57 acres of cultivable common lands. This is their legal right, this is what they are fighting for," said Mukesh Maloudh of Zamin Prapti Sangharsh Samiti, which had organised the convention.
Maloudh said the Dalits have received farmland in some villages of Sangrur, but only after "a long fight". "They have had to deal with violence as well as social boycott for asking for what is rightfully theirs. This has happened in villages such as Baupar and Ghamand Singhala in Sangrur and Gosal in Ludhiana," he said.
As Punjab readies for the assembly election early next year, Maloudh hopes their movement would "assume political significance given the high number of Dalit voters".
Dalits must get a third of 1.57 acres of common lands. This is what we're fighting for: Mukesh Maloudh
Apart from cultivation rights, Maloudh said the Dalits are also demanding that the lands be leased at nominal rates. "The government should not treat this as a profit-making venture".
"We also want that the land ceiling be brought down to 10 acres in Punjab. This would lead to more labourers getting land for cultivation. Then there is the issue of the rights of Dalit women who are facing sexual harassment from upper caste men. They are often denied fodder for animals in villages where the Dalits have been asserting their rights. They have to walk several miles to get fodder. It is a big struggle," Maloudh added.
Getting their due
PS Verma, a retired Panjab University professor who had done a landmark study on village common lands in Punjab and Haryana some years ago told Catch "this is a good movement that has emerged from progressive thought". "And the good thing is that at least something has happened."
Verma explained that although the law has been in force since 1961, it was "always the landed class that availed of cultivation rights when auctions for lands reserved for Dalits were held". The bidding was "done in the name of the Dalits who were always available as dummies". Once the cultivation right was obtained, "the Dalit continued to work as a farm labourer while the land owners made money".
The land owning class, Verma pointed out, has "always believed" that the common land actually belongs to them, that it was taken away through the Land Ceilings Act.
Punjab's land owning class believes common lands were forcibly taken from their ancestors: Prof PS Verma
Verma explained that until the turn of the century, Malwa's Dalits were not keen to ask for cultivation rights as they neither had implements for farming, nor could they afford irrigation. The panchayats, too, did not have the funds to help then until the 73rd Panchayati Raj Act was enacted.
"But things began to change as reservation enabled the Dalits to get educated, which made them aware of their rights, got them jobs, and they began getting elected as sarpanchs," he said. They started a movement "for transparency in the entire process" as well which is helping "genuine Dalits" get these lands.
Still, they have overcome only the first challenge, Verma pointed out. "Even if Dalits get cultivation rights, they still have to depend on their neighbouring land owner for water. Now they are trying cooperative farming. But how they will distribute the produce remains to be seen."
Ronki Ram of Panjab University sees the cultivation rights movement as politically significant. He pointed out that the Dalits own less than 5% of Punjab's land despite being 32% of the population. This is largely because they are a divided lot, split into 39 sub-castes across five religions. "What is interesting is that despite their huge number, Punjab's Dalits have never been politically dominant."
That may be changing. "This movement is a conflict between the landed people and the SCs," said Ram, and it has turned the Malwa region into a "whirlpool of Dalit movement, in which Ambedkarites, the followers of Saccha Sauda and Ravidass are participating along with others".
But this would help organise the Dalits into a political force in Punjab remains to be seen.
Edited by Mehraj D Lone
More in Catch - 100,000 women, 10 years, one demand: let us own our farmland
Law amendment will leave Dalits vulnerable to land sharks
Forest Rights Act is being diluted. What does that mean for millions depending on forests?