PM Narendra Modi's notebandi, what it is doing to India & what's next?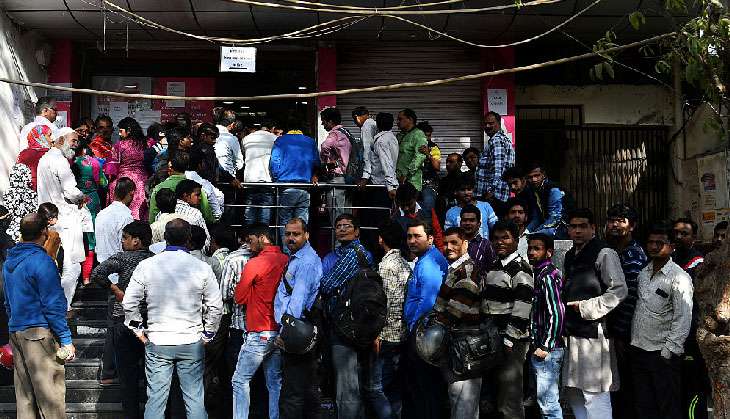 Three weeks on, Prime Minister Narendra Modi's notebandi move continues to attract substantial support from various sections of society including the urban disadvantaged with rural roots.
During this period, almost everyone I have spoken to on notebandi and its effect on them, have had good things to say about it while acknowledging the hassles and their own personal losses.
Consider this:
- Three days after Modi's announcement I stood in a queue, luckily only for a couple of hours, in my bank in Gurgaon to withdraw cash. A young man standing behind me applauding notebandi remarked with obvious satisfaction "aaj humsub barabar ho gaye (we are all equal today)". His pithy comment succinctly summed up the initial popular mood - notebandi was the great leveller - it had left no one untouched.
- A week later, at the Nizamuddin Railway Station, a young coolie from a Rajasthan village said that his income had fallen almost by half. He said passengers were either offering him old five hundred rupee notes or they did not have sufficient change to pay him fully for his labour. Yet he approved Modi's move because black marketers would have to give up their ill-gotten gains. I asked how his family in the village was coping with the shortage of cash. He said that villagers would manage as food was available. But, he did accept that the landless labour would be in trouble.
- A student from a Delhi college who was at the station said that although the cash crunch had hit all of them badly, opinion among his mates was split down the middle on the merits of notebandi . He also revealed that some of his teachers were approaching students to park some of their money. Were his mates doing that, I asked. No, how would they account for the sudden increase in their bank accounts, he responded.
- In Agra, a driver said that commissionkhori was seducing a large number of the poor. Many were keeping away though as they were worried that they may get into trouble. He too supported notebandi and is expecting that Modi will get all the hoarders of black wealth. Then the current difficulties will seem small.
Dissatisfactions
However, not all agreed with notebandi. One taxi driver, from eastern UP, driving me from Gurgaon to Delhi, was bitterly unhappy with the move and said that Modi will have to pay a heavy price in the forthcoming UP Assembly elections.
After a long tirade he confessed that notebandi had taken away his chance to make good in life. He was about to sell a 55-yard plot in Ghaziabad he had purchased in 2007. He had found a buyer who had agreed to pay Rs 55 lakhs, Rs 10 lakh in white and the rest in black. The buyer had given an advance of a lakh. Now that deal had fallen through and the buyer was only offering the circle rate.
This young man's unhappiness with Modi was greater because the "big" people like his brother's boss, a politico in UP who owned petrol pumps and educational institutions, was successfully laundering his hoard of black money.
The driver also said that the taxi company he worked for in Delhi had told their 500 odd drivers that their December salaries would be paid in old Rs 500/1000 rupee notes. The drivers could quit if they had objections.
Two sides of the note ban
Some of the other people I talked to - auto drivers, fellow passengers in the metro, security guards - welcomed the move but felt that it should have been better planned and executed.
It is clear that Modi has unleashed vast expectations that black money will be unearthed and the system will be cleansed. Will the people be satisfied with abstract numbers of deposits in banks and new welfare schemes?
Or would they want that those who have ill-gotten wealth, including those in their neighbourhoods, be identified, made to give it up and also face open legal action?
Those who are suffering what the BJP is calling "inconvenience" may be wanting just that - action against the rich and the powerful.
Certainly Modi has taken a series of steps to bring in more people in the tax net and unearth black money. He is perhaps willing to have the economy pay a price that his predecessor, a professional economist, was unwilling to do. Dr Manmohan Singh's focus on the economy's external sector was to keep the funds flowing in. How will Modi satisfy the forces that he may have set in motion?
What's next?
Modi has given an indication of the next steps. He will take action against benami property holders. As properties are registered ,such an exercise will be manageable though irksome to most.
But will he proceed further on the far more complex task to unearth unaccounted gold stocks and jewellery? Is this the path he will adopt for 2019? Ask the people for a second term to complete the high task of cleansing the system? And if he does then will he also focus on the financing of political parties and if so, when?
What Modi is really up against is the attitude among many that payment of taxes is not an obligation of citizenship but a game with the state.
My sister, an organisational psychologist, tells me that people seek to adhere to or revert to their traditional patterns of behaviour. And that was illustrated yesterday.
The owner of a small photocopy shop and an agent of a courier company in the local market said that people are asking him to go in for Paytm and other electronic means of payments, but he had dealt only in cash all his life. If he now adopts cash-less modes he will have to keep proper accounts and his income was not all that much, he explained. His internal struggle was writ large on his face.
Modi is seeking that people like this small businessman change course. Will he succeed?
Edited by Jhinuk Sen