Some registered parties likely being used to launder black money: CEC Nasim Zaidi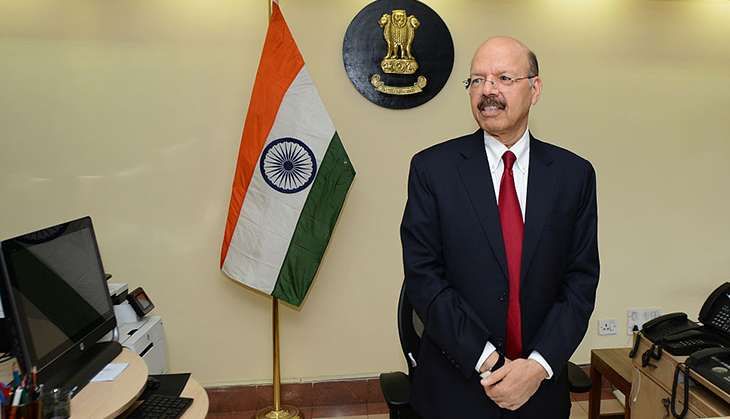 After the Election Commission raised the possibility of registered but unrecognised political parties being used to launder black money, the government is said to be mulling action.
The EC's warning had come after the Modi regime declared that political parties could deposit the withdrawn notes of Rs 500 and Rs 1,000 in their accounts without facing income tax scrutiny, unlike ordinary people. The EC's straight talk left the government red-faced.
In an exclusive conversation with Catch, Chief Election Commissioner Nasim Zaidi explained the problem. Political parties are not required to declare the sources of donations below Rs 20,000 and because of this cap, "there are possibilities that these parties may be conduits for what we call anonymous or opaque funds and others refer to as black money".
"We have been getting reports from the ground on this, although we can't say it definitely," Zaidi said.
Also Read: We'll act against anybody who tries to disrupt peace during polls: Nasim Zaidi
To address the problem, the EC has suggested lowering the cap to Rs 2,000, while the Law Commission has asked for limiting "anonymous donations" to Rs 20 crore annually or 20% of all funds received in a year, whichever is less.
Political parties, on their part, have cited the difficulty of keeping track of small donations received at rallies and public meetings to oppose lowering the cap.
Zaidi said an enquiry conducted between 2005 and 2010 had revealed that nearly 400 parties registered with the EC were not contesting elections. "We removed them from our active register. But we can't de-register them for we do not have that power," Zaidi said, adding the EC had advised the Income Tax department to not exempt these parties from tax.
The EC has registered nearly 1,900 parties across India but most of them don't contest elections; hundreds, in fact, have not even been heard of. An exercise is now underway to examine the number of active parties.
Asked if "demonetisation" would bring more transparency to the funding of parties, Zaidi said it was far from enough. Pointing out that parties don't file even "contribution reports", he listed some of the reforms that could usher in cleaner funding - "ceiling on poll expenditure, contribution reports with even details of donations under Rs 20,000, limit of Rs 20 crore per year on cash donations, declaration of paid news as a corrupt practice, empowerment of EC to countermand an election where credible evidence of abuse of money power is found".
In all, the EC has proposed a package of 47 election reforms to the Law Commission but its report is lying with the law ministry.
And while the country is preoccupied with matters of money - black and white; cash and cashless - the EC is gearing up for a crucial round of elections, in Uttar Pradesh, Uttarakhand, Goa, Manipur and Punjab. The commission has refused to divulge details, but speculation is rife that the polls, likely to be conducted together, would be announced sometime this month.
Zaidi spoke about this and more. Excerpts from the conversation.
There are reports that the central government has consulted the EC over advancing the date of the budget. Could you share some details?
We have not received any such information.
What happens if the government presents the budget while the Model Code of Conduct is in place? Can it announce sops like low tax rates? Or would that be a violation of the MCC?
As of today, we have no information. And since no model code of conduct is in place it would not be appropriate for me to comment on it. However, once the elections are announced and the MCC is in force, then if the government intimates us, we will examine it in the light of EC's positions in 2009 or other precedents, and advise the government if necessary.
In 2009, the EC had issued an advisory stating that to contribute to healthy democratic practice, the convention being followed says most states, instead of presenting the full budget, go for a Vote on Account for 3-4 months where a general election is imminent or when the polls have been announced and the MCC is in place. The EC, in deference to state legislatures, and having regard for such a convention and propriety, would not like to lay down a precept or prescribe a course of action. However, it would advise that states going to polls go for a Vote on Account.
What is the EC's view on simultaneous assembly and Lok Sabha polls, something that Prime Minister Narendra Modi has been championing passionately? Has the government consulted the EC on this matter?
For simultaneous elections to Lok Sabha and legislative assemblies, amendments will need to be made to several articles of the Constitution.
Also Read: No more hiding: Delhi HC rules that political parties must abide by the I-T Act
The EC maintains that in the event of political consensus and if necessary amendments are carried out, the EC will consider logistical and operational issues such as provision for additional EVMs, and would like these to be addressed. The EC, if there is satisfactory resolution of such issues, will perform its constitutional obligation. We have given our response to the law ministry.
Do you think demonetisation will lead to more transparency in the funding of political parties? Or is there a need for legal reforms?
We are yet to see the impact of demonetisation on the election process and the political parties. But there certainly is a need for legal reforms to ensure more transparency in funding such as putting limits on expenditure. There should be prohibition on cash donations beyond a certain limit, say 20% of the total contribution or Rs 20 crore, whichever is less. Parties should give details of all contributions, even those that amount to less than Rs 20,000.
Then, paid news is a big issue. Paid news needs to be declared a corrupt practice under section 123 of the Representation of the People Act. The EC needs to be empowered to countermand an election where there is evidence of abuse of money power - bribery or distribution of money to electors as inducement. For this, section 58B may be inserted in the Representation of the People Act.
What are the reforms that you have proposed to the government? And has the government responded?
We have proposed 47 electoral reforms to the law ministry. Most of these were endorsed by the Law Commission in its 244th and 255th reports. We understand that the ministry is considering the recommendations of the EC and the Law Commission, and has appointed a task force to lay down a roadmap. We are eagerly awaiting the outcome.
Have you thought about consulting political parties on these proposals?
Yes, the commission has been consulting political parties from time to time. Some of the proposals were discussed in a meeting with political parties in March this year.
Why do you think parties are reluctant to accept these reforms as also the demand that they come under the ambit of the RTI Act?
The parties should be asked.
The preparation of electoral rolls has been a contentious issue with complaints of exclusion being routine. What steps are being taken to minimise this problem?
There are no 100 percent perfect rolls for the simple reason that there are always absent voters, those who have shifted or died. However, the EC has made several efforts to address this issue - keeping in mind the need for inclusiveness; strengthening field formations through the appointment of booth level officers; appointment of senior state government officials as observers during summary revisions; involving political parties, NGOs and Residents Welfare Associations in the exercise; encouraging political parties to appoint booth level agents. There are also the Systemic Voters Education and Electoral Participation programmes to create awareness.
The EC has issued several instructions for improving transparency - supply of draft electoral rolls and final rolls to political parties, putting the rolls on the EC website with search facility, digitisation of all claims and objections with the facility of tracking objections and claims. The EC has also been making efforts to improve enrolment of service voters and overseas Indian electors. The EC has also come up with a new information technology tool for online registration of service voters.
What is the status of the office of profit case involving 21 AAP legislators? By when should one expect a decision?
We are in the process of hearing arguments of the petitioner and the respondents. We would not like to make any further comments at this moment.
Also Read: Centre wants to make paid news an electoral offence