'Mothership of terrorism' Pakistan & great powers China, Russia should not take Modi lightly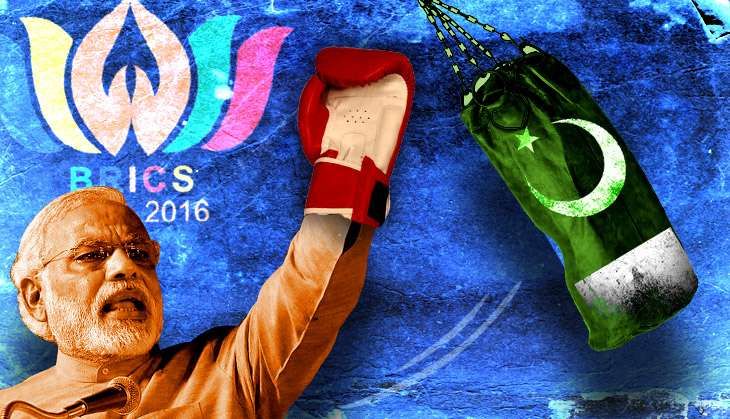 As the dust settles on the BRICS summit and the BRICS-Bimstec outreach, the questions that require insistent answers are these: Did Modi overplay his hand on terrorism and Pakistan? Was Modi's all out attack on Pakistan diplomatically counterproductive? Did it show India, with its great power aspirations, much too obsessed with a far smaller neighbour?
These questions require unbiased assessments. Unbiased because in the current Indian political climate, Modi's actions and policies are mainly refracted through the prism of partisan politics of one kind or the other.
The application of time-honoured diplomatic and security-related tests are ignored in the public discourse on important foreign policy and national security issues.
Without naming Pakistan, Modi attacked it on two separate occasions. At the start of the BRICS summit, the leaders met in a restricted session. During his intervention, Modi called Pakistan the "mothership of terrorism".
He asserted that terrorist modules around the world are linked to the mothership. He accused Pakistan of nurturing a terrorist mindset and promoting the idea that terrorism is justified for political ends.
As restricted sessions are meant for off-the-record discussions, the texts of leaders' statements and interventions are not made public. However, there is no bar on a country revealing what its leader said.
Verbal attacks
In his statement to the BRICS-Bimstec leaders meeting, Modi singled out Pakistan for embracing and radiating the darkness of terrorism. He said that terrorism had become Pakistan's "favourite child" and "the child, in turn, has come to define the fundamental character and nature of the parent".
In addition to these attacks, there were subtle digs at Pakistan in his other interventions at different events. Never before has an Indian prime minister so consistently fired salvo after salvo at Pakistan through one single day as Modi did on 16 October in Goa.
In a call couched in universal terms but aimed at Pakistan too, Modi said, "To those who nurture the philosophy of terror and seek to dehumanise the mankind, we must send a clear message to mend their ways or be isolated in the civilised world".
All talk?
The problem is that while all countries accept such high language in principle and endorse the need for universal and comprehensive action against terrorists, they continue to pursue segmented approaches.
The countries where major interests of great powers are at stake, those are invariably protected. This was witnessed at the BRICS Summit as well. The Goa Declaration devoted five paragraphs to terrorism. High principles were reiterated and organisations were targeted but no countries were mentioned, not even indirectly.
In the context of targeting Pakistan, India could derive some comfort from the fact that the Goa Declaration called for the dismantling of terrorist bases and said that the countries had the responsibility to prevent terrorist actions from their territories. But, this could hardly be sufficient to justify Modi's efforts.
In his press statement on the conclusion of the BRICS summit, Modi said, "We also agreed that those who nurture, shelter, support and sponsor such forces of violence and terror are as much a threat to us as the terrorists themselves."
Such a reference for India obviously includes Pakistan. There is little doubt that such a feeling would have been expressed by a few leaders during one of their interactions. Thus Modi, as chairman, was perfectly within his rights to mention it. However, such summations do not carry the weight of a formal declaration and that is important.
So were Modi's efforts all wasted in not being able to "isolate" Pakistan and did diplomats fail in negotiating the Goa Declaration?
Acting up
Following the Uri attack, India has to ensure that its message - that it is no longer willing to continuously absorb Pakistani terror - is fully understood by the major powers.
This is because since the 1990s India has never really used its armed forces to undertake actions in Pakistani-controlled territory. It took a few clandestine actions, thus indicating that it was shy of using the army to punish Pakistan for the terrorist attacks which it had sponsored or allowed from the territory it controlled.
In sum, the Pakistani doctrine that the use of the army may lead to uncontrolled escalation was allowed to hold sway over the intellectual field.
The BRICS summit with the presence of the Chinese President Xi Jinping provided Modi with a timely and appropriate platform to signal the change in India's Pakistan policy.
Modi could hardly expect that the BRICS leaders would endorse India's new approaches, but in the diplomatic game it is necessary to ensure that great powers, such as China - which has great stakes in Pakistan - and Russia - which is exploring opportunities in Pakistan - are aware that if that country pursues its old policies then India may hit back hard.
This may make those great powers caution Pakistan to change course.
A matter of diplomacy
Countries that treat terrorism as problems of political management and not as strategic challenges, may be applauded by the great powers for being responsible, but they are also pressured to exercise restraint.
Often the perpetrator of violence does not face the same pressure. However, if countries are willing to use conventional forces and other means to seek to prevent cross-border terrorism, then the perpetrators come under pressure. This is seldom manifested publically, but real diplomacy is mostly pursued behind the scene.
Thus the Chinese president's call for political solutions to contentious issues and later the Chinese foreign ministry's praise for Pakistan for the sacrifices it has made, are par for the course. They do not constitute a setback for Modi's BRICS diplomacy. For, a message has been conveyed and China and the other great powers will have to consider it carefully.
What the Modi government should do is to stop chanting the mantra of internationally isolating Pakistan. That cannot happen, notwithstanding the diplomatic success of the SAARC summit boycott.
What is legitimate is to replace it with the demand that the international community must pressurise Pakistan to stop terrorism.
Also, they must aggressively expose the notion that Pakistan is making sacrifices to fight terrorists. Its anti- terrorist operations are against the domestic groups it has nurtured that have now turned against the Pakistan state. This is hardly the stuff of sacrifice.
Edited by Jhinuk Sen