More trouble for Karti Chidambaram: ED questions 'aide' Balaraj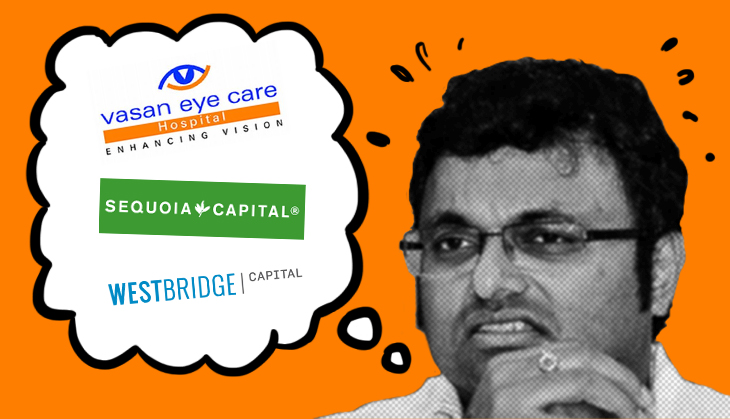 The probe
Senior Congress leader P Chidambaram\'s son is facing an ED probe for forex violations and money laundering
ED sleuths have visited offices of Sequoia Capital and WestBridge Capital - both billion-dollar funds
It is also questioning Karti\'s aides KP Balaraj and VT Bharadwaj
More in the story
The money trail from Cayman Islands to Mauritius, allegedly via Karti
What role does Vasan Healthcare play in the entire matter?
Karti is the executor of his aides\' wills. Who is the beneficiary?
Congress veteran P Chidambaram's son Karti may be in for more trouble soon.
On 18 April, the Enforcement Directorate (ED), which is investigating alleged foreign exchange violations and money laundering by Karti, landed up at the office of Sequoia Capital India Advisors Pvt Ltd. The ED also searched the residence of Sequoia's managing director, VT Bharadwaj.
Sleuths also went to the office of WestBridge Capital India, another private equity firm with a footprint of more than $1.5 billion, and the residence of its co-founder and managing director KP Balaraj, looking for links with the former finance minister's son. Balaraj was quizzed again in Delhi on Thursday, 28 April.
Sequoia and WestBridge have investments of almost $4 billion in India, including in tech giants such as Google and Apple.
"Both Balaraj and SK Jain, another managing director of WestBridge, are currently being examined under FEMA (Foreign Exchange Management Act)," an ED source said.
The Advantage-Vasan connection
The ED is also probing alleged FEMA violations amounting to Rs 22.2 crore by Advantage Strategic Consulting Ltd and Vasan Healthcare, both of which, it suspects, have links with Karti.
Balaraj and Bharadwaj were both managing directors of Sequoia when it bought 30,000 shares in Vasan Healthcare from Advantage in October 2010.
At the same time, another 1,19,333 shares of Vasan Healthcare were purchased by Sequoia Mauritius and WestBridge Mauritius, on the advice of Sequoia, from Dr AM Arun, the promoter of Vasan, again at the inflated price of Rs 7,500 per share.
"During the course of the investigation, it was found that a chartered accountancy firm, Suresh & Co., vide their letter dated 15 October, 2010, estimated the value of Vasan equity shares at just Rs 110," an official told Catch. "Shares worth just Rs 1.64 crore were bought at the phenomenal price of Rs 112 crore." Lathe investments, another firm, had paid just Rs 710 for a Vasan share in 2012.
Between February 2009 and November 2010, Sequoia and WestBridge made investments totalling around Rs 212 crore in Vasan. Investigators are perplexed as to why such a huge investment was made even when the company showed low earnings.
Bharadwaj has not been able to explain the funds or their sources, an official who was present for his questioning said. "The investment is highly suspicious," the official said.
Balaraj's track record
ED sources say Balaraj is also a trustee in Step Foundation, along with Karti and CBN Reddy. "He is very close to the family. His rise, like that of Vasan, has been phenomenal," a source said.
Balaraj has been a director or shareholder in 16 firms, including Vasan, First Source Solutions Ltd and Coffee Day Global. When he moved to India in 2000, he just had assets worth $500,000, according to a source. "These included bank accounts in Citibank, shares in KPB Capital in Cayman Islands, small options in Goldman Sachs, and so on," the source said, on the basis of initial investigations.
Balaraj reportedly shut down KPB Capital in 2008, and transferred all assets to the newly incorporated KPB Investments in Mauritius, where he holds an 86% stake. The rest is owned by his brother KP Balachandran, a UK citizen.
"Does any investor with honest intentions start his operations from Cayman Islands, a known tax haven?" an official asks rhetorically.
"Balaraj's firm has collected funds to the tune of $1.78 billion in five tranches between 2000 and 2015," a source said, claiming that both KPB Capital and later KPB investments were set up to raise funds for the foreign investors who have been funding Balaraj.
"We are investigating the description of funds who have transferred money to the three foreign investors, namely WestBridge Ventures I LLC, Mauritius, WestBridge Ventures II LLC, Mauritius, and WestBridge Crossover Fund LLC, Mauritius, all of which are associated with Balaraj," the source said.
The three foreign investors have nine subsidaries in India, the source claimed.
Between 2005 and 2013, when the UPA was in power at the Centre, Balaraj got funds to the tune of $200 million in 2005, another $500 million in 2011 and $325 million in 2013, according to the ED. Another $575 million is said to be under legal commitment by foreign investors, and is yet to be drawn from them.
"These funds look fishy," an official says. "Why do they have so many ventures in Mauritius?"
The official wonders why people were reposing so much faith in just one man, even when such huge sums were involved.
Where Karti comes into picture
Dwarkanath, the father-in-law of Dr Arun, the promoter of Vasan, acquired three lakh shares in Vasan, at Rs 200 per share in October 2008. The next day, Dwarkanath sold 1.5 lakh shares to Advantage at half that price. The latter did not pay till March 2010, when it just paid Rs 50 lakh. The rest of the money is reportedly still due.
Meanwhile, as mentioned earlier, the shares Advantage sold to Sequoia were bought at a phenomenal price of Rs 7,500 per share.
This is where Karti comes into the picture. Two-thirds of Advantage Strategic Consulting, which is one of the firms being investigated in the Aircel Maxis case, was bought by another company called Ausbridge, five months after the deal with Sequoia.
Karti had a 95% holding in Ausbridge until 2011, which was later transferred to his alleged close aide, Mohanan Rajesh.
Advantage, according to recent reports, is now owned by Ausbridge (40%), CBN Reddy (another Karti aide) and two others.
The recent investigations reportedly have also unearthed massive wealth, which Advantage owns in 22 foreign countries, through its foreign subsidiary, which is registered in Singapore. The investigators also found wills which Karti had kept with him.
All of his aides, as a recent report by S Gurumurthy exposed, have bequeathed their entire holdings in the firms to Karti's daughter, Aditi Chidambaram, while Karti himself is the executor of the wills.
Edited by Shreyas Sharma
More in Catch:
First son, now wife: Chidambaram's family on probe agencies' radar
Aircel-Maxis scam: Uproar in Parliament over Karti Chidambaram's role
Karti Chidambaram is in trouble again; here's the other times the former finance minister's son courted controversy