First son, now wife: Chidambaram's family on probe agencies' radar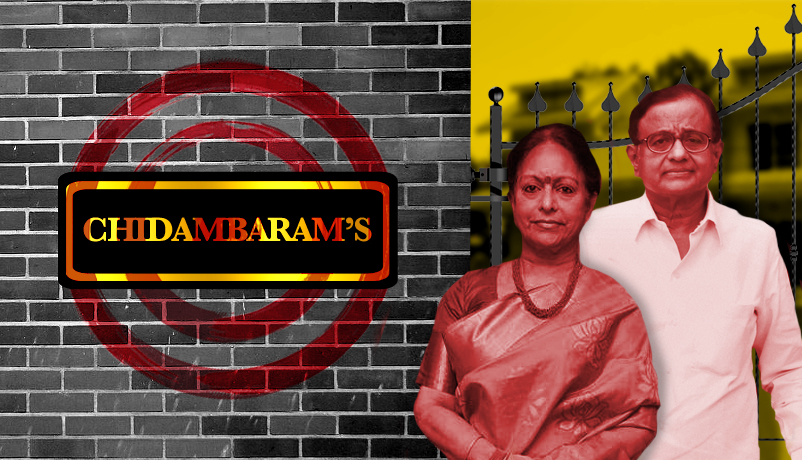 The chargesheet
CBI\'s supplementary chargesheet on Saradha scam mentions P Chidambaram\'s wife Nalini
Already the leader\'s son Karti is being investigated by the ED
The case
It is based on a letter written Saradha chairman Sudipta Sen, who is now in jail
He claims Nalini pressurised him to invest Rs 42 crore in a Northeast TV channel
More in the story
What is Chidambaram\'s reaction?
How strong is the case?
Former Union Minister P Chidambaram's wife Nalini Chidambaram has become the second member of his family to be probed by investigative agencies.
Nalini, a Supreme Court lawyer, was named in a supplementary chargesheet in the Saradha scam that the CBI filed on 4 January.
Also read -
ED raids Karti Chidambaram's office, leaves with his laptop
However, reports said she has not been named as an accused in the chargesheet. She has been named as someone privy to certain information on a controversial deal linked with the Saradha group. The CBI said it might look into the information she was privy to later.
The Enforcement Directorate is already probing the alleged links of Chidambaram's son Karti Chidambaram with several companies that are being investigated as part of the overall probe into the 2G scam.
Chidambaram slammed NDA after ED raids on Karti. But he hasn't responded to the Saradha chargesheet
The ED searched Karti's office in Chennai on 16 December in connection with the probe. The former Union Minister strongly criticised the action soon after. He also slammed the NDA government for launching "a malicious onslaught" against him and his family.
Surprisingly, Chidambaram did not make any such statement in the aftermath of the Saradha chargesheet. He told Catch that he had nothing to say in the matter and that his wife had already made a statement some months ago that she acted as a lawyer.
Nalini's alleged role
Saradha chairman Sudipta Sen, who is now in jail, is reported to have written a letter to CBI while he was on the run nearly three years ago. He purportedly claimed in the letter, among other things, that Manoranjana Sinh, now estranged wife of former Congress MP Matang Sinh, took him to Chennai to meet Nalini.
According to Sen, Nalini pressurised him to invest Rs 42 crore in a Northeast TV channel. Sen also purportedly told the CBI that Nalini herself prepared the agreement and fixed her consultancy, in keeping with which more than Rs 1 crore was paid to her.
The CBI reportedly said on 4 January that Manoranjana Sinh is an accused in the Saradha case and Nalini's name came up as her fee had been paid "from Saradha money".
Apparently Nalini Chidambaram hasn't been named as an accused but as someone privy to information
A Times of India report has claimed that Sen had sent a number of emails to Nalini to try to "establish his credibility". In an email from October 2011, Sen purportedly told Nalini that he "had not done due diligence of the company beforehand", referring to the TV channel in which he invested.
Sen also wrote that he believed Nalini's "presence, her name and her fame in the world" had given them the "confirmation that everything will be correctly executed".
The CBI had examined Nalini in September 2014 in Chennai in connection with the case.
Weak case
Essentially, the allegations against Nalini appear to be two-fold. One, that she was paid "from Saradha money" and two, that she was privy to information regarding a deal.
Prima facie, both of these appear to be weak charges and leave questions to be answered. Can a lawyer be held accountable for the source of her fees so long as it is paid by her client in a legitimate manner and is accounted for in her income details?
Secondly, can being privy to information related to her client be held against a lawyer as an offence, considering that it is the very nature of a lawyer-client relationship?
More in Catch - Karti Chidambaram is in trouble again; here's the other times the former finance minister's son courted controversy
Just before intolerance debate, Congress says Rajiv Gandhi was right in banning Satanic Verses