Mehbooba Mufti is CM. But did an attempted coup force her hand?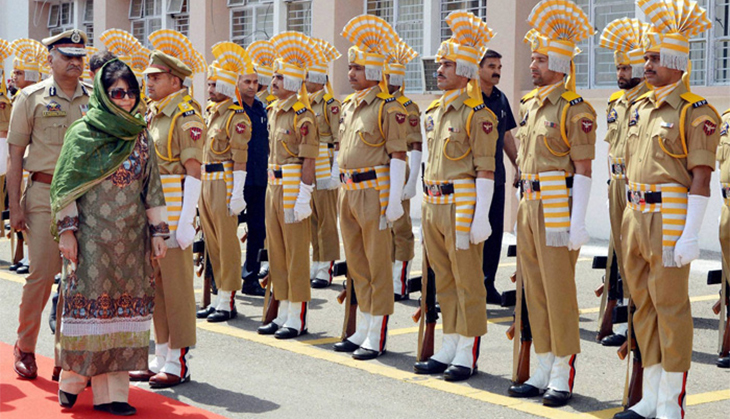 It was a chief minister's swearing-in unlike any in Jammu and Kashmir, attended generally by the prime ministers of India. It was even unlike the swearing-in of the previous PDP-BJP coalition led by Mufti Sayeed which was attended by Narendra Modi and BJP patriarchs LK Advani and Murli Manohar Joshi.
When Mehbooba Mufti rose to take the oath as J&K's first woman chief minister, none of the central ministers invited to the ceremony - Venkaiah Naidu, Harsimrat Kaur Badal, Jitendra Prasad - were present. They arrived after she and her deputy Nirmal Singh had been sworn in, despite taking off from New Delhi at 9 am to attend the ceremony at 11 am. The flight time to Jammu is 30 minutes.
Though BJP president Amit Shah and the finance minister Arun Jaitley had also been invited, they excused themselves citing prior commitments.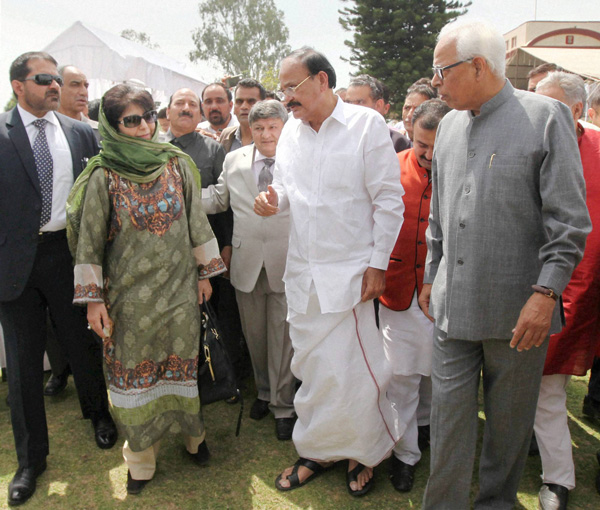 Mehbooba took oath in a grave, subdued tone. She was followed by Nirmal Singh and then a succession of ministers. Both parties have eleven ministers each in the new government. Former separatist Sajjad Gani Lone was made minister from the BJP quota.
In a surprising move, the PDP dropped four of its previous ministers - Altaf Bukhari, Abdul Majid Padder, Javed Mustafa Mir and Ashraf Mir, while the BJP dropped Sukhnandan Kumar and Pawan Kumar Gupta.
Also read: PDP declares Mehbooba Mufti as J&K CM designate. But it will be a crown of thorns
Broken ranks
The four PDP leaders are said to have been involved in an alleged plan to form a government without Mehbooba. "Altaf Bukhari was the kingpin of this intrigue. He wanted to split the PDP and form a government without Mehbooba Mufti," Tariq Hameed Karra, a senior PDP leader and MP told Catch.
Karra, who didn't attend the oath-taking ceremony, added, "Bukhari thought beyond his political size. He started acting larger than life. And he was about to take over as the chief minister."
This is a devastating revelation for the PDP. Worse still, Karra alleged that Bukhari was supported by other PDP legislators, some of whom are now in the cabinet. "Yes, there were other members, too. Had Mehbooba Mufti not come around in time, Bukhari would have become the chief minister."
Karra lashed out at his party's leadership for retaining Haseeb Drabu and Naeem Akhter as ministers. He said the two of them, together with Bukhari, were responsible for the "non-performance" of the previous regime. "Drabu, Naeem Akhter and Bukhari are political toddlers, paratroopers and hate icons. They failed Mufti Mohammad Sayeed. Mufti Sayeed didn't fail," Karra said. "They distanced Mufti Sayeed from the party cadre. And they have alienated employees, teachers and the masses from the party."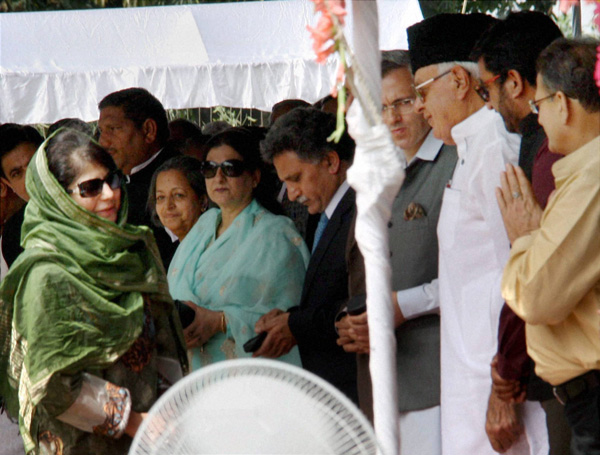 Bukhari was the works minister under Mufti Sayeed and had become rather popular for improving the condition of roads left in disrepair by the floods in 2014. Javed Mustafa Mir is a senior PDP leader and was a minister in both the previous governments led by the party.
Also read: PDP-BJP: Mehbooba can preserve Mufti's legacy or listen to her heart
Was it the alleged brewing revolt in her party that finally brought Mehbooba around? After all, in the end, she even gave up insistence for action on a few key points of the Agenda of Alliance before forming the government. Karra's claims suggest this was the reason for Mehbooba's apparently unconditional renewal of alliance with the BJP.
As Mehbooba settles down in her new role - described by former chief minister Omar Abdullah as the toughest job in India - one of her main concerns would be reestablishing her writ within the fractious party.
With reports of an attempted coup gaining credence by the hour, it will be a challenge for the party riven by the consequent mistrust to band together. For now, estranged leaders such as Bukhari will have no option but to stay in the PDP, that is, unless they are expelled. J&K's anti-defection law disqualifies MLAs who defect to another party.
No mean task
In the government too, Mehbooba's challenges are immense, not least of which will be to keep the aggressive nationalist instincts of her coalition partner in check. In the previous region, the BJP seemed to run the show, pursuing its own integrationist political agenda to the utter neglect of the PDP's pro-Kashmir resolution stance. Will the BJP, now more belligerently nationalist in its political expression at the Centre, accommodate the PDP's Kashmir-centric politics and cut it some slack? It seems unlikely.
For now, the state BJP has pledged full support to Mehbooba. "It is honour for the state to get its first woman chief minister, which will motivate more women to participate in politics," the party's spokesperson Sunil Sethi said in a statement. "It is again an honour for the BJP to be in a coalition government with a woman as head." Incidentally, it was Sethi's petition which had last year forced the J&K High Court to reiterate the century-old ban on beef in the state.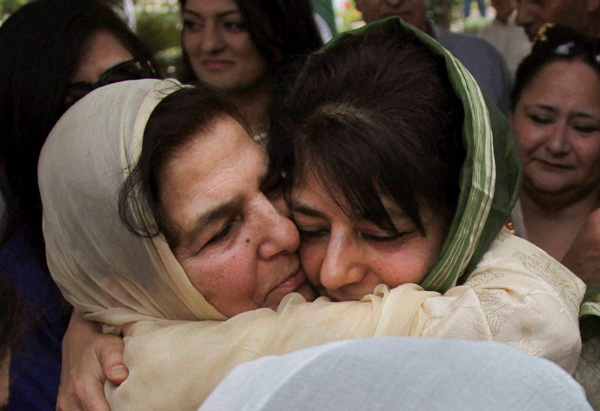 Mehbooba's biggest challenge, however, is retaining the faith of her party's core constituency in the valley, for which her submission to BJP pressure has come as a big let-down. In the first few months of new coalition government, people will be curious to see how the Centre deals with Mehbooba, if only to find an explanation for what caused her sudden change of mind after holding out for so long.
Also read: Mehbooba Mufti's dilemma: to be with BJP or to remain relevant in Kashmir
"What assurances have you got from the prime minister? That's what we want to know," Omar said recently on the sidelines of a party function in Srinagar, echoing the question many are asking in Kashmir.
In the absence of any development or political concessions from the Centre, the people will at least hope for some good governance, something the Mufti Sayeed regime failed to deliver. Perhaps, it was with this in mind that soon after her swearing-in, Mehbooba rushed to the Civil Secretariat and held a meeting with her ministers.
"This is not a challenge for only Mehbooba Mufti but all of us," Mehbooba told her ministers at the meeting. "If we don't perform, people won't give us a second chance because there are alternatives available."
More in Catch:
R.I.P #MuftiSayeed. What will the transfer to Mehbooba mean for J&K
Mehbooba Mufti to swear-in as first women Chief Minister of Jammu and Kashmir
Take Jammu and Kashmir to new heights: PM Modi to CM Mehbooba Mufti