Meet INS Vishal. The vessel may turn out to be India's flagship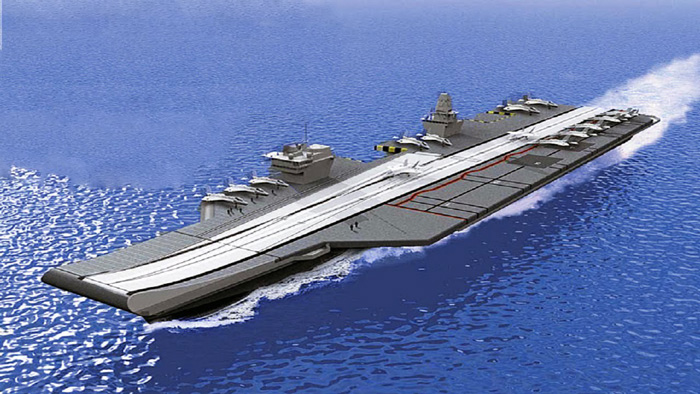 This can be the big success story of Narendra Modi's Make In India campaign: the country's biggest aircraft carrier equipped with Indian-made aircraft and drones.
The good news is the Indian Navy is progressing steadily with finalising the design INS Vishal. The vessel, not officially christened yet, is one of the most ambitious project in the country's defence sector - on a scale India never handled before.
Read- Arms race: India's expenditure on defence has never been higher
At an estimated $5 billion, the fully equipped INS Vishal may be most expensive piece of machinery in the arsenal of India, which wants to match the pace at which China is developing its aircraft carriers. The final cost will also depend on the hardware installed.
In India's neighbourhood, Pakistan and Sri Lanka don't possess aircraft carriers.
China, which already has the 40,000-tonne CNS Liaoning, is developing a 50,000-tonne aircraft carrier. It plans to develop two more.
An aircraft carrier, complete with fighter squadrons called Carrier Battle Groups (CBG), gives a navy strategic depth in the oceans.
A CBG can control around 200,000 square nautical miles and can moving more than 600 nautical miles a day. The distance between Chennai and Colombo by the sea is 401 nautical miles.
With some help from senior defence ministry officials Catch gives you a recce of INS Vishal:
Expected displacement: 65,000 tonne
Fuel: expected to be nuclear - that's what the Navy has requested
Expected length: 300 metres
Expected width: 60-70 metres
Capacity: About 50 aircraft: 30-35 fixed-wing combat aircraft, 20 rotary wing aircraft
The Vikrant class aircraft carrier will be first in India, may be in Asia too, to field a CATOBAR (Catapult Launched but Arrest Landing) aircraft launch system and EMALS (electromagnetic aircraft launch systems).
Also read: No, women still can't hold combat positions in the Indian Navy. But things are looking up
Such technologies help accommodate heavier and an increased number of aircraft on board. India's existing carrier force uses ski-jump ramps to help planes take off and uses wires to slow them down when landing. For that, planes have to be lighter and fewer.
"The exact shape, size and displacement of the carrier will depend on the equipment we fit onto the aircraft carrier. We're still looking at a lot of possibilities," an official said.
He added that all aircraft for the carrier will be from makes India already have, or is currently developing.
Meanwhile, this is what we have:
INS Viraat
The world's oldest aircraft carrier was launched in 1953 as HMS Hermes in Britain and inducted by India in 1987.
Displacement: 28,000 tonne
Can accommodate 11 Sea Harrier jump jet aircraft
It will be decommissioned in early February 2016.
INS Vikramaditya
Originally, Russian Admiral Gorshkov, was commissioned by India in November 2013 for $2.33 billion.
Displacement: 44,000 tonne
Length: 284 metres
Has a crew of 110 officers and 1,500 sailors
Accommodates 34 aircraft, including 24 MiG 29Ks and helicopters
Reach: 7,000 nautical miles
INS Vikrant
India's first indigenously built aircraft carrier
Being built for Rs 20,000 crore
Displacement: 40,000 tonne
Length: 260 metres
Has a crew of 160 officers and 1,400 sailors
Can accommodate 12 MiG 29Ks, 8 Tejas Light Combat Aircraft, 10 helicopters
Can reach up to 7,800 nautical miles
More in Catch: