Maradu flats demolition: 19-storey building demolished in 19 seconds [VIDEO]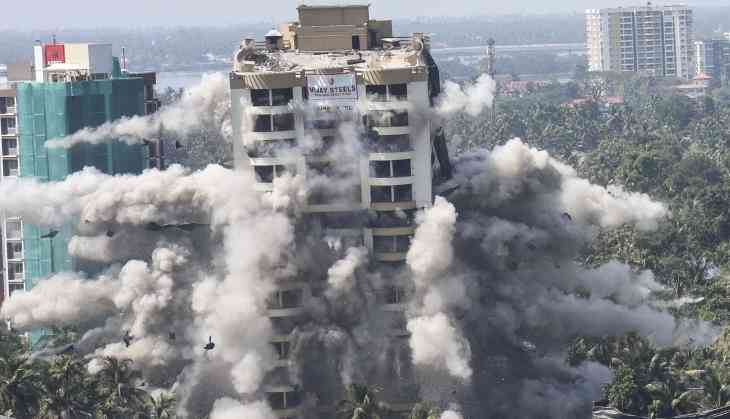 Earlier, dramatic scenes transpired in Kerala's Kochi as two of the four apartment complexes to be razed came crumbling down in a highly controlled method. More than 350 flats in Kochi that provided accommodation for 240 families will be razed to the ground from today as the Kerala government is carrying out one of the biggest demolition operation in India.
The unparalleled assignment comes four months posterior to the Supreme Court ruling the demolition of four residential building in a posh lakeside area over violation of coastal regulation norms.
Extensive preparations have been made for two day demolation drive that started a bit after 11 am. The first building 60 meter high 18 storey Holy Faith H2O—was wiped out in seconds, followed by the demolition of the second apartment complex. The two other appartment complex will be razed tomorrow.
800 kg of explosives will be stockpiled in the buildings in order to raze them in a highly controlled manner of implosion where the wreckage will fall inwards.
Large gathering have been prohibited untill 4 pm in the evecution zone of all the water front complexes to be razed in Kochi's Maradu, the police said that. All traffic is prohibited in the area.
AlsoRead: Maharashtra: 35 students taken ill after eating dinner in school
#WATCH Maradu flats demolition: H2O Holy Faith apartment tower demolished through controlled implosion #Kerala pic.twitter.com/fKbciLGH14

— ANI (@ANI) January 11, 2020
In September last year, the apex court had ordered the demolition of the four buildings for violating the Coastal Regulation Zone rules. The Supreme Court gave 138 days for the demolition, a timeline set by the Kerala government.
The top court also instructed payment of a compansation of Rs 25 lakh each to those who lost their apartments.
While the 18-floor H2O Holyfaith apartment complex with 90 flats and the Alfa Serene complex with 73 flats were reduced to ruins today, two 17-storeyed residential buildings Jain Coral Cove and Golden Kayaloram will be razed tomorrow, authorities said.
AlsoRead: Chhattisgarh: Man gets 20 years rigorous imprisonment for raping step-daughter