Making Aadhaar mandatory for PDS is damaging for the poor
The Union government's new notification making Aadhaar compulsory for getting grains under the Public Distribution System (PDS) is a deeply problematic step.
The notification's tenor itself is condescending, and it reads like an arrogant government officer instructing a poor beneficiary of a government scheme to run from pillar to post if he wants to avail of it, or he can sit at home.
It makes mandatory something which has not even been fully launched. It may even be illegal.
Three major problems
To begin with, the notification is a blatant violation of the Supreme Court's clear instruction that Aadhaar "cannot be made mandatory till the matter is finally decided by this Court one way or the other".
The matter is still sub-judice, as the Constitution Bench is yet to give its judgement in the case.
Second, it interferes with the National Food Security Act, 2013, since it is this Act that mandates the provision of foodgrains under PDS. Nowhere does the Act envisage making Aadhaar mandatory for PDS. It only urges Central and state governments to leverage Aadhaar "for unique identification, with biometric information of entitled beneficiaries for proper targeting of benefits under this Act".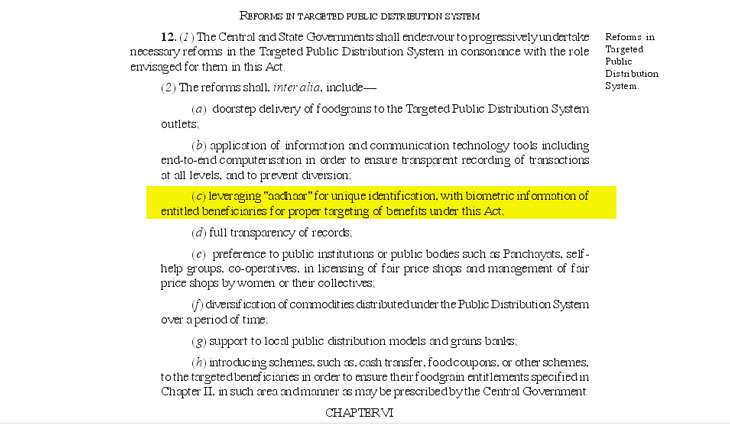 Third, it kicks out at least six crore people from PDS right away. While there are reportedly 23 crore ration card holders in the country, only 16.64 crore among them have got Aadhaar cards. The latter is yet to become a fully functional system, and to make a life-saving social security measure reliant upon it is a baffling move.
Experts' opposition
The government has been contemplating this move for a long time and experts have consistently opposed it.
Well-known development economist Reetika Khera had written about a year ago that Aadhaar is "essentially exclusionary in nature, access to Aadhaar itself is problematic, claims that it brings savings for the government are disputed, it carries a baggage of profiling and privacy concerns, and "is not required for the portability of benefits or for cash transfers".
In fact, Khera referred to an experiment in this direction already conducted by the Andhra Pradesh government. When the AP government integrated PDS with Aadhaar, it found out that nearly one-fifth of ration card holders did not buy their ration. Further, a large number of cases of fingerprint mismatch and Aadhaar card mismatch were also reported.
Khera also cited examples of Rajasthan and Gujarat, where similar experiments were carried out.
In Gujarat, for example, Point of Sale (POS) machines were introduced at PDS shops, but poor internet connectivity led to the denial of rations. Rajasthan, she said, appeared to be "on the brink of a full-blown disaster in the PDS", because Aadhaar-enabled POS machines were facing "serious fingerprint recognition problems".
Other experts and studies have highlighted similar instances from other states too, like Jharkhand and Delhi. Noted economist Jean Dreze has also written against it, arguing that it requires "multiple fragile technologies to work at the same time", and that it "is a wholly inappropriate technology for rural India, especially in the poorest states".
Pratap Bhanu Mehta, president of the Centre for Policy Research, has also argued against an over-reliance on Aadhaar. Mehta has said that he was an Aadhaar moderate initially, "who thought that with appropriate and deep safeguards, it could provide portable identities and deliver some government benefits to citizens". However, he is now finding his position "increasingly untenable", and that "the warnings of Aadhaar sceptics...are increasingly coming to pass".
Mehta is of the considered opinion that Aadhaar simultaneously suffers from "no clear transparent consent architecture, no transparent information architecture, no privacy architecture worth the name, and increasingly, no assurance about what exactly you could do if the state decides to mess with your identity".
Political opposition
Thankfully, some political opposition appears to be building against the move. The Trinamool Congress and JD(U)'s former president Sharad Yadav have openly opposed it.
Millions of people do not have Aadhaar yet. Centre cannot deprive them from getting benefits of PDS by making Aadhaar mandatory: Derek

— AITC (@AITCofficial) February 9, 2017
In rural areas poor people are not able to draw their ration from PDS shops in absence of Aadhaar which Govt shouldn't have made compulsory

— SHARAD YADAV (@SharadYadavMP) February 10, 2017
All eyes will be on other Opposition parties now to see whether they share these views and decide to take up the issue with as much gusto as they showed while opposing the land acquisition act.