Low bar: why a PIL wants ex-CJI Balakrishnan probed for graft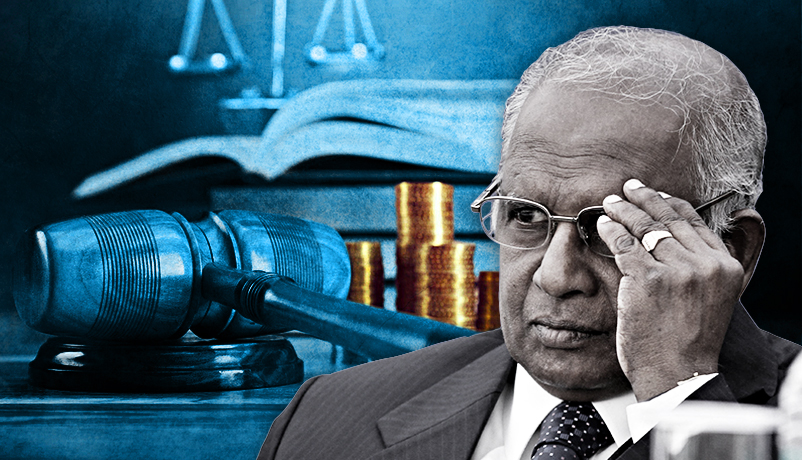 Over five years after he retired as the Chief Justice of India, the law has come knocking on K G Balakrishnan's door.
The Supreme Court has indicated that he and his family could be investigated for allegedly acquiring assets disproportionate to their known sources of income.
The court has asked the attorney general to help examine, if the case is prima facie made out, whether a CBI probe should be ordered or proceedings by the Income Tax department are enough.
The court was hearing a PIL filed by the NGO Common Cause through its counsel Prashant Bhushan.
The petition was filed in 2013 and sought Balakrishnan's removal as head of the National Human Rights Commission. But by the time it came up for hearing two years later, he had retired.
If the court does order a probe, it'll be the first time the apex court acts on allegations against a former CJI.
But what are the allegations?
Common Cause's PIL essentially levels four charges against Balakrishnan.
01
His family amassed illegal wealth while he was on the Supreme Court
Balakrishnan's daughter, son-in-law and brother bought benami properties worth crores of rupees during his tenure as a Supreme Court judge and later as the CJI.
His son-in-law PV Sreenijan, who comes from modest means, started making huge investments in real estate and tourism as soon as Balakrishnan began his three-year term as the CJI. Asianet, Tehelka and other media organisations have uncovered several benami properties acquired by Sreenijan and his wife.
MJ Benny acquired considerable wealth after his marriage to Balakrishnan's younger daughter Rani. Between 19 March 2008 and 26 March 2010, when his father-in-law was the CJI, Benny bought 98.5 cents of prime land in Ernakulam through five title deeds at an undervalued price of Rs 81.5 lakh. The deals made him millions within just two years.
Balakrishnan's late brother KG Bhaskaran had also acquired property beyond his means. Bhaskaran, a senior government pleader at the Kerala High Court, had resigned after the allegation surfaced.
02
Benami properties in the name of his former aide M Kannabiran
Quoting a 2011 Headlines Today report, the PIL says the then Tamil Nadu chief minister M Karunanidhi allotted two prime plots of land in Chennai to a former aide of Balakrishnan, M Kannabiran.
Kannabiran's monthly income then was reportedly around Rs 10,000, while the plots now cost Rs 48 lakh and Rs 2.5 lakh, respectively.
[twittable]MJ Benny bought 98.5 cents of prime land for Rs 81.5 lakh. It made him millions in just two years[/twittable]
03
He approved false replies to an RTI request on the assets of judges
The PIL quotes a Times of India report from 2008 saying Balakrishnan had approved an "evasive response" given by the Supreme Court's Central Public Information Officer to an RTI request on the declaration of assets by judges.
The CPIO had told activist Subhash Chandra Agarwal's that the information sought by him was "not held by or under the control of" the SC's registry and, therefore, could not be furnished.
Agarwal filed another RTI application to see who had approved the CPIO's reply and find out it was Balakrishnan, the custodian of those declarations.
04
He suppressed and lied about a judge's complaint against A Raja
Justice R Raghupathy of the Madras High Court had written to Balakrishnan, then CJI, in 2009 that K Chandramohan, the Bar Council of Tamil Nadu and Pondicherry chairman, was trying to influence him.
He wanted anticipatory bail for two clients wanted by the CBI for forging MBBS mark sheets and asked the judge to talk to "a Union minister by name of Raja" as the accused were the minister's family friends.
Raghupathy also mentioned the incident in an order on 7 December 2010. But in a press conference the very next day, Balakrishnan, by then NHRC chairman, denied he had received the letter.
[twittable]Balakrishanan's two sons-in-law and brother have black money, says income tax sleuth ET Lukose[/twittable]
His claim was, however, refuted by the Madras High Court Chief Justice HL Gokhale who said he himself had forwarded the letter to Balakrishnan in July 2009.
The PIL accuses the former CJI of "not only lying to hide his own dereliction of duty" but shielding a minister while holding the post of chairperson, NHRC.
By way of evidence, the petition lists these developments:
1) ET Lukose, the then director general for investigations in the Income Tax department, said in 2011: "As far as Justice Balakrishanan is concerned, we can't say anything. But his two sons-in-law and brother possess black money."

2) In 2011, the NGO Campaign for Judicial Accountability and Reforms requested the president and the prime minister to make a reference to the Supreme Court for initiating an inquiry against Balakrishanan.

3) Two retired judges of the Kerala High Court, PK Shamsuddin and K Sukumaran, gave interviews to CNN-IBN in 2011 in which they made grave allegation against the former CJI.

4) Quoting a report on rediff.com, the PIL says former CJI YK Sabharwal wasn't made NHRC chief because of "adverse media and other reports". Why was the same principle not applied to Balakrishanan?
The apex court will have to consider these and more questions when it hears the petition again on 15 November.