Looking at Mathura violence through the eyes of the encroachers
Mathura Mayhem
Clashes in Jawahar Bagh on 2 Junr lead to the death of two policemen
More than 20 people died in the clashes as well
What lead to it?
Cops in Mathura were trying to vacate the Jawahar Bagh grounds from illegal encroachers
Encroachers opened fire the very moment cops entered Jawahar Bagh grounds
More in the story
Are the police hiding facts in their post-mortem reports?
Why is public sentiment working against the \'encroachers\'?
Last week's firing at Jawahar Bag, in the heart of Mathura, turned the spotlight on the town whose claim to fame other than a refinery is being the birthplace of Krishna, an avatar of Vishnu, a member of the Hindu holy triumvirate.
Krishna and his brother Balaram were born in captivity, the legend goes, as their parents Devaki and Vasudev were imprisoned by her brother Kangsha, a notorious king. Once again, now, the focus is on the jails in this part of India and broken families, after the Jawahar Bagh shoot-out. Tales where a mother is in Etah, the father in Agra, kids in Firozabad while the old grandmother in Vrindavan.behind bars. And those not behind bars are lying handcuffed in hospital beds.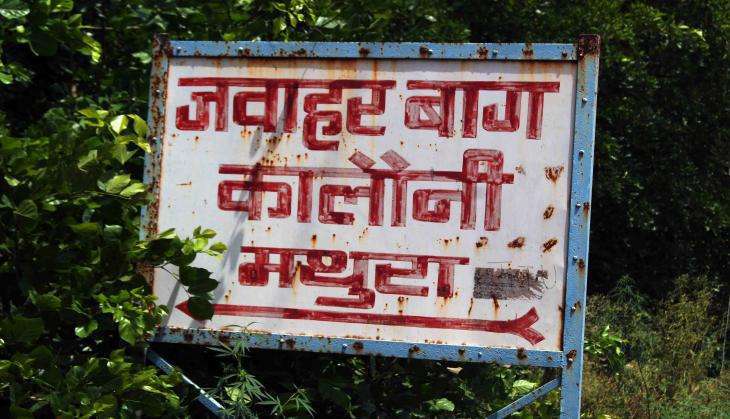 Abhishek Srivastava
Story so far
Hundreds of families have fallen apart in the 2 June carnage. To most people, who watched the news on TV or read the newspapers, these were illegal encroachers who were refusing to vacate a public land for the past two years and indulged in violence despite calling themselves as 'Satyagrahis.'
Also read: What's the Mathura Mayhem all about
Contrary to this perception, most of the protestors were common people from the rural areas, who had not even the slightest idea about the politics of the matter.
They were drawn to this place by either blind devotion or expectation of fulfillment of their wishes through a guru's divine intervention.
Their leaders told them this government does not care about them. After facing the wrath of sarkari bullets, they stand convinced.
Lost husband in the hope for a son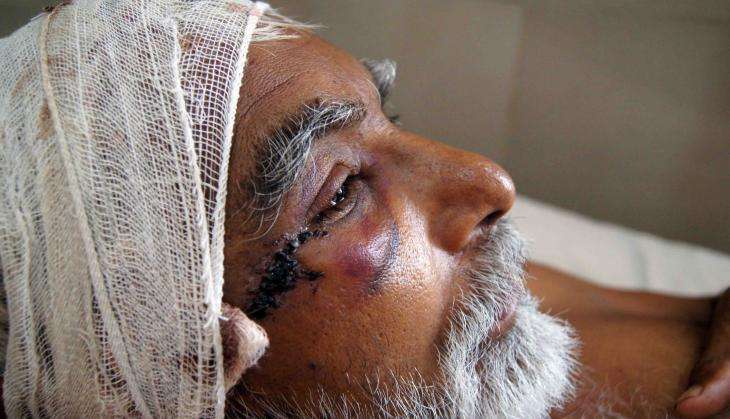 Abhishek Srivastava
Vimla (38) and Jai Prakash's (42) biggest desire was to have a child. Somebody told them about a decade ago that Jai Gurudev's blessings could fulfill this desire. The couple has been associated with the sect since 2006.
Vimla's 'treatment' for infertility also began after they came into Gurudev's contact. In fact, she still regularly takes medicines from Palwal near Mathura.
Both Vimla and Jai Prakash returned to their village in Buxar after Jai Gurudev died in 2012.
In 2014, Ram Vriksh Yadav rekindled the devotion of old followers like Vimla and Jai Prakash by claiming that Jai Gurudev had not died and kept hostage at one of his ashrams in Mathura.
Vimla and her husband joined the contingent of Gurudev's followers from her region to fight for their guru's rescue. Vimla and thousands of others like her had been camping at Jawahar Bagh ever since.
They frequently used to visit home during this period while continuing with Gurudev's prescription for fertility.
On 25 May, the couple went back to their village after Jai Prakash's mother passed away. They had returned only in June, something that Vimla will always repent.
Raising questions
Occupying one of the 100 beds at Vrindavan's government hospital with a broken leg, Vimla regularly breaks into sobs on remembering her husband.
She has no information where her husband Jai Prakash or their leader Ram Vriksh Yadav is.
However, her account of events raises questions about media reports that bullet injuries were not found on any of 19 dead bodies during post-mortem.
Vimla was referred to Vrindavan from Agra Medical College where she was initially taken for treatment. She claims to have seen at least one person dying from bullet injuries.
According to Vimla, Ramashankar, her acquaintance, was undergoing treatment with her in Agra hospital. He succumbed to his bullet injuries in the hospital, if Vimla is to be believed.
Vimla has not seen anybody else dying due to police bullets. But, Ramashankar's case is enough to raise doubts about the police list of the deceased and their post-mortem reports.
On 7 June, Mathura SSP and DM had cited post mortem reports during a press conference claiming -
- 12 people had died after being burned
- 7 lost lives to injuries sustained by lathis and stones
- They clearly stated that no bullet was recovered from any dead body
Does this mean Ramashankar is not in the official list of the dead? Was his autopsy not conducted at all? Or, did the bullet mysteriously vanish during post mortem? Has the police feigned the dead count?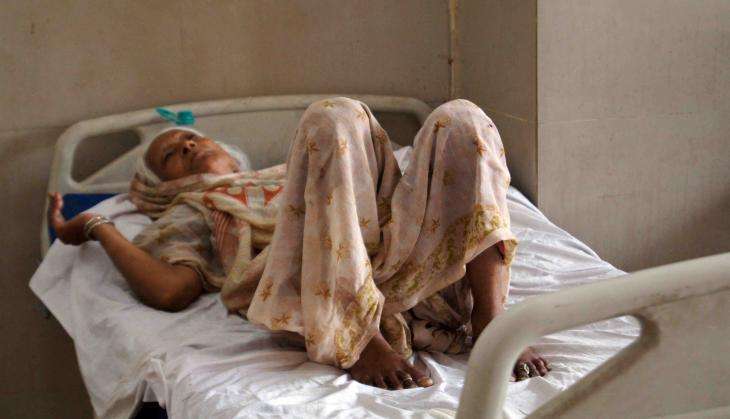 Abhishek Srivastava
Accusations, counter accusations
Three of the victims of Jawahar Bagh violence are recuperating at the post-operative ward of Agra's SN Medical college.
Vijaypal Singh, a resident of Rampur is one of them. He has sustained a bullet injury to his foot. Another man is Kanchan Singh from Kannauj. His foot was injured after being hit with a lathi. The third person is also recuperating from a foot injury.
These men are chained to the bed by their non-injured, healthy foot. Mahesh Chandra, the policeman guarding them, says they were brought here like this by Mathura police.
The cops present on duty are reluctant at first to let us click the pictures. But, when we persist, an officer orders his junior to remove the chain for some time. They still don't allow the injured to be clicked with their foot tied.
Vijaypal alleges the police were setting everything on fire as the evening of 2 June progressed. According to him, anybody who fell after being hit by a bullet or a lathi, was put into the fire.
Hazarilal Gupta and Kaushal Kishore, two other victims undergoing treatment in Mathura, corroborate these accusations.
None of them know that policemen were also killed in the violence. All these injured people were brought handcuffed to the hospital.
Blind faith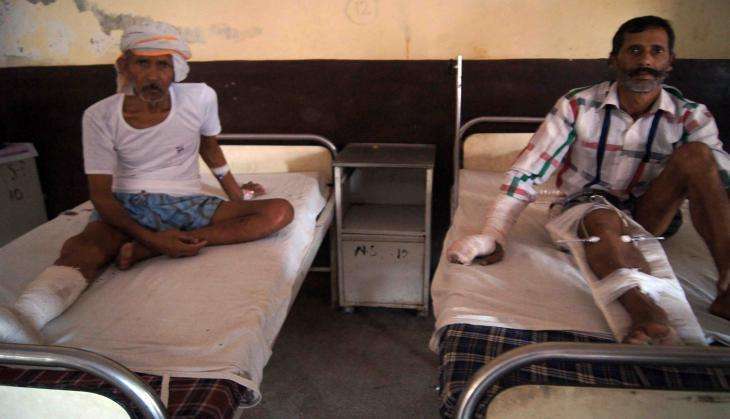 Abhishek Srivastava
Vijaypal still believes in the queer teachings of Ram Vriksh and his sect. The faith of most of the relatively old people among the injured has not been shaken by the violence.
Also read: The Bose cult behind Mathura violence and how it became so menacing
However, 87-year-old Daya Shankar is an exception. Admitted to the emergency ward of Vrindavan hospital, Daya Shankar has three acres of land at his village in Kushinagar, where rest of his family lives happily.
Like many others of his sect, Daya Shankar has also believed for years that Jai Gurudev was actually Netaji Subhash Chandra Bose. However, his trust lies shattered after the events of 2 June.
"Our guru has deceived us. He would tell us to just keep our flag in front and no harm would touch us. But, then I was by hit by a bullet when I did the same," he laments.
Many old men lying at the hospital feel the same exasperation. However, only a few are as outspoken as Daya Shankar.
For some, the wait continues
One of the most precarious among the injured at Vrindavan hospital is Ramsingari Devi (70). She was also shifted from Agra for treatment of minor injury in the hand. Ramsingari starts crying at the sight of every stranger and keeps asking everybody, "Have you noted down the name of my son or not?"
Her son Raju Sah (50) and daughter-in-law Krishna have been missing from 2 June.
Ramsingari is a resident of Hathauri in Bihar's Muzaffarpur. "My home is everything to me. Who will take me there if I am unable to find my son and daughter-in-law?" she asks while trying to control her tears.
Surendra Sharma, a home guard standing near-by, tries to explain that all of the injured would be taken to jail from the hospital. A dejected Ramsingari beats her chest and lies down on her bed.
Most of the injured are still not aware that jail awaits them outside the hospital. In fact, they are already under detention.
Almost every other injured person has one or another relative missing, yet they have no access to any information regarding the incident.
The low-ranking security personnel deployed at the hospital sympathise with the injured. "There is danger outside. People are angry over you. It is safer in jail for some days," home guard Sharma tries to counsel some of the victims.
Public sentiments
Ramesh Chaudhary, a government employee who lives in Jawahar Bagh colony, aptly sums up the public sentiment, "Normally, common people fear police more than anybody else. But, the death of police officials have created a wave of sympathy for the police. Therefore, the followers of Ram Vriksh face more danger from public than from the police."
The jail used to be a place for incarceration under the rule of Kangsa. Today, it has become a refuge for the innocent while hospitals have been turned into temporary jails.
The question of reuniting these people with their families seems to have lost relevance in such a situation.
Edited by Jhinuk Sen
Also read: Mathura violence: how the SP regime is trying to brazen it out