Mathura violence: how the SP regime is trying to brazen it out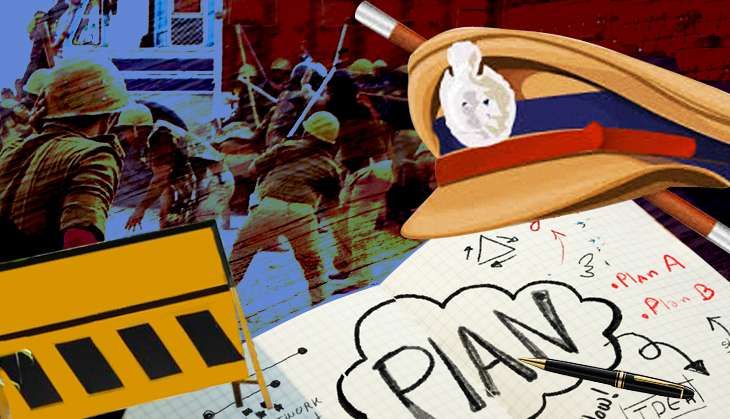 Four days after Mathura was convulsed by bloody clashes that left at least 29 people dead, the Uttar Pradesh government moved out the district magistrate and the police chief.
"DM/SSP Mathura have been transferred. New incumbents will join soon," Chief Minister Akhilesh Yadav tweeted.
Nikhil Chandra Shukla is the new district magistrate and Babloo Kumar the SSP.
Clashes had erupted Thursday after the police went into Jawahar Bagh to evict members of Swadhin Bharat Vidhik Satyagrah. Among those killed were Superintendent of Police Mukul Dwivedi, Station House Officer Santosh Yadav and the cult's leader Ram Vriksh Yadav.
Also read - The Bose cult behind Mathura violence and how it became so menacing
Apart from this administrative action, the government had earlier ordered an inquiry by Aligarh Divisional Commissioner Chandrakant. The SP regime has rejected the demand by the BJP and the BSP to seek a CBI inquiry, arguing that it would delay justice for the victims.
Facing fire from the opposition parties as well as a section of police officers over the violence, the Samajwadi Party is trying to brazen it out, dismissing allegations of the involvement of its leaders with the cult and its government's failure in handling the situation.
On Saturday, BJP president Amit Shah had launched a direct attack on SP elder Shivpal Yadav, accusing him of protecting the "land grabbers" of Jawahar Bagh and demanding his resignation as minister.
It was left to Shivpal's party colleague Ambika Chaudhary to hit back by reminding Shah of his externment "not from a district but the state", and questioning his moral authority to attack Shivpal.
On Monday, the BJP ramped up the attack, holding protests against the "incidents in Mathura" at all district headquarters and submitting a memorandum to Governor Ram Naik in Lucknow alleging that land grabbers were having a field day in UP under the patronage of Samajwadi Party leaders.
Playing for time
That the SP regime is making light of its alleged complicity and serious administrative lapses in allowing Ram Vriksh's cult to squat on 280 acres of prime government land for over two years is borne out by its senior leaders' disinclination to visit Mathura. Indeed, a senior SP leader rued, "Akhilesh Yadav should have gone there. Let's hope he does in a day or two."
So far, there is no word on the government's next move even as allegations swirl around Shivpal for propping up one Pankaj Yadav as the successor to Jai Gurudev, the founder of Swadhin Bharat Vidhik Satyagrah, and his property worth crores of rupees. It's also being alleged that another "senior member" of Mulayam Singh Yadav's family played "patron saint" to Ram Vriksh Yadav, a rival claimant to Jai Gurudev's legacy.
Shivpal has denied the allegations, claiming he has never even met Pankaj Yadav, and demanded a public apology from Amit Shah.
Meanwhile, there are reports that former district magistrate of Mathura Rajesh Kumar had, in February this year, written to Principal Secretary for Home Debashish Panda for reinforcements for "undertaking the eviction drive in Jawahar Bagh". He had reportedly asked for 12 PAC companies, five companies each of RAF and "women RAF", 1,800 police constables and women constables, besides fire tenders, ambulances, cranes and videographers.
Catch tried to reachPanda for comment, making several phone calls and sending a text message, but to no avail. Chief Secretary Alok Ranjan said he didn't know if Panda had received the DM's letter, "but an inquiry is on and all facts of the case will be known at the end of it".
More in Catch - Mathura violence: Who is Ram Vriksha Yadav and what does his group of 'satyagrahis' want?
What's the Mathura Mayhem all about